Financial Services Brands Test Out Content Marketing Trends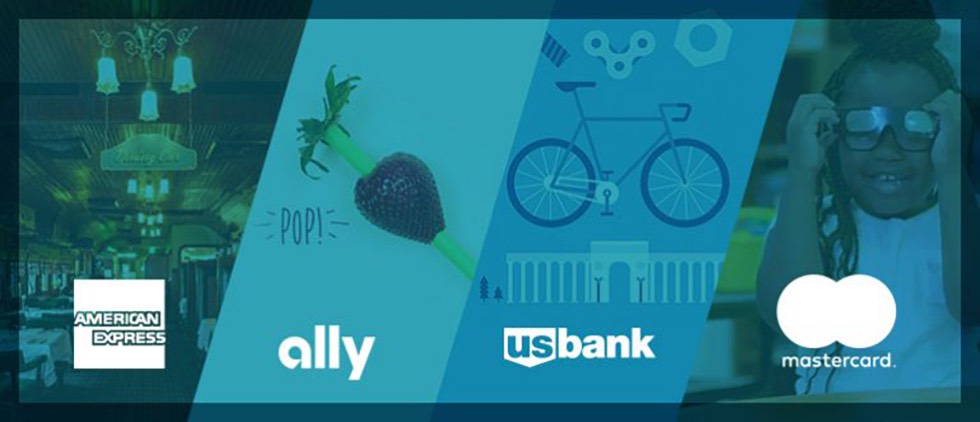 It's a perennial (and often mocked) tradition: the first week of school's "what I did this summer" essay. Who else remembers the horror of summers when there was nothing exciting to report? Thankfully, at the very least, the eclipse of August 21 can be fodder for some of those writing exercises. And even though financial brands also had eclipse fever, they did lots more than stare up at the sun this summer!
When we checked in to see with financial services marketers have been up to, we were pleased to see lots of playfulness and experimenting over the last few months. In fact, "what financial services brands did this summer" was to try out some of the many content marketing vehicles that have been trending in consumer spaces.
Admittedly, these platforms for content marketing aren't new in Internet time, and so these financial service brands aren't exactly early adopters. However, we're delighted to see FIs exercise their creative muscles and include popular topics/platforms in their marketing strategies. Here's some of what we're observing as financial brands continue to show they "get" content marketing:
Discover and Mastercard "eclipse" like nobody's business
Many banks and credit unions shared pics of their staff members with eclipse glasses watching the skies. University of Nebraska Federal Credit Union (NUFCU) even built a promotion around recycling the glasses. Discover and Mastercard, however, took their eclipse game to a new level: branding. (Conveniently, both brands' logos rely on circles.) Discover produced animation that showed the moon blacking out its logo's orange circle and thanked the eclipse "for giving [its] logo a day in the sun." Mastercard – which shared video of watching the eclipse through the eyes of children – also animated its logo; the red circle briefly eclipses the yellow circle before both settle in side-by-side.
Great day to watch the eclipse with your co-workers. Don't forget to recycle those glasses at the credit union. #nufcurecycles pic.twitter.com/ztoC1Z0bUj

— NUFCU (@NUFCU) August 21, 2017
Today we're changing our profile pic in phases. Thank you #SolarEclipse for giving our logo a day in the sun. https://t.co/WARBV9fCE7 pic.twitter.com/TUTkdTJCRm

— Discover (@Discover) August 21, 2017
See #Eclipse2017 through the eyes of a child. LIVE on Periscope 8/21 at 12pm Central Time. #ThatsPriceless pic.twitter.com/YvINS8GnvG

— Mastercard (@Mastercard) August 19, 2017
Chase tackles the listicle
Listicles have become a content staple for many online publications, and Chase's branded content platform now includes a series of them promoting its Chase Sapphire Reserve card. Called "Sapphire Six Lists," they include six recommendations for where to go when traveling to specific destinations, like NYC, Charlotte, San Francisco, LA and Montauk. (Note the call-out: "3X points on travel and dining at restaurants – Learn more." Since the lists appear on Chase's own platform, the lists don't need to be shy about product promotion.)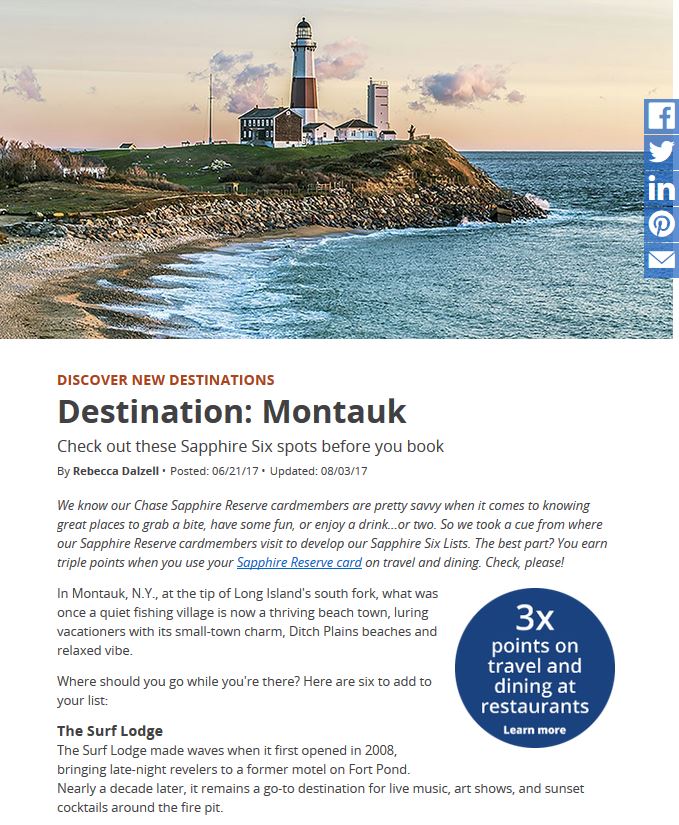 These listicles from Chase are multi-media, tapping many popular ways cardholder consume and share content: format (the lists themselves), visuals (vivid, interesting photography) and social video:
Mango sticky rice, tapped coconuts + classic Thai plates – it's clear why @StickyRiceGCM makes the #LA #SapphireSix: https://t.co/LR8sWrrhAO pic.twitter.com/CVfEtG9ZVe

— Chase (@Chase) August 22, 2017
U.S. Bank experiments with sponsored content in "Brand Lab"
Financial brands have been experimenting with sponsored content for a while now. For example, American Express has sponsored content on BuzzFeed, and Chase has sponsored content in theSkimm. Now, U.S. Bank is a content partner in WIRED's "Brand Lab." In the articles, like "Spinning Carbon Fiber Into Gold: Denver's Alchemy Bicycle," the "sponsored" aspect of the sponsored content is extremely subtle. U.S. Bank isn't mentioned at all until italicized copy at the article's conclusion:
Is your startup tapping into power of community—and set up financially to grow and succeed? Find out how U.S. Bank could be your most valuable local business partner here. This article was produced by WIRED Brand Lab in association with U.S. Bank.
Instead of being blatant promotion for U.S. Bank, the strategy is that the brand supports – and becomes associated with – the subject/topic (in this case, start-ups and the entrepreneurial spirit).
Ally Bank embraces "life hacks"
How has the spirit of DIY seemingly taken over the Internet? It's possible we can thank (blame?) Pinterest. But even if we never know who to credit, "life hacks" – in particular social videos featuring life hacks – are a big thing on social media. A current promotion from Ally Bank merges this popular content format with a well-known engagement engine: user-generated content. The FI is hosting a "Do It Right" contest, where people share videos of their life hacks with the bank. Here's how Ally is promoting the contest on Twitter:
Show us how you do it right. Capture your own hack and tweet it w/ #DoItRight & #contest. https://t.co/nV1Cy49gPL pic.twitter.com/gZh0Xnzk4w

— Ally (@Ally) August 21, 2017
Navy Fed quiz identifies customers' "perfect vacay"
Along with listicles and DIY videos, quizzes are highly shareable. They're also engaging. It's likely Navy Federal Credit Union considered both factors as it put together this brief quiz: What's your ideal vacation? Once you've answered five questions, designed by Navy Fed to "measure your preferences and savings style," the site serves up your "perfect vacay."
Each result is followed by a call-to-action, linking to some of the brand's savings strategies or financial education resources:
Now that you've picked where to go on your next vacation – you're halfway there! Learn more about saving for trips and short-term goals, then you'll be on your way in no time!
American Express takes a turn on Medium
Medium is an online publishing platform (think social network for long-form content, like blog posts and articles). Medium has been around since 2012, and boasts many publications by brands, including Starbucks, BMW, REI and GE. Financial brands have also tried publishing via Medium. These include Simple, SoFi and BBVA Compass; each published a handful of posts each but no longer seem to be active. As of earlier this year and continuing into this summer, Amex is giving it a try now with a "Member Since" publication.
Tapping the style of the brand's award-winning Departure magazine, the brand adds extras to the text of the articles in a couple signature ways. First, the articles include gorgeous photography, as with this tour of Portland's Japanese Garden and places to stay, visit and eat in Tasmania. And second, American Express content includes layered promotion, giving attention both to companies in its network (especially eateries and destinations) and to its own campaigns/assets, like its OPEN Success Makers Series and its Global Dining Collection.
We don't know if Amex will have any better luck with Medium than other FS brands have. At present, each story is only attracting a dozen or so claps (similar to "likes"/"favorites" on other platforms). However, as with all of these branded content marketing efforts, we appreciate FIs' interest in seeking marketing opportunities in spaces that are new to them. It wasn't so long ago – remember when Facebook was new? – that financial brands had a reputation for being too sluggish and nervous to even make the attempt. Now, even though they may never be first out of the gate, financial institutions are not only willing to "go there," but they're also putting strategy and creative thinking behind the efforts.
Tags:
Ally Bank
,
American Express
,
Chase
,
content marketing strategy
,
Discover
,
financial services content marketing
,
Mastercard
,
Navy Federal Credit Union
,
social media for financial services
,
U.S. Bank