Why Banks and Credit Unions Are Seeking Higher Digital Engagement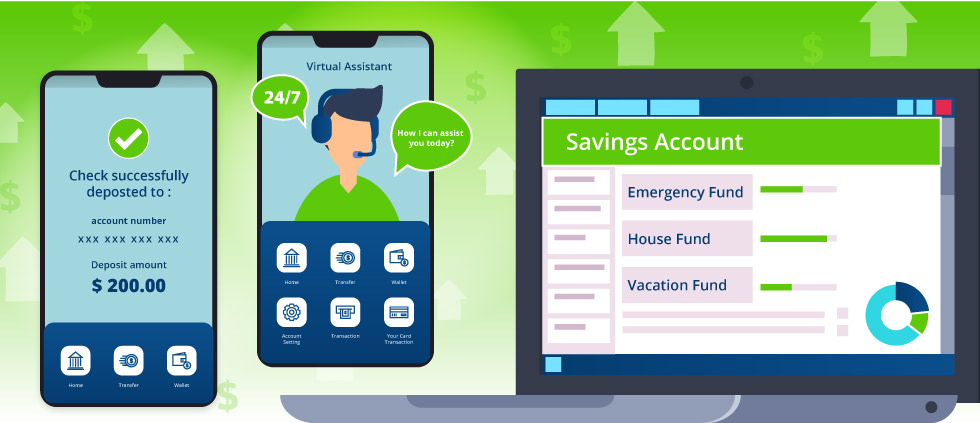 Keeping customers engaged with online and mobile banking may help your bottom line – as long as they're satisfied with your app and website and you're able to convey who you are through your digital channels. Unfortunately, neither is a given. Success requires considerable investment in a clear vision… and the technology and messaging to support it.
In a recent BAI Banking Strategies Executive Report, First Tech FCU's Michael Upton says the challenge in digital engagement for banks and credit unions is "infusing the warmth of the branch and the call center experience into digital channels. It's going to be a challenge in the next three to five years for the entire financial services industry." BAI reports that the goal for First Tech is "breathing more humanity into its digital self-service channels" by "deploying technology to make the digital experience more personalized, more relevant and more engaging."
Considering the expectations of consumers and the business impact of digital engagement, banks and credit unions don't have an option to sit this one out. The following industry trends are making strong digital channels necessities for FIs.
Growth of digital engagement in financial services
Earlier this year, Bank of America announced impressive digital engagement stats for 2021: It added over 2 million "active digital clients" and tallied 10.5 billion client log-ins on its digital platforms – an all-time record and a 15% year-over-year increase. In addition, the FI says interactions with Erica – the bank's virtual financial assistant – were nearly 2X the total of the prior two and a half years. Clients' cumulative time with Erica in 2021? Approximately 2.2 million hours.
Bank of America's big numbers align with what PYMNTS is seeing, as well. According to the publication, digital engagement in April hit a 6-month high in the U.S., proof that consumers' digital-first preferences, which surged at the beginning of the pandemic, have outlived mask mandates and social distancing requirements. BAI predicts that mobile banking will be the stickiest of these digital behaviors, "growing to about 22% of channel usage in three years, while online usage will be flat." Already, mobile is the method most preferred by consumers when interacting with their banks, according to American Banker, which noted growth in the channel even pre-pandemic.
Why digital engagement matters to banks and credit unions
With more users comes more scrutiny, and at the moment, consumers aren't entirely happy with credit card apps and digital banking experiences, according to J.D. Power data reported by Payments Dive.
The likely reasons include the high bar set by brands like Amazon and Uber and a challenging economy, says J.D. Power's Jennifer White. As she tells Payments Dive, "Based on their experiences with other consumer apps and websites that anticipate their needs and offer a highly personalized customer experience, bank and credit card customers are expecting more from their digital solutions. The tough economic climate has amped up the urgency of those expectations." Getting the digital experience right matters to both consumers and their financial institutions.
How mobile and online banking helps consumers
For consumers, digital means ease and convenience. BAI notes, "The phone brings the bank to the customer… a mobile-savvy bank meets customers wherever they are—almost invisibly and without friction." And PYMNTS reports on survey data showing that consumers are using digital options to customize their own banking experiences, blending digital and in-person, as it suits them: "Those younger than 35 prefer a hybrid of digital and in-person banking, while older respondents said they are more likely to prefer using only digital banking tools."
However, it's about more than access. Based on that same survey, PYMNTS says, "40% of consumers said digital banking tools are helping them regain control of their financial lives."
Digital engagement can boost card spend and customer loyalty
For banks, BAI calls the digital environment an engagement opportunity, suggesting they use messaging and other tactics to offer customers additional support and cross-sell products and services. This opportunity is supported by industry data.
For example, an analysis from PWC indicates, "Digitally-engaged customers are shown to have higher levels of card spend and higher levels of engagement overall at the largest U.S. banks." And according to an article in ABA Bank Marketing, digital engagement for banks and credit unions can "increase revenues, increase loyalty and trust and decrease costs." It says, "The digital experience is no longer just a way to acquire new customers and deposits but rather is a critical component to growing customer satisfaction and loyalty post acquisition."
How banks can encourage digital engagement
To reap the benefits of digital engagement, FIs need to boost awareness, adoption and usage of mobile apps and online banking. This not only requires a solid marketing strategy but also a commitment to creating and maintaining quality digital offerings in the first place. Adding to the dificulty of the task, warns U.S. Bank's Damian Warren, "[Digital] just can't be transactional. It must be connected to somebody's life if we expect to help customers navigate the financial complexities in their lives."
In our regular monitoring of bank and credit union social media, we found several clues about how financial brands are tackling these challenges. Here's what we observed from several FIs currently promoting mobile apps, online banking and virtual assistants.
USAA gives customers the mobile app improvements they want
Completing the roll-out of the new version of its mobile app in June, USAA is emphasizing use of customer feedback. In an article published in the USAA Community, it announced that it's been listening to members and incorporating their input: "Through member research we learned members want more personalization – what they get when they call in to our Member Service Representatives and Insurance professionals. They want to find things fast and to make it easy to manage their money."
The brand is using a series of videos to demonstrate the value of these improvements for members. The short videos star app development team members who highlight how various elements of the new mobile app improve the customer experience.
Arsenal Credit Union uses a unique angle to show the ease of mobile check deposit
Basically, Arsenal Credit Union points out, if you know how to take a picture of your pet or your food (and aren't we all doing that?), you already know how use mobile check deposit.
Ally stokes excitement around popular online savings account features
Ally online banking includes "buckets and boosters," digital tools that help its customers increase their savings. Buckets organize customer funds into categories aligned with their savings goals, and boosters, when turned on, accelerate customers' ability to save by automating specific transfers.
Ally heavily promotes the success of both buckets and boosters via its website and social media. At its online savings account page, for example, it touts, "Along with a competitive, variable rate and no monthly maintenance fees, the Ally Bank Online Savings Account comes with tools to help grow your money faster. We found people have saved, on average, 2x more when they've used our smart savings tools." In addition, Ally's social media posts spin the online savings features as "oddly satisfying" and a point of pride for its customers.
Centra Credit Union teaches members how to use its virtual assistant
"Sam" is Centra Credit Union's virtual assistant, promoted via the CU's social media and website as a fast way to get answers to common questions. Of note is that Centra is also clear with members when it comes to the assistant's limitations: To get the desired information, there's an art to talking to Sam. For example, a Centra blog post offers these tips, which include how to access a live agent anytime: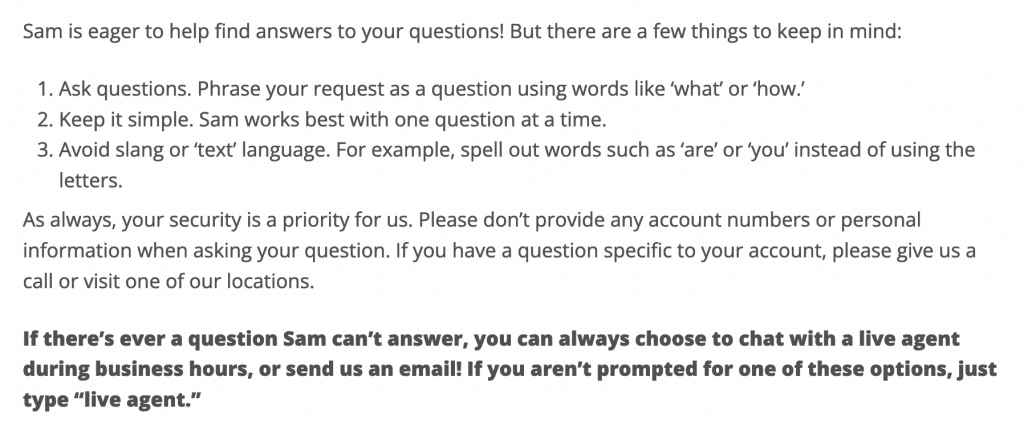 In addition, Centra's member education includes how to engage Sam in the first place: "Look for the green chat bubble."
Wright-Patt Credit Union offers demo of online banking
Wright-Patt says using its online and mobile banking offerings is like having "access to a WPCU Member Center 24 hours a day!" Social posts promoting that level of service link to a demo of online banking. Members can click through the demo to learn how to use features like person-to-person payments and bill pay.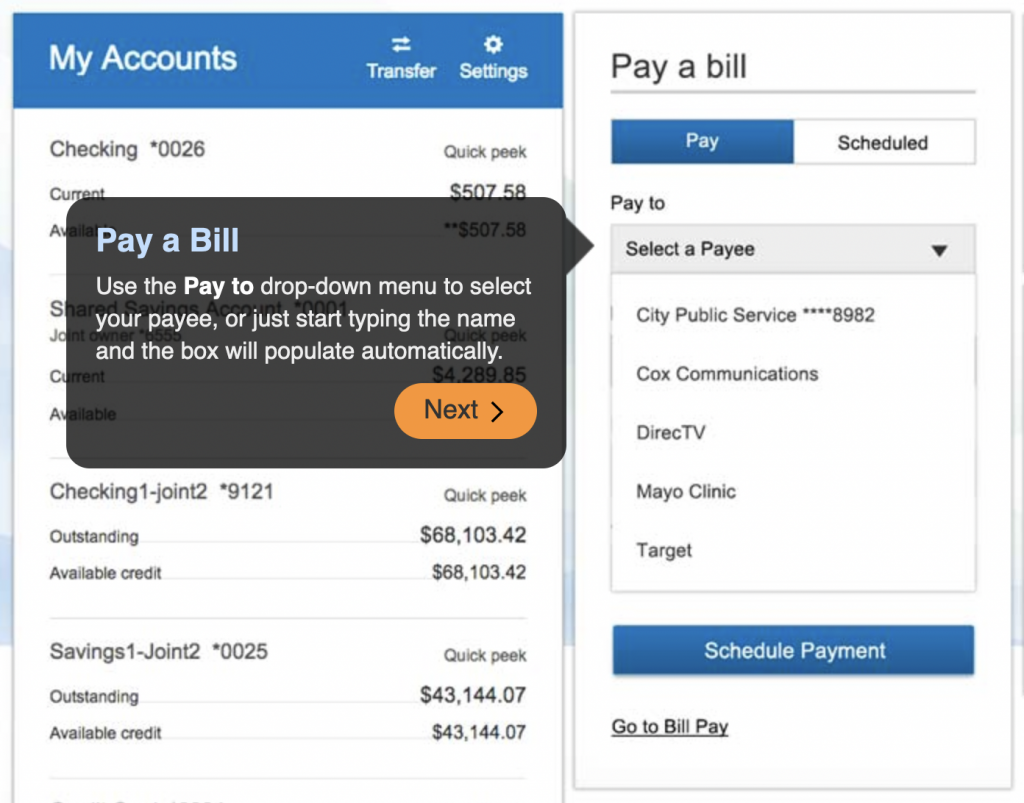 Mutual First FCU messaging combines utility and how-to
Social posts from Mutual First use images and text to create tips that help members understand how to use online and mobile banking features, like how to set up alerts or how to access its chatbot. These posts also nod to the benefits of these tools, including knowing when checks clear or getting quick answers to questions.
FIs empower customers to take digital security measures
Putting security tools and controls in customers' hands – and educating them on how they work – is a great way to encourage engagement. Several credit unions, like Members Credit Union and Neighborhood Credit Union, are showing members how to use mobile app and online banking features to protect accounts and personal data. In addition, APCO Employees Credit Union helps members understand what mistakes they can avoid.