Big Banks Are Making a Big Play for Mobile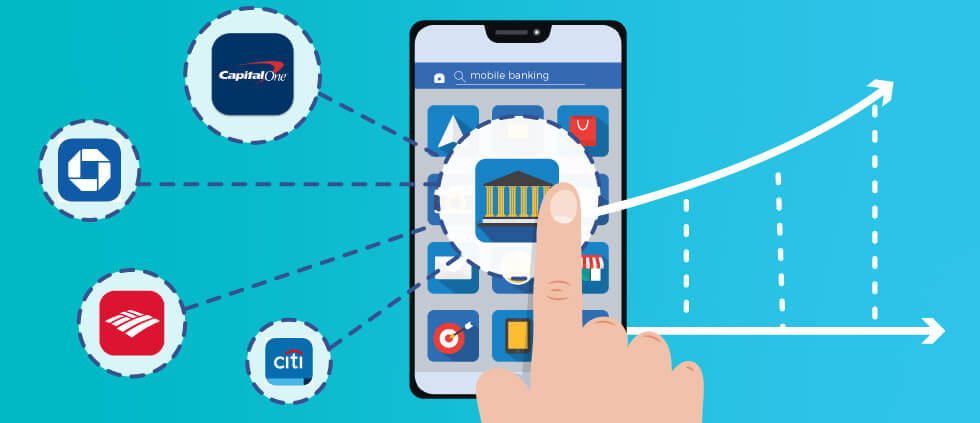 It's no secret that the big banks have been investing in mobile strategies, but currently, the pandemic is proving to be the biggest boon for mobile. Let's look at the numbers:
A record two-thirds, or 67%, used their bank's mobile app in the past year, according to J.D. Power.
The same study found that 41% of bank customers are digital-only.
Ad Age reported that banking adoption of mobile apps grew 66% in the last year.
An Ad Age-Harris Poll found that Gen Z and Millennials conduct an average of 64% and 69%, respectively, of their banking online.
These numbers represent years of financial investment in the online and mobile space, but what Ad Age found was that temporary and permanent branch closures due to the pandemic helped with increased use. Branches had been closing for some time, of course. Between 2017 and 2020, the U.S. lost 4,500 branch locations, a drop that accelerated by 5% during the pandemic – leading to the largest closure rate in two decades.
The ingredients for widespread digital adoption were all there, and banks, especially national banks, took advantage of the downturn in branches and upturn in features and benefits offered by mobile apps. Consumers realized that they could achieve most of the functions of their accounts remotely, including opening an account via mobile, a function they'd previously associated with coming into the branch. Customers also found new ways of communicating with their banks, like text messaging or even online meetings that normally would have happened at a branch.
Bank of America was ready with Erica, a financial services virtual assistant launched in 2018. Customers used Erica 19.5 million times in the first quarter of 2021, up 60% from the year prior. And it's not just Bank of America that has a virtual assistant: Capital One has Eno, and Chase offers the generic sounding name Chase Digital Assistant.
Clearly, those banks' customers are finding ways to communicate outside of traditional channels, and – taking a look at the J.D. Power 2021 U.S. Banking Mobile App Satisfactory Study – they come up first, second and third in the ranking.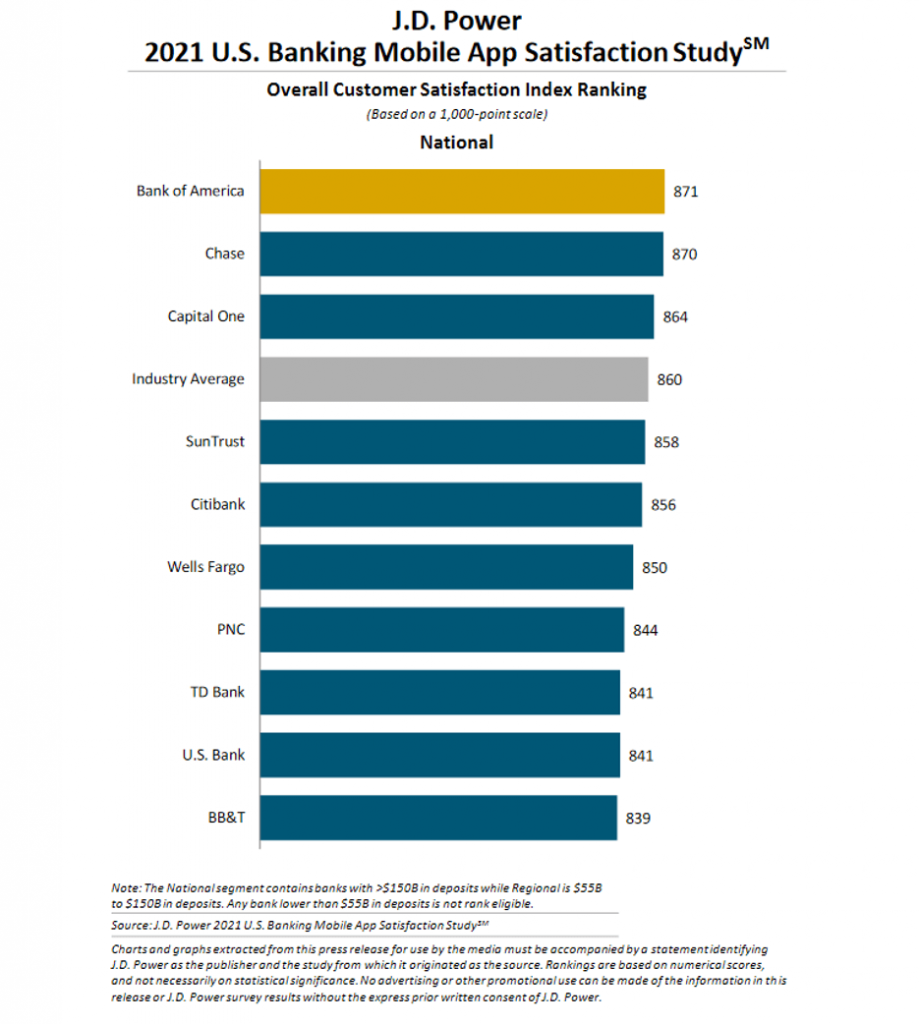 We thought it would be worth taking a look at the marketing materials that drive customers to use mobile. First up: Bank of America.
Erica gets her own dedicated landing page, highlighting features and benefits of the virtual assistant, like a week to date on update on spending, a look at reccuring charges and FICO Score Insights, among others.
In a more traditional landing page, Bank of America touts the simple ways to deposit a check with step-by-step instructions.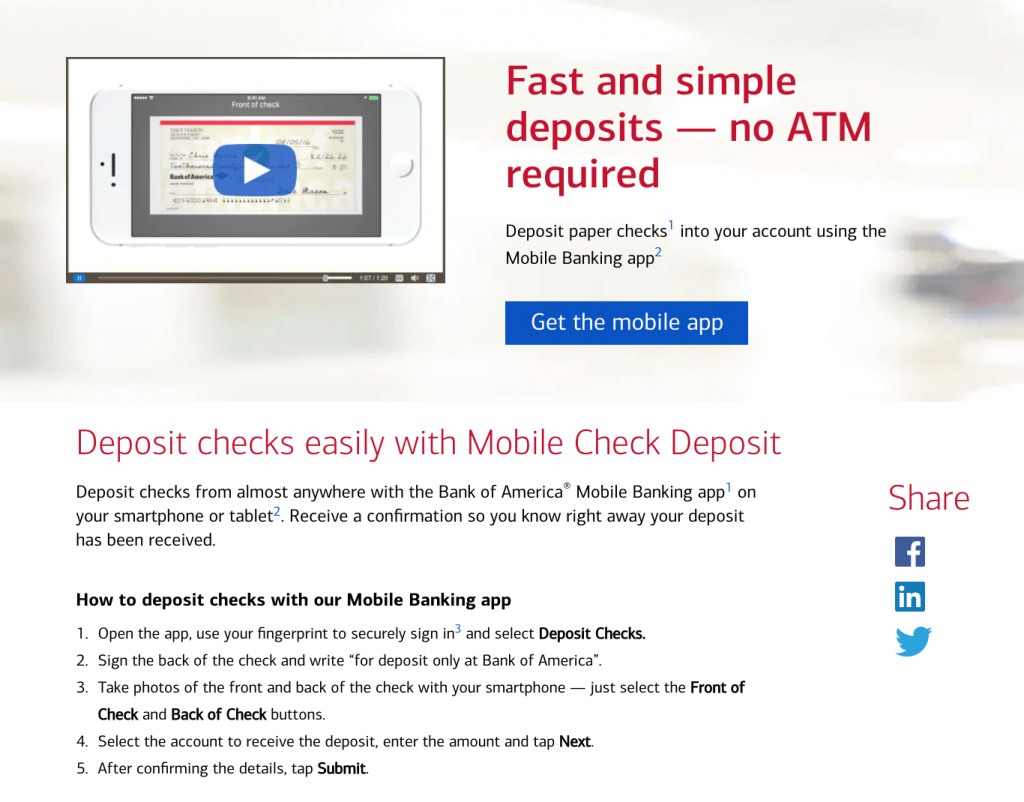 Chase positions its Digital Assistant as a tool for making everyday banking easy and as a way to get answers quickly (with just a tap).

The bank also targets an email at the unenrolled who don't yet take advantage of the app. For this, Chase focuses on the basic benefits offered by the app.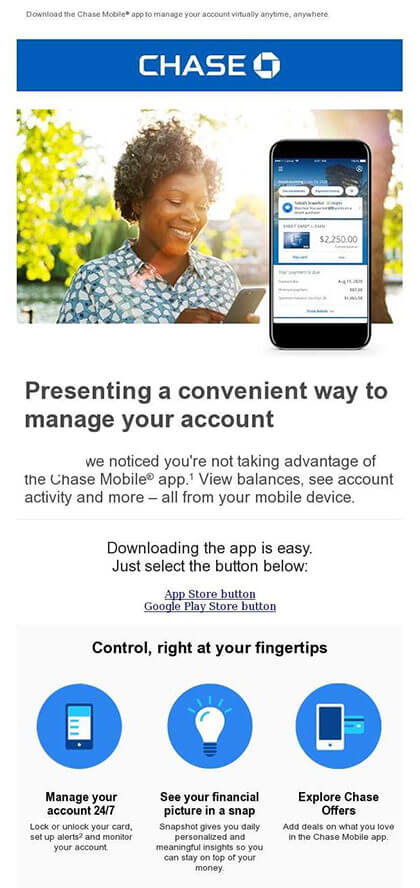 Capital One has a "new card" email (likely delivered as part of an EMOB strategy) that includes a mention of Eno, its virtual assistant. Note that the main thrust of the messaging is protection, a major sticking point for app adoption.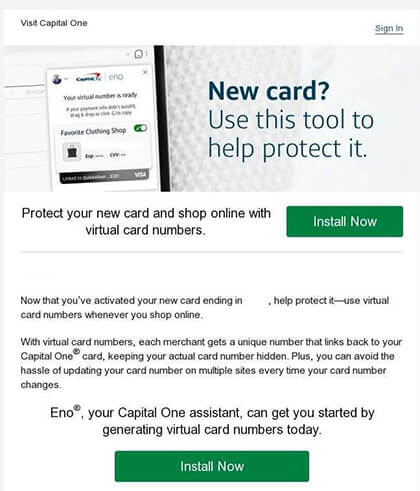 Capital One also issues a step-by-step email that highlights the benefits of depositing checks: easy, fast and confirmed.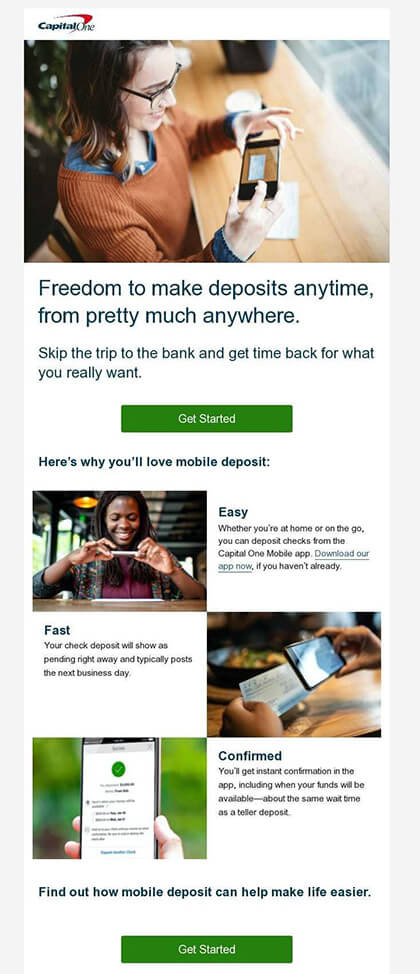 That's the top three in the J.D. Power satisfaction study, but Ad Age mentions one more, Citibank, as notable. Citibank sends a spending insights email, encouraging customers to link all their accounts, even non-Citi accounts, to get a full financial picture.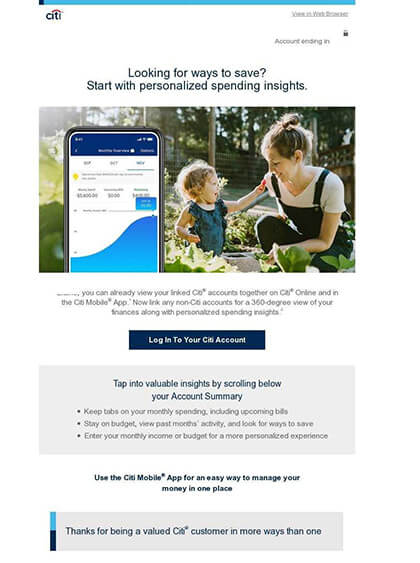 Additional emails from Citibank go in depth a little more than the other competitors, as seen in this check cashing email with a mini tutorial at the bottom.

Citibank's "Welcome to Paperless" email touts other digital features, like statement notifications and customizable alerts. This has the effect of making the email more robust.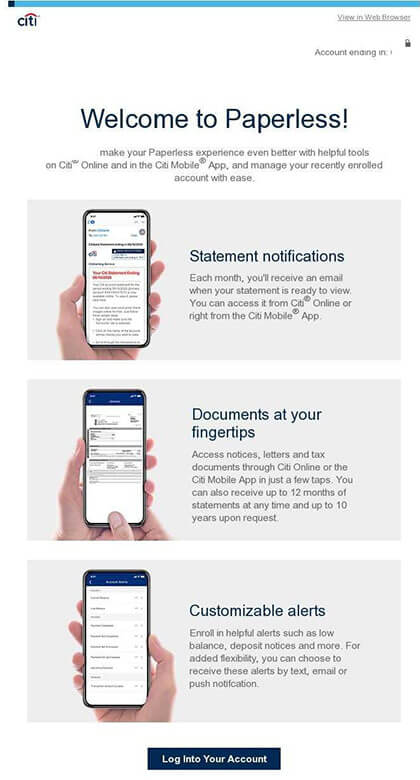 And finally, Citibank also sends a general email that focuses on the basic features and benefits of the app. Again, it goes a little deeper into details about functionality than most competitors.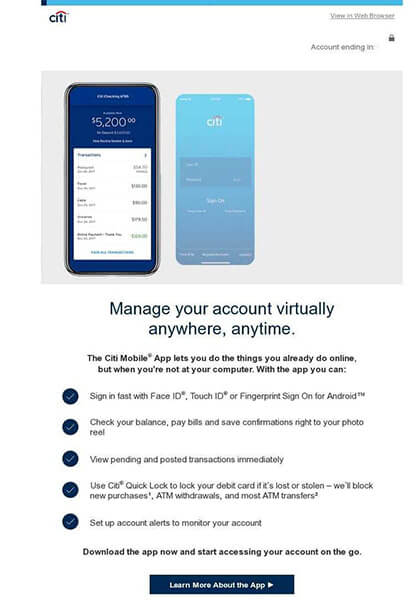 It is evident that big banks are going after the mobile space. And they're having some success. For example, Ad Age reported that Chase had more than 56 million digital active customers (that's a 5% increase from a year earlier) and 42 million mobile active customers (up from last year by 9%). Citibank saw a five-fold increase in customers that requested appointments through virtual meetings between January and April.
This consumer behavior, like so many things pandemic-related, is bound to stick. The question is how much will they stick.
Tags:
COVID-19
,
financial services marketing
,
financial services virtual assistant
,
mobile apps
,
mobile banking