Successful Insurance Branding Strategies: See the Campaigns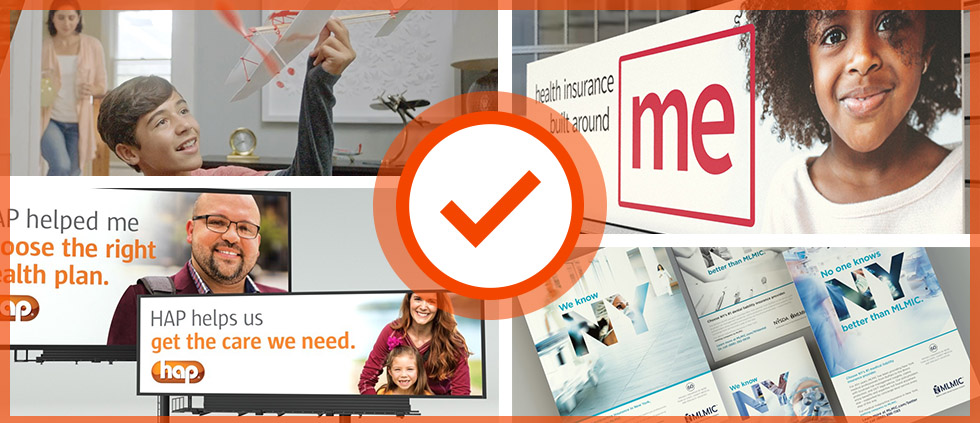 In the insurance industry, constant change is actually the norm. Right now, it is all about consumerism and choice, making it important for insurance companies to cut above the clutter to attract and retain new members. To stand out, you need a strategic, creative advantage, aka a marketing partner who can help create standout brands, drive successful sales campaigns and provide customer relationship marketing support. Here are a few examples of recent insurance branding campaigns:
MVP Health Care: Eye-catching approach to health insurance branding.
MVP Health Care has a consumer-driven approach to health insurance. As such, Media Logic helped the insurer develop an engaging, eye-catching brand campaign during the fall open enrollment period driven by the theme "Health Insurance Built Around Me." The campaign included TV, outdoor, transit and digital expressions. The TV spots utilized relatable humor and a high-tech slow-motion technique to demonstrate how MVP provides individualized support to overcome everyday health challenges. In outdoor and transit, bold photography helped position MVP as a brand that offers personal attention and celebrates individuality. See how it all helped to provide strong, brand-level "air cover" for other tactical, product-oriented efforts during MVP's pivotal selling season.
After a well-received "Health Insurance Built Around Me" campaign, it was time to take this theme to a new level by creating a series of new TV and radio spots. See how these new spots created by Media Logic expanded on the notion of this theme by providing a window into the individual lives of MVP members, highlighting a series of small, individual moments, connecting them, then bringing the journey full circle to tell a story of community. The result was a perfect complement to the overarching brand campaign, further defining how MVP makes health insurance more convenient, more supportive and more personal.
HAP: Using customer feedback to guide a new brand positioning.
When developing a new brand positioning for HAP, Media Logic decided to start with consumers. Using quantitative and qualitative research, we uncovered a core set of themes which were then narrowed down, based on HAP's current and future strategic goals, resulting in credible and ownable positioning that showcased HAP's ability to provide personal attention and treat customers like individuals. See how this positioning was then translated into a year-round branding campaign to help keep HAP top of mind as the insurance provider that takes healthcare personally.
MLMIC: Berkshire Hathaway transaction creates new energy for MLMIC.
After being acquired by Berkshire Hathaway and also faced with outside competitors entering the New York market for the first time, MLMIC wanted to reaffirm their status as New York's top malpractice insurer and the industry expert in New York malpractice issues. See how Media Logic helped this leading medical liability insurer create a go-to-market strategy leveraging the idea that "No one knows NY like MLMIC" – a theme that was used for a new website, print ads, sales toolkit, emails, and more, including a special live streaming event with Warren Buffett.
If you'd like to learn more about these campaigns, or how Media Logic can help you, contact Jim McDonald, director of business development at 518-456-3015.
Tags:
client work spotlight
,
Health Alliance Plan (HAP)
,
health insurance marketing
,
healthcare marketing
,
MLMIC
,
MVP Health Care
,
new work spotlight