5 Actions Top Medicare Marketers Are Taking Today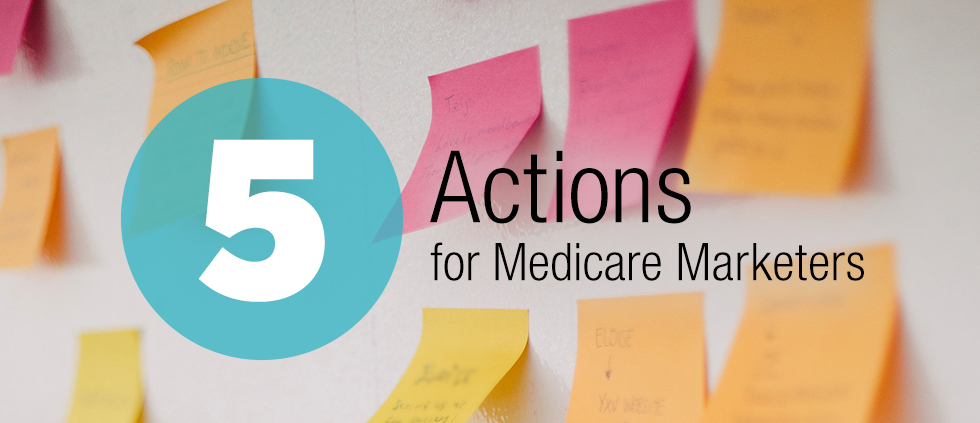 It's early December and the brief, often chaotic (and definitely busy) Medicare Annual Election Period (AEP) is coming to a close… phew! Time to take a breather, right? A short one, yes, because now, it's time to compile AEP results, analyze the data, uncover findings and start to put those findings to use in planning for next year. Here are some action items for Medicare marketers that can help get your planning efforts off the ground quickly.
1. Ask yourself, "Did your AEP meet your expectations?"
While it may be awhile before final enrollment numbers are known, Medicare marketers can begin to take stock of lead generation figures. Review your initial engagement results – responses and leads via all of the possible response channels, costs and quantities/impressions. At this time, there is a risk of data overload and incomplete data. Focus your time on compiling and analyzing actionable data – data that has the potential to lead to changes and refinements that help improve future marketing results. Evaluate which tactics and which media channels delivered the lowest cost per lead and highest volume of leads.
2. Take note of your competitive landscape.
Make note of websites or marketing elements like print and outdoor. These elements may change or disappear in the new year. While analyzing, reflect on how your marketing stood out competitively. Start to determine which of your tactics needs to be refined and enhanced to rise above noise and standout in the clutter.
3. Collaborate and gather intel from the field.
Meet with other departments to discuss what is working from a process and execution perspective, and initiate changes to pursue for 2020. Ask the Sales team to provide a download of the consumer feedback they gathered throughout the campaign and ask them what messages resonated with consumers, what product benefits were of most interest, and if there were any obstacles or roadblocks to closing a sale. Also, invite friendly brokers to come and provide a download of their consumer feedback. Have the Product team attend the download session, too. Consumer feedback may inform both marketing and product design.
4. Prepare for the upcoming Medicare Open Enrollment Period (OEP).
If there was disruption in your market during this year's AEP, it is likely that the OEP will be active as well. Although CMS doesn't allow for targeted communications directed at those consumers dissatisfied with their AEP decisions, consider using broadcast mediums to push your new-to-Medicare messaging. TV, FSIs, print, even OOH, may be good media channels to keep your brand top-of-mind during the OEP.
5. Determine if there are any takeaways for your New-to-Medicare (NTM) marketing program.
At this time, you are likely in the middle of making refinements for 2020 NTM marketing plans. Remember to apply any initial consumer feedback to your 2020 NTM campaign, and make sure that your ongoing efforts, including paid search, are ready to pivot from an AEP-focus back to an NTM-focus.
Before the end of 2019, it's a good idea to start to lay the groundwork for a successful 2020. It is a great time to look back at both your Medicare AEP and New-to-Medicare marketing campaigns and uncover insights that can be used for future campaigns.