The Stash Approach to Customer Acquisition and Engagement Follows Fintech Marketing Playbook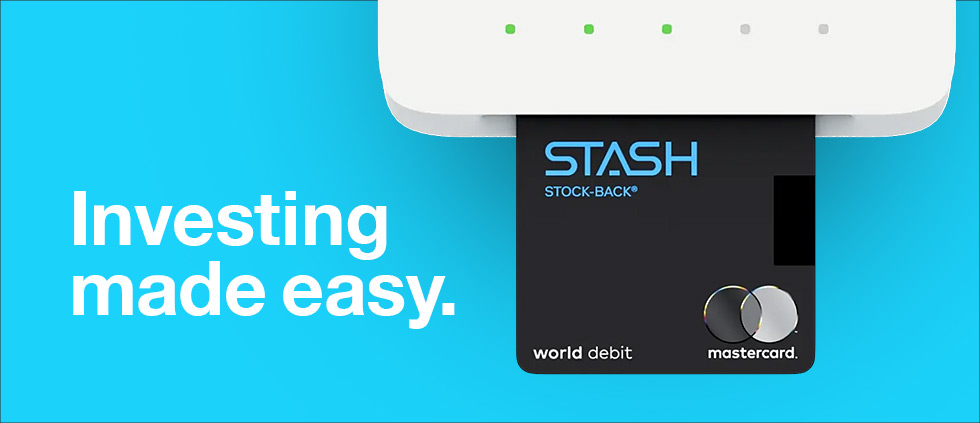 Stash is a fintech developer of a personal finance app that makes savings and investments accessible to everyone. Launched in 2015, the company now has 6M+ customers (called "Stashers") for its mobile app and companion debit card. How did it get there so quickly? Stash takes a "fintechy" approach to marketing – relying on innovation, social promotion, events, word-of-mouth, gamification and brand partnerships.
What is Stash?
The Stash app supports savings and investing by everyone. Investment options include two product tiers: One is an automated approach, and the other allows users to self-select investments in stocks, bonds and Exchange Traded Funds (ETFs). Both are set up to encourage customers to meet long-term investment goals. Stash makes it possible1 to buy fractional shares of stocks, bonds and funds "with no add-on trading commissions, enabling users to save small sums of money and make micro-investments regardless of their age and income in a hassle-free manner."
Stash Helps Shoppers Become Stockholders
In combination with the Stash app, "Stashers" receive a Stock-Back Debit Card, with a fairly unique value proposition: Instead of cash back, customers receive stock back! When used at a publicly traded company or brand, the card earns up to 1% in stock with that brand. And when used a private or local company, the cardholder earns a default investment of choice.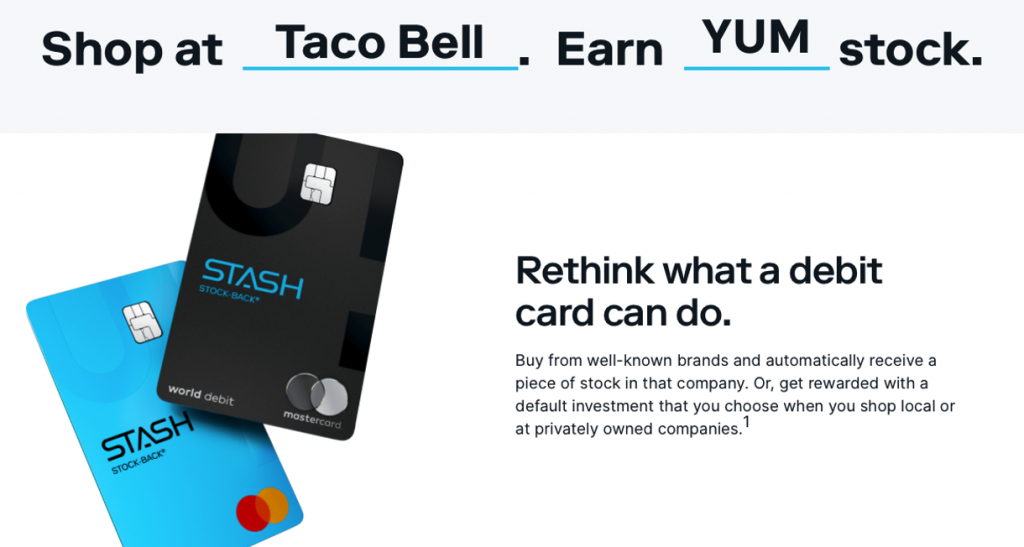 Introducing the "Power of the Party"
One key component of the Stasher customer experience — and Stash app marketing — is the Stash Stock Party, a collective term used for regularly scheduled events that present opportunities to secure fractional stock shares. The Stock Party premise is promoted on the website using a simple explainer video reminding viewers to turn on notifications in the app and follow #StashStockParty on social channels to stay looped into all scheduled Stock Parties.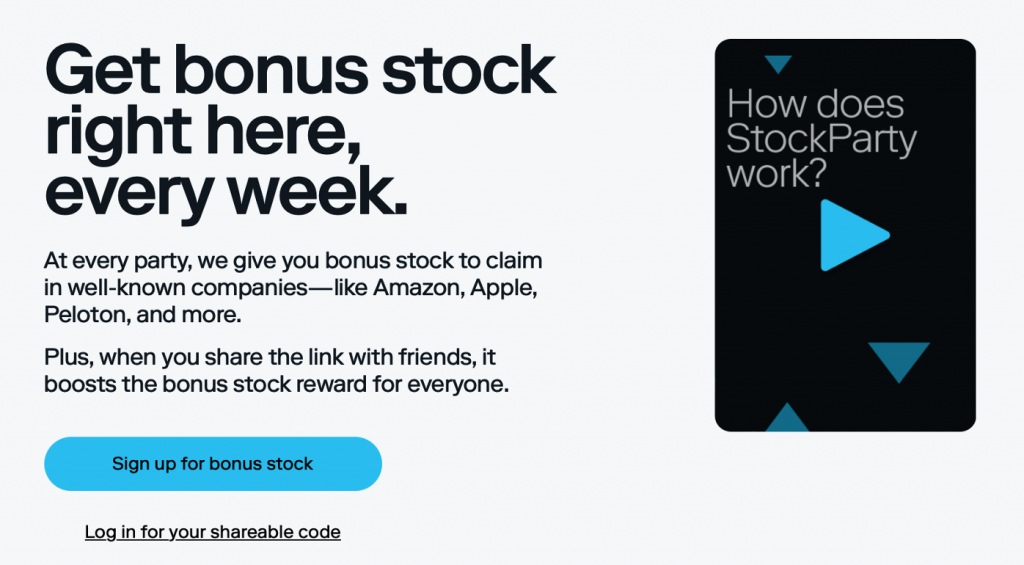 Introduced during the pandemic, the parties were scheduled daily in 2020. The parties are still ongoing, but the schedule has morphed with parties currently scheduled 4X a month. Each party features a publicly traded company whose stock becomes a bonus investment for account holders "attending" the party where Stash gives away "pieces of stock." It's free and only requires participants to have an account (started with as little as $3 and subject to account fees).
The "More the Merrier" marketing hook of the stock parties conveys that the more people who attend the party, the better the outcome for each person. In addition to this built-in "viral" premise (which we love!), the events also have an account acquisition element, as anyone can sign-up for the app and gain immediate entry into the party with their $3 deposit. The "parties" last all day and end at midnight. A day-of countdown tracker, a PeoplePower tracker to indicate growing party attendance, and the increasing stock value tracker all add aspects of gamification.
Party success hinges on word-of-mouth invites and referrals. In fact, targeted emails promote a $20 incentive for each person the attendee brings to a party. The total stock given out during any single party is tied to attendance – in Stash jargon, that's "Party Power." Here's how it works:
Everyone at the party gets the same amount of bonus stock.
A Stasher's bonus is calculated by dividing the total pot by the total number of partiers.
Stash.com reveals the most recent party stats – attendees and value of the brands stock giveaway.
Participating Stashers receive an email a few days post-party confirming the stock award has been added to their portfolios.
Attendees simply attend and claim their bonus.
How Stash Benefits from Stock Parties
As Tearsheet reported in 2020, "There appears to be a halo effect around earning or gifting fractional shares of stock."
65% of people participating in Stock Parties hold or buy more of the earned investment as part of their portfolios.
30% of Stash customers who received a reward in stock went on to make additional investments in that security.
According to Stash, Stock Parties have helped thousands of investors earn fractional shares of stocks in a wide variety of companies. The company claims the parties are growing in virality, participation and bonus stock amounts.
The "Stasher" Experience
Let's recreate the Stasher experience using a recent party with UPS to illustrate how this fintech uses a consistent and well-orchestrated set of marketing tactics to invite, engage, remind, reinforce, award and close the loop on the fundamental party benefit – earning bonus stock using the power of the group to generate attendance and stock value.
The fintech appeals to cohort sensibilities by often overlaying a theme that unifies each month's parties. Stash knows their customers are socially aware and prefer to do business with brands that are inclusive and aligned with their values. The UPS party was promoted as part of the Women's History Month theme "Celebrating Women's Financial Achievements." (Note: It is unclear how the theme and company representative play out during the scheduled party.)
8 Marketing Best Practices that Nurture and Sustain a Stash Party
In addition to introducing and explaining the Stash Party concept on its website – where it educates new Stashers about the benefits of participation – the fintech uses several smart marketing tactics to help the parties build momentum.
Creating awareness / UPS Party is first promoted on Twitter in a monthly calendar revealing all events (every Wednesdays of the month).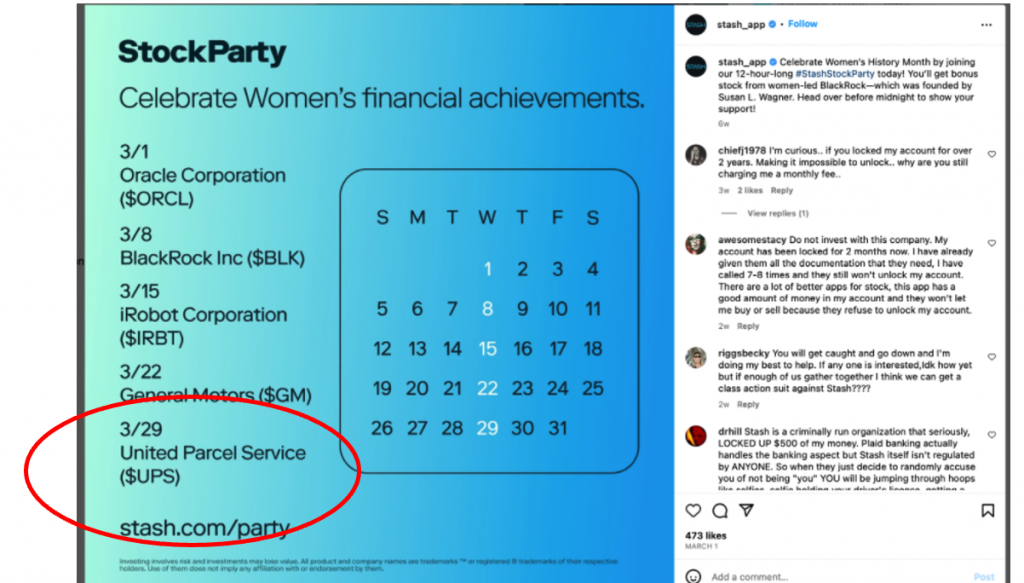 Targeting and incentivizing existing customers / Stash sends email to customers to build awareness and begin asking for customers to refer others ($20 for each referral).
Reinforcing and sustaining excitement / Continual reminders before and during the UPS "party" are deployed on social streams.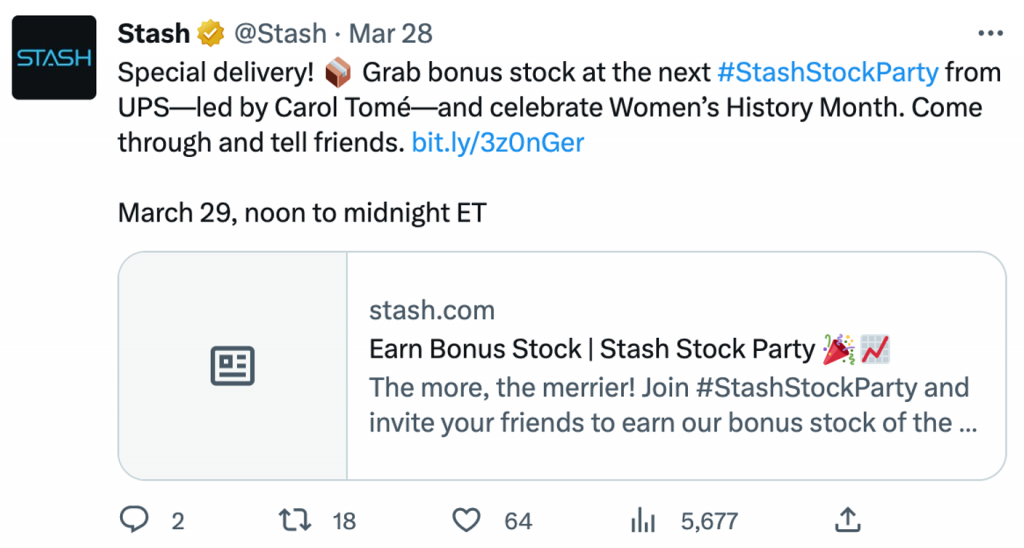 Using sharing to succeed / Stash uses social streams not only to keep engagement high across time but also to facilitate sharing – a critical ingredient to party outcomes and a great way to snag new customers.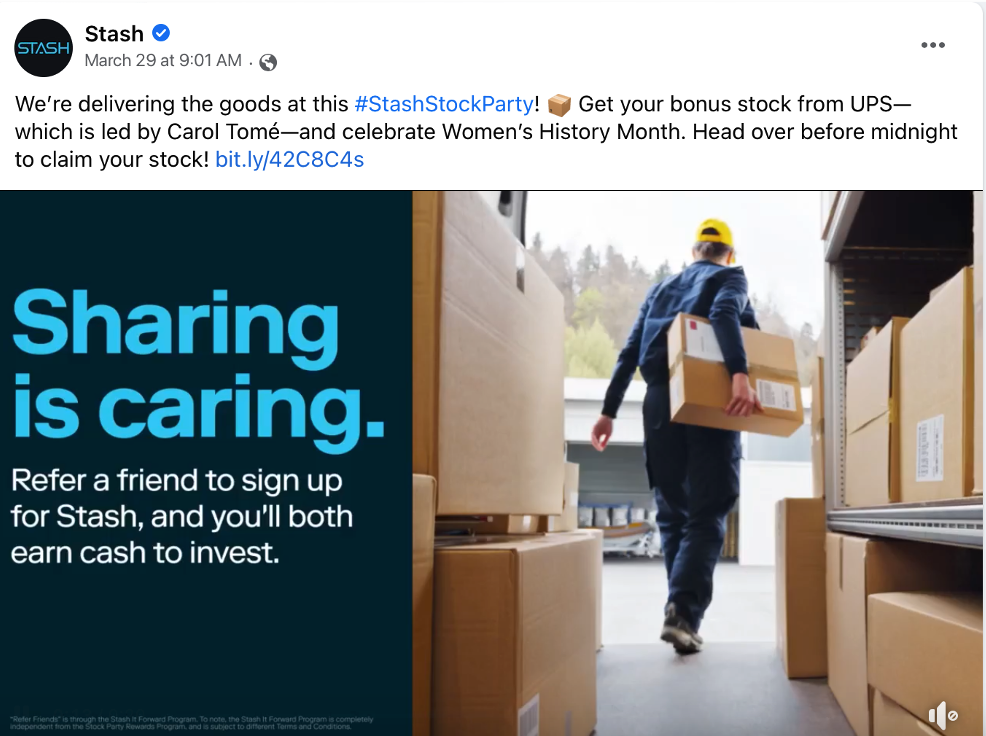 Creating urgency / "Day of" reminders appear on social media indicating that the Stash Party continues until midnight.
Creating even a greater sense of urgency / Social posts also announce "last call," ticking down to the final moments as midnight approaches and, with it, the end of the UPS party.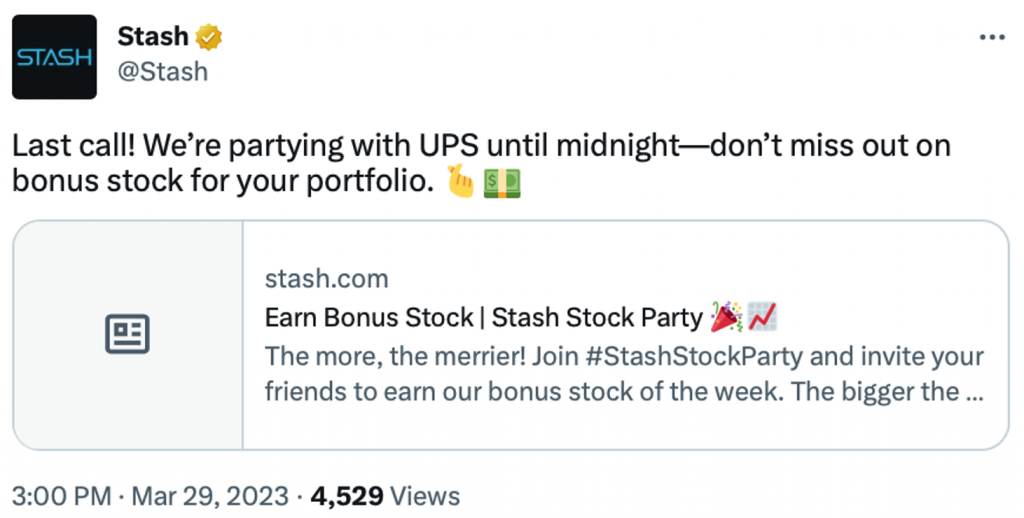 Reinforcing value and the outcome / Stash brings closure to the party by touting the number of attendees and total stock earnings. Individual account holders receive their stock a few days post-party.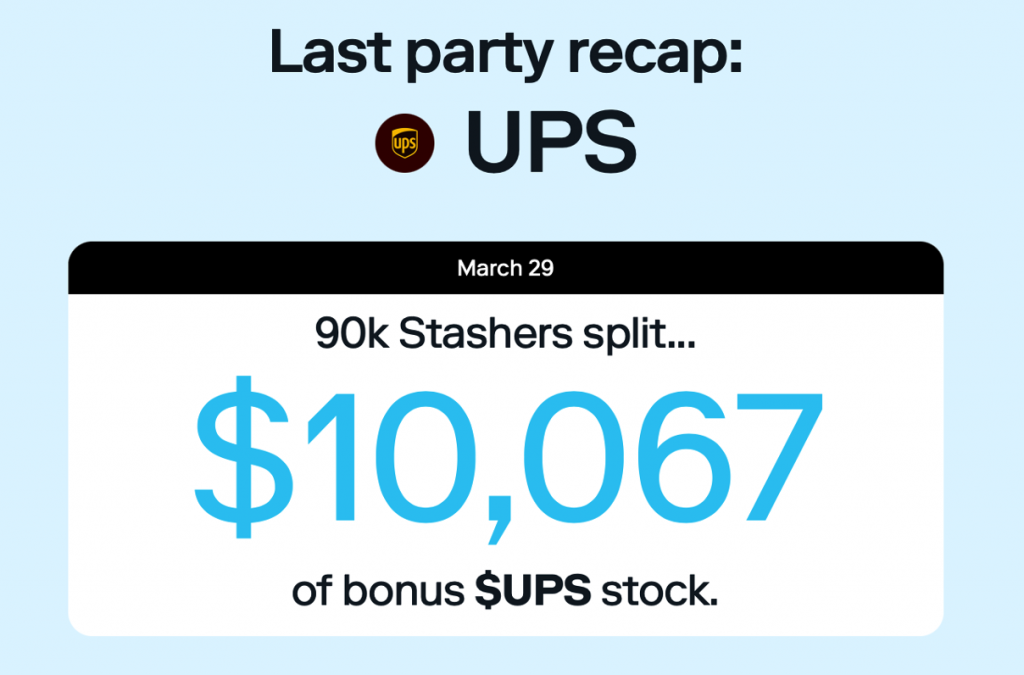 What FS Brands Can Learn from Stash Marketing Tactics
These cohesive marketing and communications tactics successfully create a unique "Stash experience" while amplifying both the brand and specific promotions. While Stash has its own set of branded nomenclature (which may evoke eyerolls), it appears to work for the fintech's audience. Cute names aside, other brands can emulate Stash's example in several ways:
Establish a simple and consistent promotional plan, using multiple channels, timely messages and orchestrated outreach. This plan will achieve a unified customer experience.
Create and implement a "surround strategy" week after week in a disciplined way.
Weekly promotions rely on automated campaigns. Stash has accomplished this, taking the heavy lift out of a relentlessly ongoing promotion.
Follow an "add water and stir" approach. Stash's commitment to weekly events reaches thousands of participants – both existing and potential new customers from referrals. It also drives awareness, sharing, engagement and participation. Stash needs the payoff (big participation) to achieve the "halo effect" and success.
Finally, reiterative reminders of the core product value is something Stash does well. They publicly and transparently close the loop with party results and deliver status (and free bonus fractional stocks) to individuals, too.
Images are sourced from Stash.com; Stash Facebook, Twitter and Instagram streams (March 2023); and Mintel Comperemedia (March 2023 communications from panelists)
*
ADDITIONAL SOURCES
1. Pitchbook overview of Stash