Reaching SBOs Requires an "All-In" Content Marketing Strategy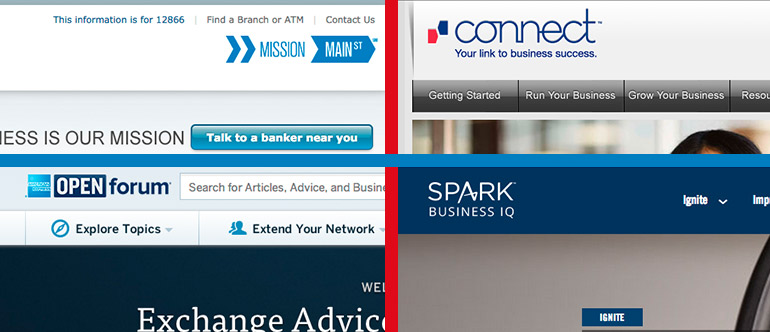 We recently conducted a quick audit of leading financial institutions' (FIs) social media streams to see which ones are using content in their credit card marketing strategy to effectively connect with small business owners (SBOs). It didn't take long to see that a handful of FIs, including American Express, Chase, Capital One and U.S. Bank, are going all-out to reach SBOs via social. The rest of the pack is either making minimal efforts or not even bothering with SBO content.
But what's more interesting than who's leading the way is why. What do these four FIs have in common that sets them apart? We took a closer look.
1 – Branded product lines for SBOs lead to dedicated social channels for SBOs.
While most banks have business card products, only a few have invested in creating separate branded business card platforms aimed squarely at SBOs:
We knew this going in, but what we quickly realized is that with dedicated product lines it's easier for an FI to build out dedicated social channels because it gives then a clear identity that's different from the FIs' lead/corporate social channels. For example, Capital One Spark has a dedicated small business Facebook page, Twitter account and Instagram feed that are distinct from its corporate social streams. The other brands have similarly dedicated streams across the major social platforms.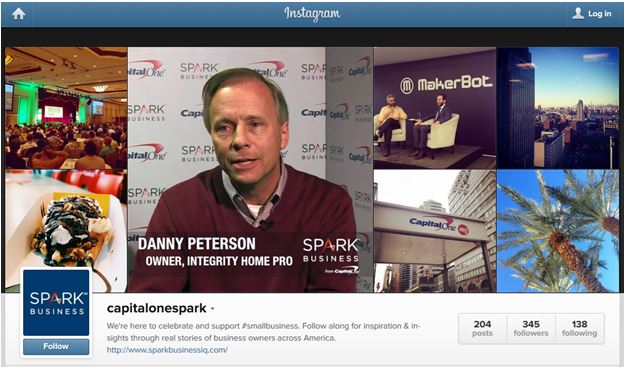 2 – A content creation engine keeps things fresh.
Of course, any discussion of content marketing targeting SBOs needs to start with American Express. With its ambitious OPEN Forum Amex has effectively built a stand-alone social network where business owners can connect, share advice and hear from experts who develop content for the site.
But Amex is no longer alone in having this type of robust content on a blog or microsite. U.S. Bank Connect, Capital One Spark Business IQ and Chase's Mission Main Street have emerged as business content engines that compete with the OPEN Forum. "Connect" organizes content into three buckets loosely based on what type of information an SBO might need: "Getting Started," "Run Your Business" and "Grow Your Business." Spark IQ also organizes content by similar categories: "Ignite," "Improve" and "Inspire."  Chase features videos and white papers on managing and growing a business.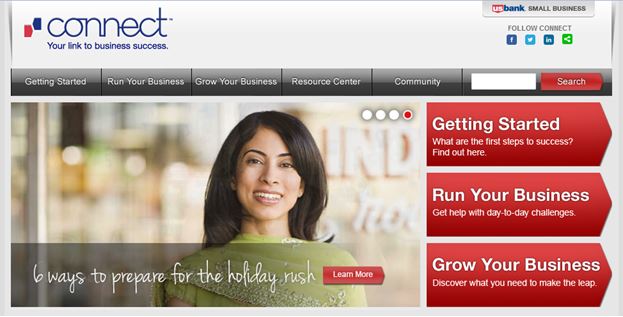 All of this original content accomplishes several beneficial things for these FIs. First, it gives them a stream of content that can feed the social media channels with links back to these assets. But in addition, it sets up the FI as an expert that understands the needs of the SBO. The FI becomes a trusted advisor that can help SBOs get information, a partner who gives them access to business leaders. Which leads to the fact that…
3 – Partnerships, sponsorships and events build credibility.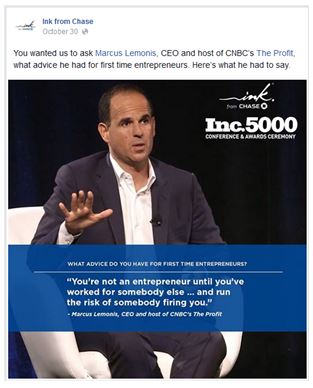 Chase Ink is a sponsor of the Inc. 5000 Conference. American Express organizes CEO Boot Camp to help women business owners. U.S. Bank has partnered with leading business author John Jantsch, and Capital One sponsors the Small Business Panel on Mashable. These are just a few examples of the very robust partnerships these FIs have developed.
Small business owners are smart people, and many of them already read a lot of content that provides advice on building their business. They also know that no one understands their needs better than fellow SBOs, so any content marketing stream needs to have credibility. The FIs can't just write blog posts with business advice: they have to bring in writers who are experts, interview business leaders and organize events around entrepreneurs. These efforts help to make the content engine more credible so that the FI can take on the role of trusted advisor and be the means by which their customers gain access to these leaders.
Bottom line
The issuers that have made the commitment to go all in with distinct, branded small business product lines are also the ones leading the way in content marketing to SBOs. They have realized that the combination of the product identities, robust original content and outside relationships are all necessary to have a successful content marketing strategy.
It's not enough to curate content from other sources or send out an occasional tweet or Facebook post in an attempt to reach SBOs. Being successful at content marketing to this audience requires a major commitment by an issuer. As a result, the FIs who are still sitting on the sidelines have a lot of work to do if they want to catch up.
Tags:
American Express
,
Capital One
,
Chase
,
content marketing strategy
,
credit card marketing
,
financial services content marketing
,
U.S. Bank