With PRICELESS Culinary Collective, Mastercard Goes All-In on Experiential Marketing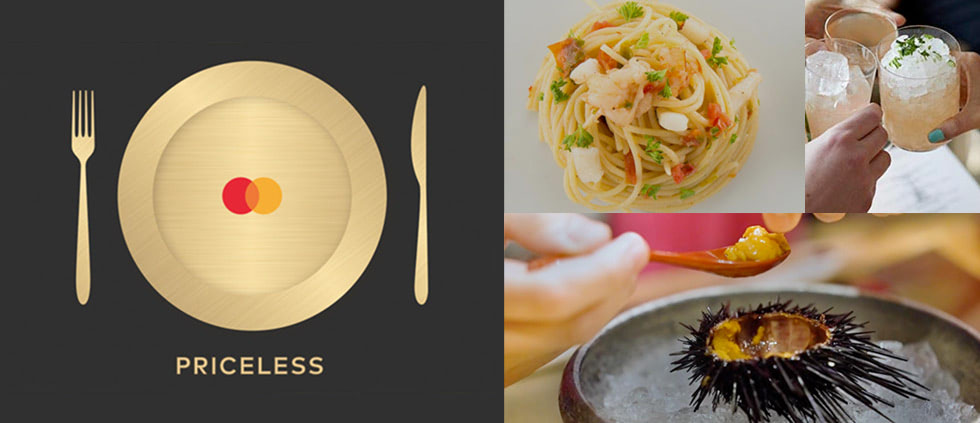 Mastercard recently launched "an international culinary collective" called "PRICELESS" in New York City. The ambitious experiential marketing concept recreates three world renowned restaurant destinations – London's Lyaness, Zanzibar's The Rock and Japan's Terazushi – in one Tribeca location. In doing so, Mastercard wants to create a "Priceless" experience for its customers by bringing these three culinary destinations to life.
High-end dining and culinary experiences fit right in with Mastercard's long-running "Priceless" brand campaign. Its Priceless Cities website features a wide range of unique offerings, from the opportunity to be a chef's apprentice for a day at a Michelin-star rated restaurant (for just $10,000) to a "Sip and Snack" tour of Old Hollywood (more modestly priced at $150). Mastercard has curated many unique culinary offerings for its cardholders.
Now, with PRICELESS, the financial brand has placed a premium on authentically recreating what it feels like to be at the three famous destinations it has curated. As AdAge notes, "Screens project the outside environs through the windows, and real sand covers the boardwalk outside The Rock… Tall windows are actually backlit screens showing the same views visitors to the [Lyaness] London location see. As the day wears on, the time outside changes, too, and the sun sets when night falls in New York." For the re-creation of Terazushi, Mastercard imported its main attraction: famed sushi chef Takayoshi Watanabe temporarily shut down his location in Kitakyushu, Japan, and traveled to New York City for the replication of his well-known, intimate space.
Mastercard has created a "brand campaign" of sorts with PRICELESS that is equal parts event marketing and stunt marketing. Given that, it is obviously benefiting from A LOT of earned media coverage. The New York Times, Vogue, Forbes, Eater, Elite Traveler, Haute Living and Gotham have all covered the "culinary collective." For its part, Mastercard mainly seems to be using social media to bring attention to the campaign, kicked off with a slick video posted on Instagram (below), Facebook and Twitter.
And the campaign has kept up the posts on Mastercard's main Facebook page, as well as dedicated PRICELESS Instagram and Twitter accounts.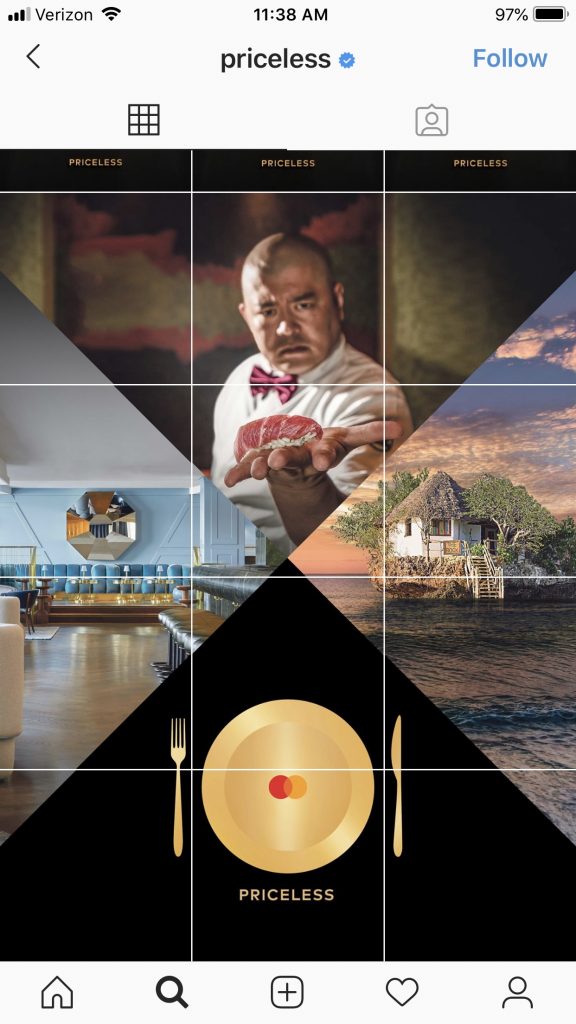 We recreated @TheRockZanzibar at #PRICELESS in NYC. Reserve now. Space limited.

— PRICELESS (@priceless) August 7, 2019
In these posts, Mastercard is following general best marketing practices by including clear calls-to-action ("Book Now" though Open Table; each restaurant has its own reservation page), and posts have been fairly steady since the launch. Facebook's Ad Library indicates that Mastercard is sponsoring content on Facebook, as well as on Instagram (including retargeting), but we don't know how much it is investing or what targeting parameters it's using (the ads may, of course, be limited to New York City and/or to specific segments).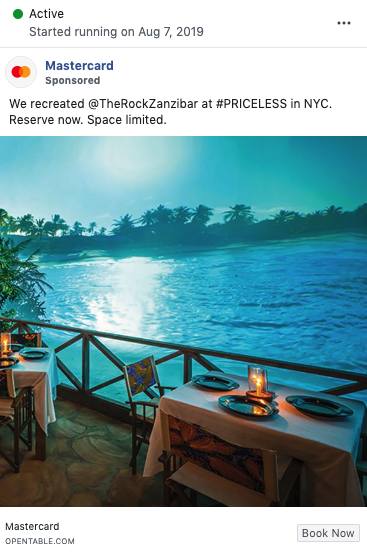 In addition to use of paid and organic content on the Mastercard social accounts, the experience is also getting organic exposure – hundreds of likes – via the feeds of all three "original" restaurants:
We also know that Mastercard has invested in some traditional paid media because Takayoshi Watanabe shared on Instagram the full-page New York Times ad featuring his photo:
It's a good bet that this is part of a larger traditional media buy, possibly focused on the New York City metro.
All this leads to the inevitable question: what does Mastercard get out of all this? These re-creations will exist for a limited time, and they are only in one market. The original restaurants are known destinations for some, but not all customers. (Focus group of one, I had only heard of Terazushi and was unaware of the The Rock and Lyaness.)
But maybe that is the point. Mastercard is clearly trying to create buzz, and maybe more importantly FOMO, among specific customer segments. The brand is signaling to global travelers and foodies – including *aspirational* globe trotters and culinary adventurers – that Mastercard knows who they are, knows what they want and knows how to bring it to them… even if that means moving an entire sushi restaurant, chef and all, from Japan to New York City. It's both a brand campaign and an effort to get the attention of some lucrative customers.
There is also the possibility that this is scalable. Towards the end of the AdAge article, almost as an aside, comes this point: "Mastercard calls the installation a 'restaurant residency.' The space is dedicated to Priceless indefinitely, and when a restaurant and its owner heads back home, another restaurant will rotate in to replace it." If that is accurate, Mastercard may have bigger and more ongoing plans for PRICELESS. And if it can replicate restaurants in one New York location, why not in other cities? We will have to watch and see how this plays out.