Using Podcasts to Engage Bank and Credit Union Customers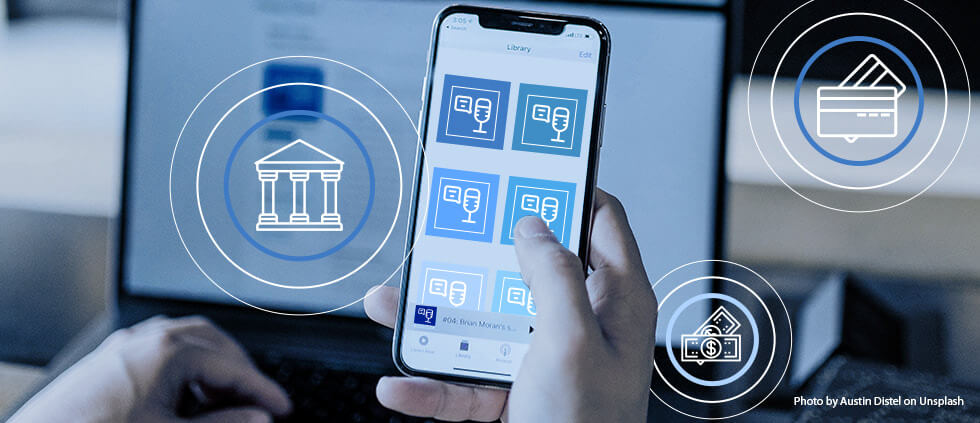 "Nearly four times more people listen to podcasts every week than watched the Game of Thrones final season premiere."
That's how Jay Baer, in an article at Convince and Convert, summarizes 2019 stats from Edison Research, and his description does a great job of framing the size and scope of interest in the medium. Wildly popular at the moment across age groups (as Baer shares, four out of every 10 persons 54 or younger listen monthly), podcasts are defined as "digital audio file[s] made available on the Internet for downloading… typically available as a series, new installments of which can be received by subscribers automatically."
And there are a lot of them. According to Podcast Insights, as of April 2020, there are currently over 1 million podcasts, though "only" half may be active. All that content – there may be over 30 million episodes – is designed to entertain and/or inform its audience, an opportunity not lost on brands, including those in financial services.
In addition to industry organizations (like Credit Union National Association, American Bankers Association and the Association of Vermont Credit Unions) and trade pubs (like CU Insight, PYMNTS and American Banker), banks, credit unions and card issuers have joined the ranks of those leveraging this prolific form of content marketing for customer engagement and more.
Here's a round-up* of just some of the financial services podcasts – which, as you'd expect, focus on financial education – from many types of FS brands (including global banks and local CUs), followed by some recommendations for those considering launching their own podcasts:
Advantage Federal Credit Union's Seven Figures ("We have real honest conversations about money. We bring in the experts and learn from them. The goal is to make finances less intimidating and to make you feel comfortable and confident about your financial situation.")
Avadian Credit Union's podcast (includes education on topics like mortgages, checking accounts and car shopping)
Barclays' series, including New Frontiers ("how innovations will affect the way we live, think and work") and The Flip Side ("analysts taking opposing viewpoints on timely topics of importance to economies and businesses around the globe")
Blue Chip Federal Credit Union's podcasts ("a great way to continue your learning as you progress through life and add products and services to your financial portfolio")
City National Bank's Conversations (first episode on "artists choosing to celebrate and unite culture and communities during hard times" released May 27)
Consumers Credit Union's Money I'm Home ("practical tips and tricks to take control of your financial and physical health from the personal stories of industry experts")
Crane Credit Union's podcast (episodes on employee engagement, financial scams and community involvement)
First Alliance Credit Union's Good Money Moves ("packed full of the financial information you need know to be able to make good money moves through every stage of life")
Golden 1 Credit Union's Financial Wellness ("from small to big purchases, we have the podcasts you need to make your money work for you")
Goldman Sach's Exchanges ("insights on developments shaping industries, markets and the global economy")
HSBC's COVID-19 Brief (May 14 example)
JPMorgan Chase's series, including Economic Take ("the latest on the economy with Commercial Banking's Head Economist") and Women on the Move ("to fuel female ambition and advance financial equality")
Marquette Savings Bank's Your Money Counts ("information you need to make better decisions on how to spend and save your money, how to protect yourself from criminals trying to scam you and how to take advantage of free services that can make managing every aspect of your money easy and convenient")
Mastercard's Fortune Favors the Bold ("takes on real questions from real people — financial questions that everyone thinks about, but no one talks about. We'll be putting those questions out in the open, exploring how money is tangled up in everything and finding the answers through our own 'financial identity"")
MCT Credit Union's Leaflet$ ("how to secure your future and make wise decisions with your money")
New England Federal Credit Union's podcast
Northwestern Bank's Banker With a Beer ("featuring Jerry Kuehl, Scott Montesano and their guests who share insights on financial matters through the lens of a frosted mug")
Penn Community Bank's Mutual Growth ("brings you into the conversation with industry leaders and gives you the tools and insights you need to guide your next-level growth")
Summit Credit Union's Money Smarts ("between you and your money, you can make it happen. We can help.")
TAPCO Credit Union's South Sound Money Talks ("We're here to help you break down complicated terms, answer the big questions and tackle all of those 'What the-?' moments.")
Unify Financial Credit Union's podcast ("smart advice on decisions that may have a costly impact on your life… 10 minutes of your time can save you a lot of green")
U.S. Bank's series, including The U.S. Bank Podcast ("conversations with interesting people about much more than banking"), The Save Space ("a safe space to talk about money and grow your Financial IQ") and the newly launched Real Good ("stories of people who are truly making an impact, and the people whose lives are being changed by their efforts").
Zions Bank's podcasts ("advice to help you improve your finances")
If these examples of bank and credit union podcasts are inspiring you to consider launching a series for your FI, look first at your business goals. Could a podcast meet an existing need in your overall content marketing strategy? For example, according to Martech Advisor, here's what Bank of America seeks to get out of the medium:
"Bank of America is leveraging podcasts to carve a concrete brand vision and a unique brand persona. BofA podcasts are designed to deliver valuable experiences to listeners and subtly demonstrate the expression of the bank in that context. The podcasts are informative and in a storytelling format, so the audience can be inspired, reimagine the future, glean expert insights and learn how changes in the world can impact their financial lives. Bank of America is careful not to hard-sell the brand but to make it visible across the podcast for consumers to recall in the future."
Once you have identified a strategic role for your podcast, these key considerations can help you develop a specific plan:
Who is your audience and what will your podcast be "about"? Decide whom you'd like to reach, get to know what's out there currently for that audience and determine what you may be able to contribute based on your brand personality and expertise. To best serve a targeted audience and build a following, we recommend avoiding a focus that's overly broad (i.e. "financial tips from Brand X"), drilling instead into niche topics, like traveling on a budget or managing money with a significant other.
What's the best format/style for delivering your content? Options include storytelling or reporting, one-on-one interviews, panel discussions, etc. Consider also host, tone and episode length and what production quality matters to your brand and how to achieve it (in-house or outside professional services). Decide if you'll sponsor the podcast series, partner with an influencer/celebrity to develop and promote content or use your own in-house voices.
How often will you publish episodes? One episode a week? One a month? Instead of committing to a schedule in perpetuity, it makes sense to think in terms of seasons with preset numbers of episodes. This not only helps with editorial planning but also facilitates production of all episodes ahead of the series promotion and release. This prevents interruption of the schedule, which can look unprofessional. (We've seen even popular podcasts from major brands stall out.)
How will you showcase the podcast on your website? The user experience in the above sampling of financial services podcasts varies dramatically. Some have pages that offer overviews/descriptions the help the listener know what to expect, and some don't. Some provide easy navigation between episodes, and others don't. Be sure the content on your website supports existing listeners (and makes a solid pitch to potential listeners).
Can listeners subscribe to your podcast? It's highly recommended that you publish your podcast on common streaming services, like Apple Podcasts, Google Podcasts, Spotify, etc. Doing so allows listeners to seek out your series – i.e. express interest in your brand – and then receive new content on their devices as it's released. Be cautious about only housing/listing audio files on your website: web navigation isn't how people are consuming podcasts.
How will you promote your podcast? As you know from your other content marketing efforts, the competition for consumer attention is fierce (including on those streaming services). Be sure to have a plan for distributing and promoting this new, high-value content.
What measures of success will you track? We're huge advocates for defining success and measuring ROI. Make sure you can track the forms of engagement that matter in your overall strategy.
* Updated July 10, 2020. An alphabetized list of bank and credit union podcasts with episodes published in the last 12 months and/or listed in "evergreen" resource centers on their websites. The list, which is not comprehensive or exhaustive, was assembled via research conducted on search engines and social media in early June 2020. Please contact us if you have active financial services podcasts you'd like us to include.