Successful Health System and Hospital Marketing Strategies: See the Campaigns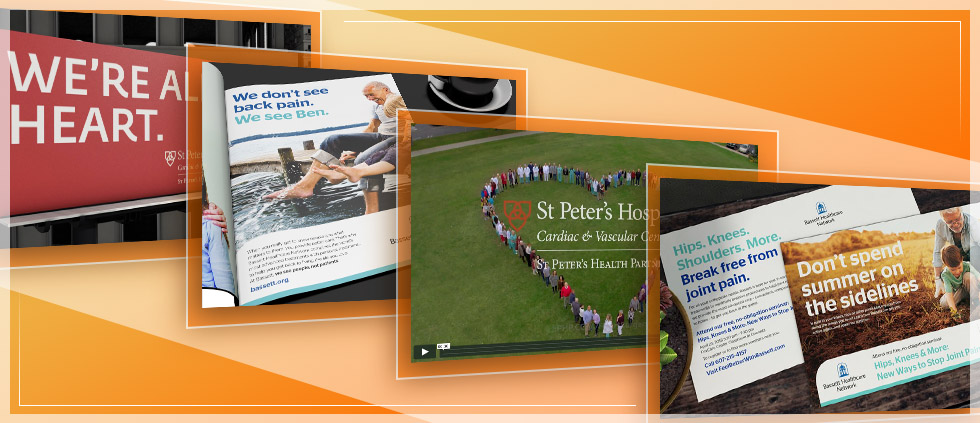 Health systems, hospitals and other healthcare providers face many challenges today, including industry consolidation, rising costs, shrinking government reimbursements and informed consumers, prepared to shop around. All of these factors highlight the need for a strategic marketing partnership with healthcare marketing experts. Media Logic has developed dozens of branding and lead generation campaigns for a range of provider organizations. Here are a few examples of health system and hospital marketing campaigns that we've worked on for our clients:
St. Peter's Health Partners: Multimedia campaign showcasing cardiac surgery strength
St. Peter's Health Partners had two goals in mind when they asked Media Logic to develop a marketing campaign. First, they wanted to boost awareness of their high-quality cardiac surgery service line. Second, they wanted to promote St. Peter's Hospital as a destination location in New York's greater Capital Region. See how this integrated marketing strategy increased awareness of this essential service line, while creating positive buzz among patients and staff. A big highlight from this campaign included one shot with a drone for visual interest along with impactful TV spots, print work and digital creative.
Bassett Healthcare Network: Maintain its position as the "go-to" center for orthopedics
An orthopedic campaign helped position Bassett Healthcare Network as a specialty leader in orthopedics. Using the theme "Don't Spend Summer on the Sidelines," the effort addressed two groups of consumers "weekend warriors" and "baby boomers." See how Media Logic helped our client promote the range of its bone and joint services with an integrated marketing campaign. Overall, the marketing effort included print, outdoor, direct mail and radio that directed healthcare consumers to register for a series of educational seminars.
St. Peter's Health Partners: Health system branding efforts drive service line success
Initially, Media Logic helped St. Peter's Health Partners create and launch the brand of a new entity formed following the merger of three competing health systems. This brand helped assert leadership and capitalized on the strength of St. Peter's people. See how, from there, we followed up and helped reinforce that position with a multimedia campaign showcasing the impact the merger had on the community. We incorporated TV, print and digital creative using stories of real patients and highlighted the dedicated team of medical professionals who made these stories possible.
Bassett Healthcare Network: Strengthening a brand through consumer insights
With competitors encroaching on market share, Bassett Healthcare Network wanted to amplify consumer preference and defend market share. Using consumer research, Media Logic and Bassett learned that the client was well-regarded in terms of quality and technology across its central New York footprint, but needed to reclaim its position as a provider of personal, compassionate care. See how the resulting campaign "We see people, not patients" helped show new brand tone and imagery; less of the stale and clinical side of healthcare and more of the human connection made between providers and patients.
If you'd like to learn more about these campaigns, or how Media Logic can help you, contact Jim McDonald, director of business development, at 518-456-3015.
Tags:
Bassett Healthcare
,
client work spotlight
,
hospital marketing
,
new work spotlight
,
St. Peter's Health Partners