How Insurers Used Direct Mail for Large Enrollment Gains During Medicare AEP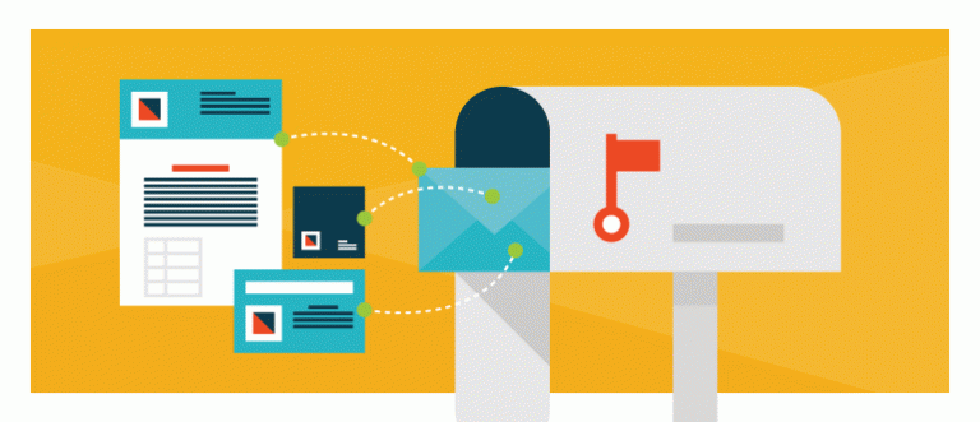 According to CMS, some of the biggest enrollment gains during Medicare's 2015 Annual Election Period (AEP) come from UnitedHealthcare (+317,378), Aetna (+76,129), Cigna (+61,208) and Kaiser Permanente (+18,761).  With help* from Competiscan, we reviewed some of the direct mail (DM) tactics used by each of these insurers in their Medicare marketing.
Right away, we noticed a change from last year. In 2014, "$0 plan premiums" dominated many of the direct mail packages; it seemed to be the main pitch to entice new members. Although $0 plan premiums still played a large role this year as an important offering, the messaging around them was less prominent. In 2015, insurers focused direct mail on other benefits of their Medicare plans, using $0 plan premiums as a secondary proof-point.
How did this play out in the direct mail packages of UnitedHealth, Aetna, Cigna and Kaiser?
UnitedHealth
UnitedHealth direct mail showcased step-by-step instructions for easy online enrollment and emphasized selection options for plans and primary care providers.  In the pieces we reviewed, UnitedHealth was the only insurer to showcase online enrollment this way, as seen in this insert included in a letter package.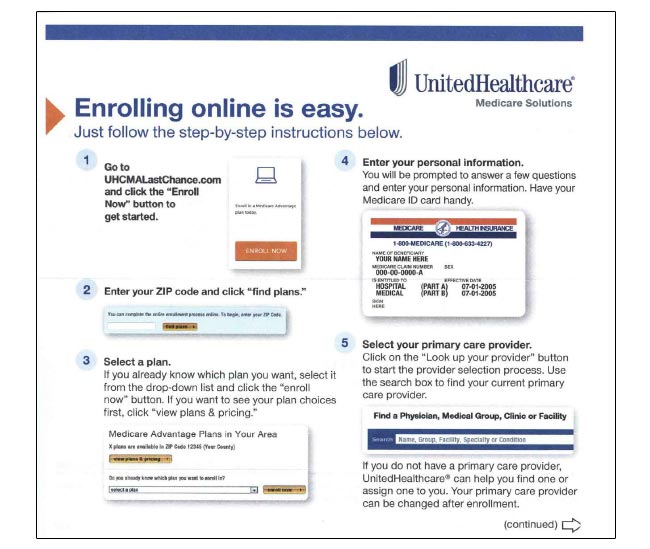 UnitedHealth also promoted its $0 plan premium, its history as a Medicare insurer, its network of popular providers and its AARP co-brand. Its direct mail pieces also touted the brand's retail presence and named locations to get questions answered and guidance, including in-home appointments and workshops.
Aetna
Last year, Aetna took a personal approach to its direct mail, including a series of pieces with a focus on photos and copy that created lifestyle vignettes. This year, it chose a different route, using direct and witty phrases and few pictures.  Aetna supplied customers with "no muss, no fuss" language like, "Now is when too good to be true becomes true" and "Now is when everything comes together."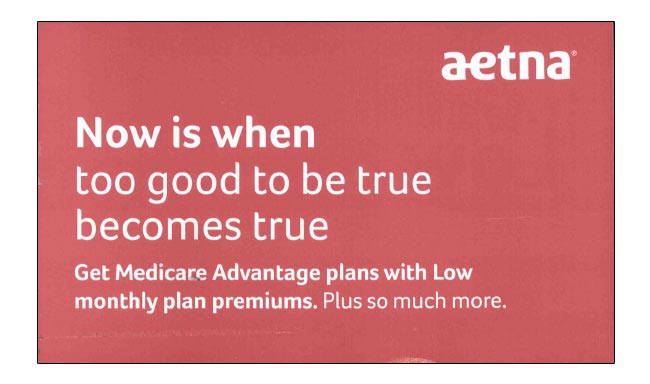 Other pieces from Aetna, like the one below, focused on coverage (highlighting providers and benefits like fitness membership) and $0 plan premiums while also promoting incentives: $10 gift cards for making a call or attending a workshop, for example.  None of these tactics were new to Aetna, but they were highlighted more in this year's DM campaigns.

Cigna
In our sampling of direct mail pieces from the top gainers this year, we noticed these two non-standard DM formats, both from Cigna: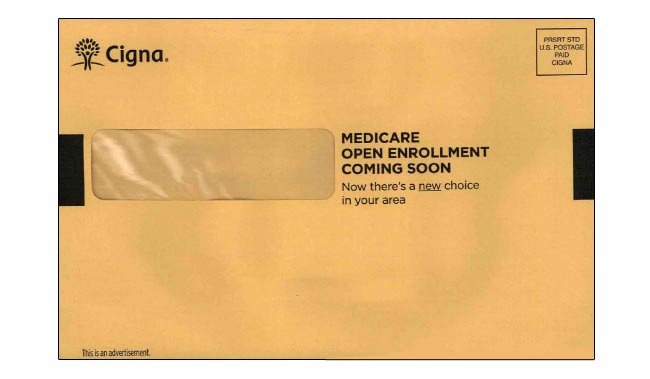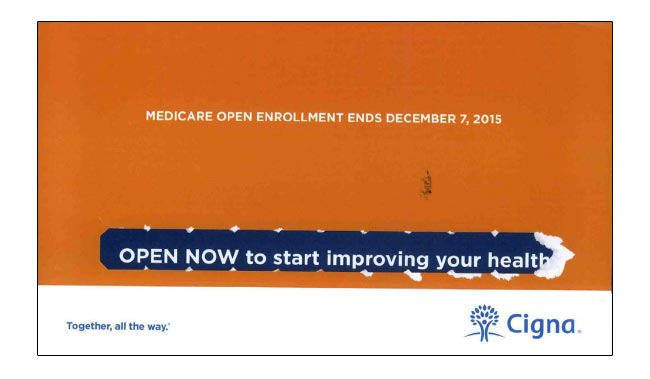 As you can see, Cigna used an urgent-looking OE in one mailing and tear-strip packaging in another – encouraging them to be read, rather than thrown away unopened. Like Aetna, Cigna's direct mail packages pitched incentives. The one below spotlights free pedometers for requesting a Medicare guide.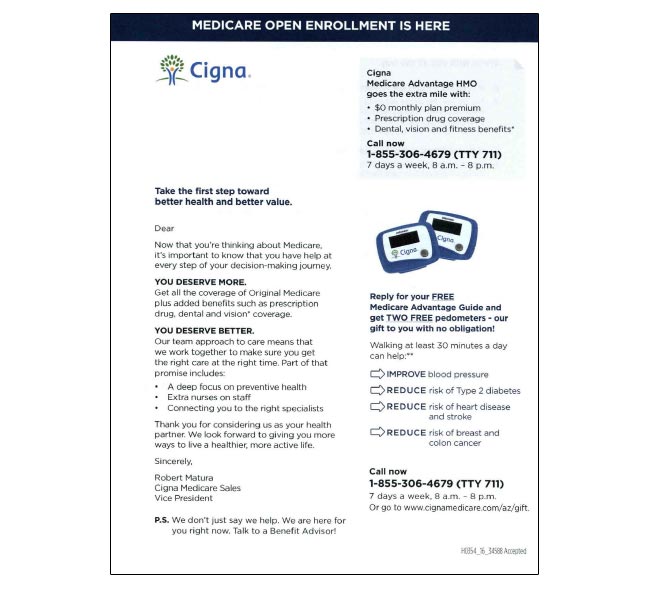 Kaiser
Like last year, Kaiser showcased its 5-star rating in its DM pieces. In addition, as both a payer and provider, Kaiser highlighted integrated care, preventive care, and in-home care along with easy online appointment scheduling.  Kaiser also mentioned healthy lifestyle resources and its $0 plan premiums and provided a checklist for comparing your current plan with a Kaiser plan.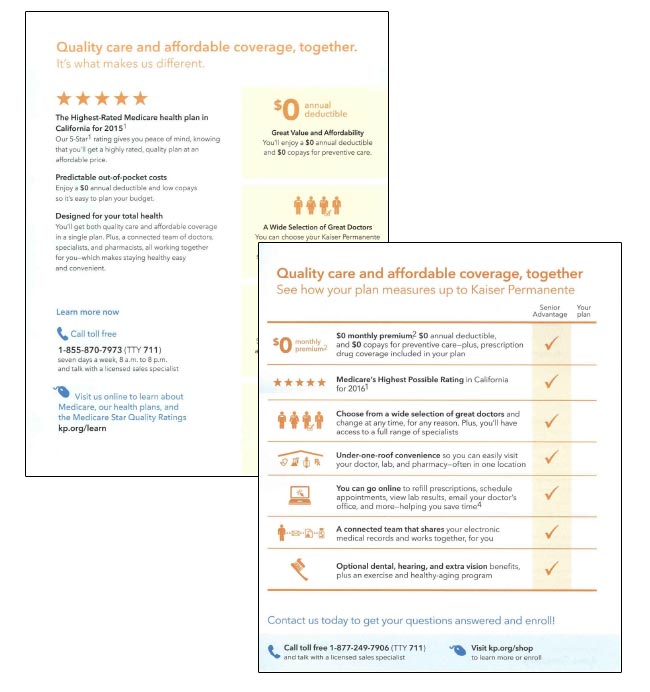 Takeaways
To acquire new Medicare customers, insurers try to stand out and differentiate themselves from their competitors. Last year, nearly all insurers emphasized their $0 plan premiums, and so – while cost was a primary motivator for consumers, nearly all of the insurers offered it, and so it failed to be a differentiator. In fact, going back to 2013, most of the AEP enrollment winners promoted $0 plan premiums.
In 2015, the $0 option remained one of the most important factors for consumers. As a result, nearly all insurers continued to emphasize it. However, in terms of messaging in marketing materials, the $0 plan premium was more equally weighted this year with other factors that motivate consumers, including prescription benefits, provider networks and ease of use. Here, it may be easier for insurers to express the plan – and brand – attributes that differentiate them from their competitors.
*Direct mail communications (screenshots) sourced from Competiscan, a full-service, competitive intelligence market research firm. Competiscan enables clients to study marketing and loyalty strategies by industry, company, product or recipient demographic.  Media channels tracked include direct mail, email, online display, social media and print. Competiscan clients utilize a web-based search facility to understand what consumers, business owners, financial advisors and insurance producers are viewing in the marketplace.
Tags:
AEP
,
Aetna
,
Cigna
,
Competiscan
,
direct mail
,
health plan marketing
,
healthcare insurers
,
Kaiser Permanente
,
Medicare marketing
,
UnitedHealth