How to boost the "B2C" in B2B2C Healthcare Marketing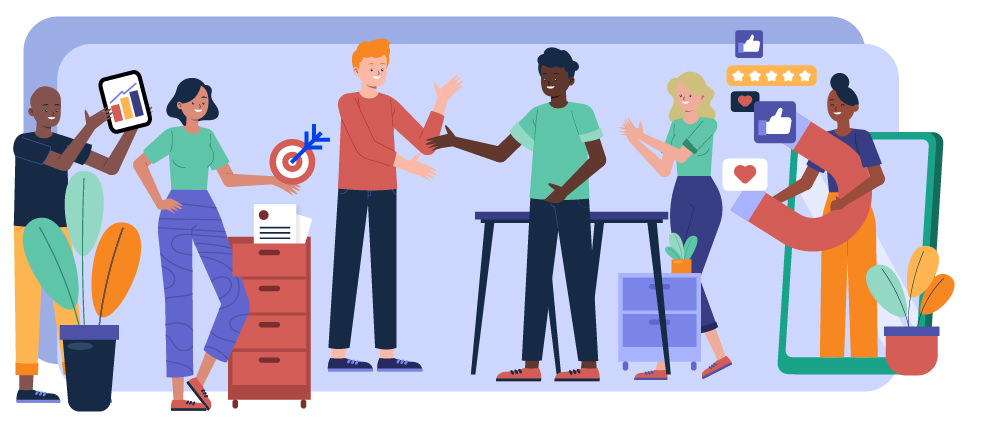 Tips for selling your health service through payers, providers or enterprise
Historically, many digital health companies leaned into B2C2B marketing as their go-to-market strategy. Think Talkspace, Kardia and Marley Medical — all are companies with B2C2B origins. The go-to-market strategy of B2C2B companies is to first build a strong end-consumer base, a logical way to develop the credibility and brand value needed to sell into payers, providers and enterprises for larger scale growth. But 34% of these B2C2B companies, according to digital health VC company Rock Health, eventually evolve their model from B2C2B to B2B2C to leverage the larger audiences of their B2B partners. For those companies, as well as others that have followed a B2B path from their start, the B2C component can prove to be tricky.
For various reasons, not all B2B partners will freely enable marketing your product or service directly to their members. And leaving the responsibility for engaging healthcare consumers up to the B2B partner can be risky — they don't know your product or service like you do. On the other hand, going direct to consumers can be very costly, especially with rising competition. Following are some strategies to help engage healthcare consumers and create a win-win for your B2B partner and your bottom line.
Enable your partners
Whether your B2B partner is an employer, provider, payer or enterprise, recognize that they have bought into your product or service because they believe that it can deliver a positive outcome for your mutual end consumer. This trust, however, does not make them expert in selling it, even though they stand to gain from engagement of your healthcare consumers. Don't depend on recognition of your brand to be enough to engage utilization, either. Healthcare consumers are increasingly savvy and have high expectations for personalized connections. Some ways to help your partners acquire consumer/patient buy-in are:
Educate the people who can be your strongest ambassadors on what your solution can do for their patient/member and their organization — they may not be the same decision makers that are your buyers. For example, you may have sold in at the c-level of a payer or provider organization, but it is the people who have opportunities for direct communication with your end consumer (e.g., practitioners, customer sales and service representatives) and marketing personnel that have the power to inform and persuade adoption.
Provide your B2B partners with marketing support that clearly explains your value proposition and can be used to drive buy-in from end-consumers:

Inserts for inclusion with mailings

Testimonials/case studies

On-premise signs and collateral (if applicable)

White labeled landing pages for enrollment/subscription/purchase

On-site presentations to prospective end-consumers (where it makes sense)

Digital assets for social sharing
To not put all your eggs in one sell-through basket, consider where you may enable indirect sell-through partners, as well. For instance, if your contract is with a provider or enterprise but covered by a payer, share your marketing supports with the payer. If your contract is with a payer, then also share your marketing supports with providers and employers who are covered in the service network.
Mind your end consumers
For companies whose service or product must be purchased or opted into by a healthcare consumer, like a branded fitness program or medical equipment that is eligible for insurance reimbursement, the most immediate measure of consumer experience is typically satisfaction with your solution. This means that you should take responsibility for generating brand awareness at the consumer level as well as for generating leads to your B2B partner.
While B2C marketing may take a rap for high cost, there are ways to mitigate the potential for overspend and waste to achieve a positive ROI. Highly focused media and creative can be your key to efficient marketing. Here are some strategies:
Target and connect with employees of large employers in key geographic areas – according to the CDC, five of the country's leading chronic conditions (high blood pressure, diabetes, smoking, physical inactivity and obesity) cost U.S. employers over $36 billion per year.
To reach seniors and special needs audiences, consider grassroots media channels for outreach, such as collaboration with community-based organizations.
Leverage highly targeted digital media tactics:

Paid Social – Enables you to increase brand visibility to highly targeted audiences. Include short videos in the design mix and focus creative on making emotional connections that will drive leads to landing pages. Test different messages to see what resonates.
Native Advertising – Use this tactic to deliver educational and meaningful content to your targeted audience. Since the material is designed to look more like the editorial content on the page, get creative with the messaging and make sure it adds value to the customer experience.
Contextual Advertising – Serve ads to your target audience when and where they are consuming content to which your product or service is relevant.
Content Marketing – Establish thought leadership and positive regard with your targeted end users through educational information on chronic conditions and strategies to live with them. Be sure to include SEO best practices in your content marketing strategy for optimal performance.
Paid Search – Ideal for generating leads that are in the consideration or conversion phase. Set up conversion tracking and test different copy, calls-to-action (CTAs) and landing pages.
Landing pages – Drive leads to landing pages that clearly connect to the CTA you've made in your marketing and provide a prominent and easy-to-complete form.
Follow your audience. If they've visited your landing page but not converted, re-target them at media sites they are visiting. If they've completed a landing page form but not followed through with a buy decision, have an email nurture campaign in place to continue offering more information to move them along their buyer journey.
Manage your outreach and your expectations
Your B2C approach does not have to boil the ocean. Work with narrow segments of your solution or target one or two segments of your audience at a time. Track established KPIs. Scale accordingly. Have patience. Depending on your marketing mix, it can take several months to nurture and start converting prospects for healthcare product/service engagement. In the end, the progress you make engaging more end-consumers will re-validate your product or services to your B2B customers and prospects as well.