Super Bowl 50 Ads: New Financial Services Brands Use Old Tactics… and "Visa" Versa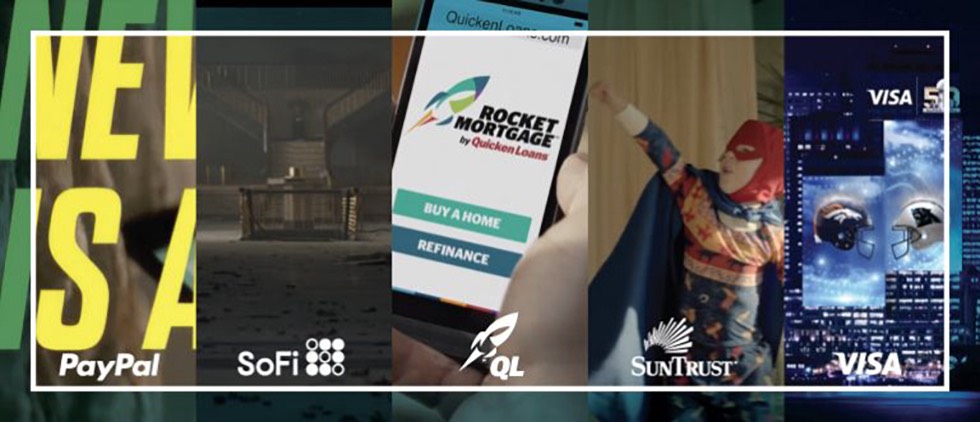 The annual recap of Super Bowl ads is always of interest to marketers, and as a financial services marketing agency, we focus specifically on how FS companies do at the big game. Typically, a common theme emerges from our analysis, and 2016 is no different. This year, we saw a trio of financial service "disruptors" use the tried and true Super Bowl brand spot to declare how they differ from traditional banks, while two older financial companies used less traditional tactics as part of their approach.
First, the disruptors:
PayPal
The granddaddy of FS "disruptors" is PayPal. The company has long since shed its origins as a simple way to pay for eBay purchases, shifting focus to emerging trends like peer-to-peer payments. Its 60-second spot was almost a declaration of independence from "old money," stating unequivocally that "Pay Pal is new money."
The creative execution was tailor made for the Super Bowl: no voice over, large type, a variety of images. Even at the loudest party you could follow this spot.
SoFi
If you haven't heard of SoFi (short for Social Financial), it likely means your student loans are all paid off. Founded in 2011 by four Stanford Business School grads, the company originally began by offering alumni-funded alternatives to federal student loans. SoFi has since expanded its product offerings to include mortgages and personal loans. So what does the brand want you to know? Well, in the pre-game spot, SoFi makes it very clear that it is not a bank.
During the game, SoFi ran a second spot that proclaimed it provides "great loans for great people."
This creative strategy is likely a result of its recent decision to stop using FICO scores as part of loan underwriting, relying instead on factors like bill payment history, monthly income vs. expenses and professional experience. SoFi is right: that's not very bank-like.
Rocket Mortgage
Quicken Loans used the Super Bowl to help launch its new "Rocket Mortgage" product. The ad states that Quicken is doing for mortgages what the Internet did for buying music and plane tickets – making it simple. It's so simple, in fact, that borrowers can get a mortgages on their phones, skipping the piles of paper that are often needed.
New ways to pay and new ways to borrow… but all of these new companies used an old medium (the TV spot) as the central part of their campaigns. What were the more "traditional" financial services companies doing?
SunTrust
A super regional bank based in Atlanta, SunTrust has placed local buys in past Super Bowls. This year, it decided to go national with a spot that touches on the emotional insecurities that many of us have about money. SunTrust positions itself as helping America "catch its breath" with finances, and the spot drives viewers to "join the movement" via a microsite onUp.com.
A strong call-to-action driving to a campaign microsite is nothing new, but it's interesting to see harder working creative from a more traditional FS brand compared to the purely brand and awareness building spots from the disruptors.
Visa
Special mention goes to Visa. This longtime NFL sponsor generally skips buying a spot during the game itself, and this year was no different. However, with the big game taking place in the Bay Area where Visa is headquartered, the brand managed a Super Bowl presence even without a TV spot. For example, Visa's downtown office was part of "Super Bowl City" in San Francisco, and leading up to the game, Visa put on a nightly digital light show projected onto its office tower.
For those who attended the game, Visa set up nearly 700 NFC enabled point-of-sale terminals in Levi Stadium, allowing fans to pay with their smart phones, and they used Visa Checkout to provide in-seat ordering of food and drinks.
Visa could have easily purchased a TV spot to promote all of this, but it chose to use social media and PR instead. On Facebook and Twitter Visa shared videos of the digital projection and ran promotions related to Visa Checkout in the weeks leading up to the game.
This was a very forward looking strategy for one of the oldest financial brands out there, but it makes a lot of sense. Visa is an innovator in the payments space. Its focus on a buzzworthy, site-specific out-of-home effort – and technology integrations at the game – reflects a more creative marketing strategy. Sure, Visa could have talked about its role as an innovator by running a 30-second spot, but with the approach it took, Visa was able to demonstrate how it is innovating. To us, that seems like a more powerful approach.