Integration of Direct Mail Increases Response, Improves Campaign ROI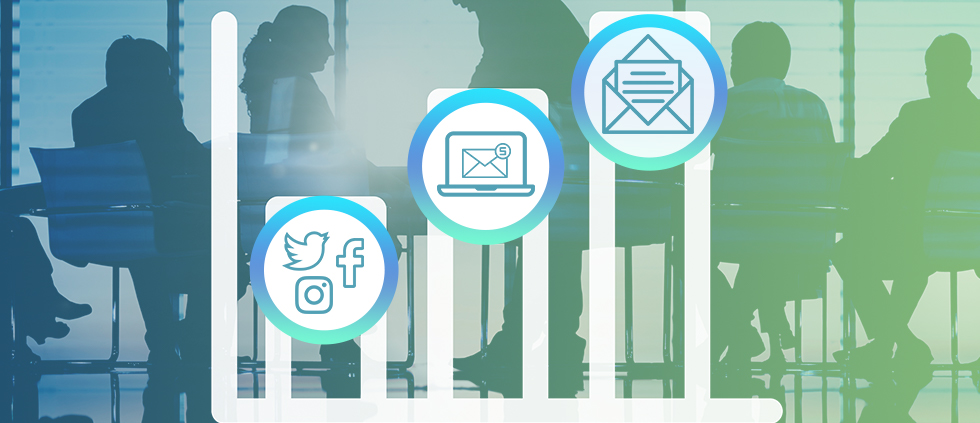 A captivating book, Followers, is making the rounds. It's a dystopian story about a government-controlled city inhabited by elite influencers, broadcasting their daily lives 24-7 and showcasing brands to mega-millions of global followers. Performance metrics are constantly tracked and visible to influencers, sponsors and the government-handlers in real time.
Both humorous and disturbing, the story bounces between 2015 and 2051, when New York City high-rise buildings house relics of the past, like rows of numbered mailboxes long abandoned and filled with cobwebs… except for one. In it, the protagonist discovers something she barely recognizes: a piece of mail never retrieved and opened. Although she "could never remember how to open these things," she does. The story then hurtles towards a cataclysmic event.
It's 2020, and direct mail remains viable, although under-utilized. Due to media bias or lack of institutional DM expertise, marketers may focus on digital marketing without proper integration of direct mail or to the exclusion of the channel. A PFL/Demand Metric survey of 600+ marketers, released September 2019, finds that most marketers leverage three or four channels in a multichannel campaign, but only 56 percent are typically using direct mail.
From 2018 to 2019, U.S. direct mail volume declined with spend decreasing 3.4% year-over-year to $41.2B. (Note: Experts predict DM volume will have moderate growth in 2020.)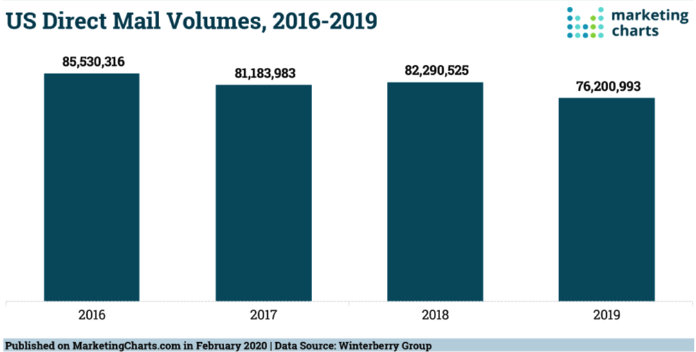 For most credit card marketers, direct mail is responsible for between one-third and three-quarters of all new accounts generated, according to Acxiom. It makes perfect sense that Capital One, Chase, Amex and Citi continue to invest in direct mail for acquisition but not to the exclusion of email, display advertising, social marketing and third-party affiliate marketing.
Acxiom observes that companies who invest in DM – like the issuers noted above – "have developed a deep institutional knowledge regarding managing, measuring and forecasting campaign performance, providing confidence in their ability to generate the number and quality of accounts they expect."
Improved performance
The survey results underscore that marketers should not ignore DM despite the work required to master proper integration of direct mail and DM best practices. When direct mail is part of multichannel campaigns, response rates are more favorable than campaigns that do not include direct mail.
"Our study illuminates the role and impact of direct mail across the multichannel marketing mix. The data clearly shows that direct mail improves overall multichannel marketing performance – and results improve significantly when direct mail is fully integrated, personalized, and represents a company's brand well."

— Daniel Gaugler, CMO of PFL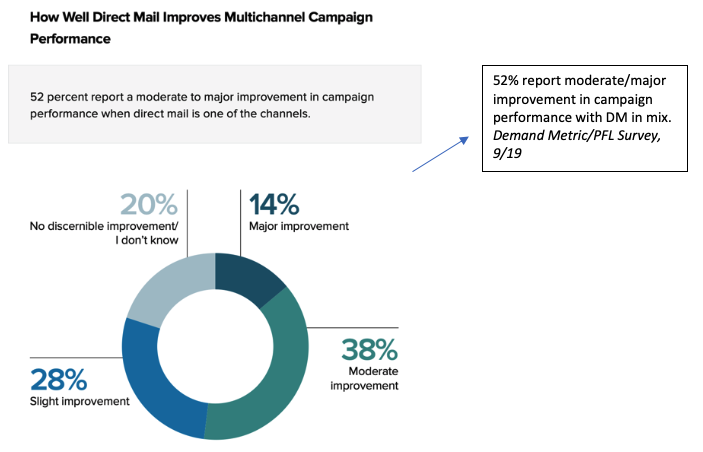 Improved campaign ROI
The survey leads to the observation that "it's easy to see why DM is underutilized" because brands look at median ROI at the channel level. On that basis, direct mail comes in third (following email and social media) but outranks paid search and display. It is integration that is critical to improved campaign ROI, as reported by Demand Metric/PFL:
83% of marketers reported good/very good ROI when direct mail was fully integrated into their multichannel campaign.
Over half of respondents reported a moderate to major improvement in overall campaign ROI. Furthermore, when direct mail is highly personalized and integrated, the ROI improvement moves up to 89 percent.
Superior selectivity and targeting
Online card acquisition typically has a higher level of adverse selection. Direct mail remains the only channel through which prescreening at scale is possible and permissible, according to Acxiom, making it viable to select consumers to receive a pre-approved or firm offer of credit.
"DM is a PII-based, addressable channel; credit granters are selecting the specific individuals they seek to do business with, not devices or IP addresses. Selection of their prospect mailing list is analytically driven based on a multitude of data and criteria, but nevertheless involves selecting specific individuals to receive specific offers."

— Acxiom
Credit card issuers are using direct mail as the first in a sequence of marketing outreach, then amplifying the offer via additional digital touchpoints including display and email to re-enforce the message. This practice utilizes prescreening to select the mail universe and moves outreach to digital channels to gain cost advantages.
Ready for the next wave
While the Demand Metrics/PFL survey didn't investigate this insight further, responses suggest that marketers are guilty of using the channels that are easiest or most familiar and not necessarily those that work the best.
One compelling reason to add direct mail to your channel mix is because other marketers have walked away from DM. Add it back in now and follow best practices to stand out from the competition.
With years of experience supporting campaigns that include proper integration of direct mail, Media Logic knows how to deliver smart direct mail integration through personalized content, executional best practices around timing and sequencing all touchpoints, building campaigns around customer segment needs and staying on brand with messages.
Now is the time to get ahead of your competitive set by incorporating direct mail into your campaigns. Higher response rates and better ROI are the pay off when corporations and experienced marketing partners work toward achieving the highest level of integration.
Tags:
direct mail
,
direct mail marketing
,
financial services marketing
,
integrated marketing strategy
,
ROI