Financial Brand Super Bowl Commercials Focus on Digital and Crypto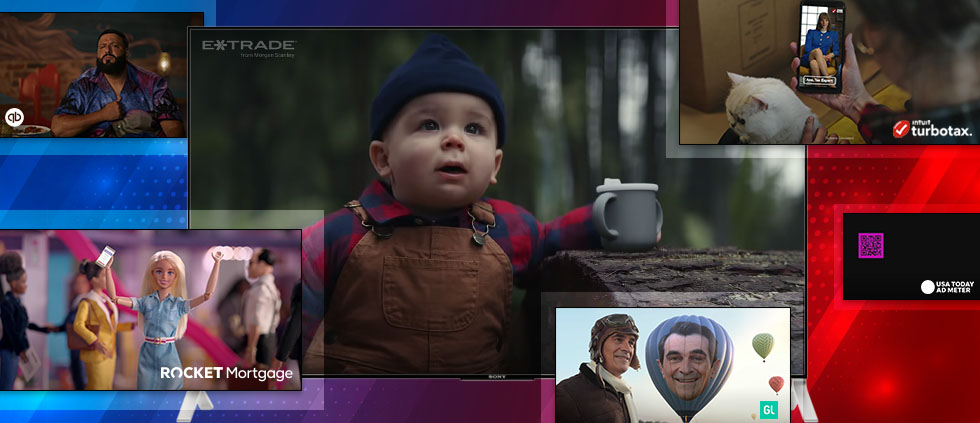 From cryptocurrency to mobile apps, many of the financial services commercials in Super Bowl LVI focused on new technology… and made it more palatable by serving it up with nostalgia. From the E*TRADE baby to Barbie to Pong, financial brand ads did a great job, for the most part, of pairing the old and the new.
As reported by multiple sources, including this The Wall Street Journal piece, brands paid NBC $7 million for their 30 seconds of fame on one of the biggest ad stages available. And since the Super Bowl audience is known not only for its incredible size (predicted this year to be 117 million) but also for turning ad commentary into a sport of its own, the price tag is also the cost of the accompanying attention – good or bad.
Among a fairly sizable collection of FS brands, including first-timers Greenlight, Coinbase, FTX and Crypto.com, who got praised and who got panned? We look at some popular rankings and re-watch the spots, highlighting media reception and sharing feedback from Media Logic's very own FS pros.
How Financial Brand and Crypto Commercials Ranked in Super Bowl LVI
To get a sense for which financial services commercials were ad industry darlings and fan favorites (and which fell flat), we turned to Adweek, USA Today's Ad Meter and Yahoo! In addition to encountering some deep divides in opinions on the crypto commercials, we see that – out of all the game's commercials – three FS brands received the highest marks: Coinbase, QuickBooks and Rocket Homes and Rocket Mortgage.
Here is a summary of the positive rankings (listed alphabetically by brand):
Coinbase (Adweek's #1),
E*TRADE (Ad Meter's #10),
FTX (Adweek's #4),
Greenlight (a "B" from Yahoo!),
Rocket Homes and Rocket Mortgage (Ad Meter's #1*, Adweek's #3 and an "A" from Yahoo!) ,
QuickBooks (an "A" from Yahoo!) and
TurboTax (a B from Yahoo!).
The biggest point of debate surrounded crypto brands, with Adweek being the only one on our list that liked their commercials. Yahoo! gave a "D" to FTX, for example, and "F's" to both Coinbase and Crypto.com. Ad Meter concurred when sharing its results, reporting that the crypto spots "weren't warmly received." Specifically, it says, "Finishing in the basement was Coinbase, a cryptocurrency exchange that used its 60 seconds to float a QR code around the screen, daring its (largely confused) viewers to scan through to its site." This is in stark contrast to Adweek's take: The publication named it among 10 viral moments that defined the game.
Financial Services and Crypto Commercials in Super Bowl LVI
In addition to consulting the rankings – and the opinions of fellow fans gathered in our very own living rooms – we gauge the ads' success by how well they represent the brand and its featured product/service. Here's how we think financial services companies and crypto brands (presented here alphabetically) did this year.
Coinbase: QR Code
From the buzz we're seeing, it's likely that crypto wallet Coinbase produced this year's most talked about ad. Ranked #1 by Adweek, it featured a QR code Pong game and Flying Lizards electronic music, taking some of us back our childhoods. In addition, the moment of Zen it seemed to offer absolutely broke through the noise and clutter. Of course, the main point was click-throughs, and although traffic crashed the app for a bit, the QR code did work, taking you directly to a special offer.
Calling it "a marketing moment unlike any other in this year's Big Game," Adweek mentions the ad's length as part of its success: "Had it been just 15 seconds, casual viewers might have shrugged off the odd spot and gone back to their snacks. But running a leisurely 60 seconds, the spot and its hypnotic music became increasingly curiosity inducing until finally many of us had to pull out our phones and scan it." It goes on to praise the brand's play for engagement, describing its value as "leap[ing] past simple brand awareness and directly engag[ing] viewers."
However, not everyone was on board. Giving it an "F," Yahoo! says, "Behold, an awful commercial for a crypto exchange. The only saving grace is that it's not for an NFT."
Crypto.com: "Moment of Truth"
This Super Bowl commercial from Crypto.com is an attempt to align the brand with inspiration and boldness. In a behind-the-scenes video, Creative Director Ben Lay explains, "We've all had to make big, courageous decisions that affect our future. The only difference is we didn't have millions of people watching." The message – delivered when a young LeBron James gets the chance to talk to his future self – is that if we dare to take risks and think big, we can reach a level of success that's hard to imagine.
Even though crypto seems to be embracing its identity as a bold choice right now, the "fortune favors the brave" theme in this ad ends up being sidelined. The culprit? Some seemingly heavy-handed CGI used to enhance the likeness of the younger LeBron (played by actor Bentley Green) to LeBron himself. As Yahoo!, which gives the commercial an "F," says emphatically, "Oh no, LeBron. Oh no no no. I dare modern-day LeBron to explain crypto to his creepily realistic younger self. It just won't work. Nothing about this works. No." But there's an even bigger issue with the ad. As USA Today's For the Win notes, the commercial "could have been for literally anything else."
eToro: "Flying Your Way"
The commercial for trading platform eToro illustrated the concept of crowdsourced investment advice. While visually interesting (picture a murmuration of people with smartphones swirling and surging among skyscrapers), we're wondering if the ad took "the power of social investing" seriously enough. Except for a warm feeling of community, the actual value of its core model seemed to be missing entirely from its pitch.
Giving this one an "F," Yahoo! suggests (or maybe, warns), "All these optimistic crypto commercials are definitely bringing to mind the dot-com bubble and all the ads those soon-to-be dead companies ran in January 2000. Those ads were so optimistic, just like these! I'm sure that's just a coincidence."
E*TRADE: Baby "Off The Grid"
The Wall Street Journal says it's been nearly a decade since we've seen what was once a "Super Bowl staple." Ranked #10 on Ad Meter, the return of the E*TRADE "spokesbaby" was literally met with applause at more than one of our own Super Bowl gatherings. We think the ad is fresh, funny and … come on, it has two talking babies. Humor aside, the ad successfully disses the use of memes for financial services education: Just the idea of it is enough to bring the baby out of retirement to save the day. Even though Yahoo! only gives the spot a "C," it calls the E*TRADE baby's return "triumphant."
As a footnote, CNBC's live blog mentions the spot's branding: "The online trading platform showcased its newly evolved logo, which now includes Morgan Stanley's light blue along with E-Trade's signature purple, to symbolize last year's deal that joined both companies."
FTX: "Don't Miss Out"
Ranked #4 on AdWeek's list of Top 10 ads from the game, this commercial from cryptocurrency exchange FTX made everyone in the room LOL. It shows Larry David dismissing several world-changing ideas (like the wheel and space travel) and urges viewers, "Don't be like Larry" when it comes to crypto.
Well played, FTX! The spot has good timing since many consumers remain skeptical about the currency. We agree with Adweek when it says this brand's Super Bowl debut "easily stood tall among the rest" of the crypto ads. Yahoo! disagrees and gives it a D, criticizing Larry David for playing himself and expressing disappointment with the spot's punchline: "The letdown when the commercial reveals it's for a crypto exchange is absolutely epic. Et tu, Larry?"
Greenlight: "I'll Take It"
Greenlight's first Super Bowl commercial gets a "B" from Yahoo! and successfully leans on the humor and likeability of Modern Family's Phil Dunphy (Ty Burrell) to showcase the need for financial literacy. "He serves as a bad example for financial wellness," says CNBC's live blog of the game's commercials, "and buys everything from a pegasus to a jetpack before going broke."
The commercial concludes with a father using Burrell's behavior as a cautionary tale, telling his kids that's why the family uses Greenlight.
Intuit QuickBooks and Mailchimp: "Duality Duets ft. DJ Khaled"
DJ Khaled's song "All I Do Is Win" could be enough on its own to help consumers associate a brand with success, but this first-ever Super Bowl commercial for QuickBooks takes it further. It succeeds (Yahoo! gave this one an "A") in establishing a best-case scenario for its customers – one in which business professionals get to do what they're good at, while letting QuickBooks handle their finances… and leaving the singing to DJ Khaled.
Rocket Homes and Rocket Mortgage: "Barbie Dream House"
Adweek makes the claim that "Barbie Wins the Super Bowl" and supports it by citing data from Ad Meter. There, the spot – which featured Pitch Perfect's Anna Kendrick and Barbie herself – ranked #1, stealing the victory from "it" couple Scarlett Johansson and Colin Jost, who starred in the widely adored Amazon Alexa "Mind Reader" commercial. On its own list of top commercials, Adweek ranks this one #3 and says it "managed to blend classic Barbie advertising with the harrowing reality of home buying."
There was some concern that the ad's story was missing a key element. "It's not immediately clear," reports USA Today, "how Rocket eradicates the evils of [the home buying] ecosystem in which it operates." However, many viewers understood the bottom line: The brand can offer buyers an advantage in a competitive environment. We think Rocket successfully used the charm of Anna Kendrick (and the nostalgia of Barbie) to connect the app with the ability to land your Dream Home.
TurboTax: "Matchmaker"
Jason Sudeikis, who plays the title character in the viral hit TV show "Ted Lasso," has a cameo in this newest release in a series of Turbo Tax Live ads that the brand began airing in the weeks ahead of the Super Bowl. Each ad hits the same theme: No matter who you are or what your tax situation is, TurboTax has the right experts to help. We think this commercial is successful in representing a tax challenge (like income from more than one country or state, as is the case for both Lasso and Sudeikis) and its solution: getting matched with a skilled TurboTax advisor.
Yahoo!, which gives this one a "B," agrees. It says, "Filing your taxes on your own can be daunting and scary, because the consequences of screwing it up are very real. But this clever, funny and comforting commercial tells you it doesn't have to be that way."
* Of note is that, as reported by Ad Meter host and creator USA Today, "In a rare moment of brand and celebrity synergy, [Anna Kendrick, who appears in the commercial,] tweeted to her 7 million followers an appeal to vote in the contest, culminating a weeklong campaign during which Rocket did not release the entire ad — as more than three-fourths of Super Bowl advertisers do these days — but Kendrick teased on her social channels."