The Metaverse Will Transform the Financial Services Customer Experience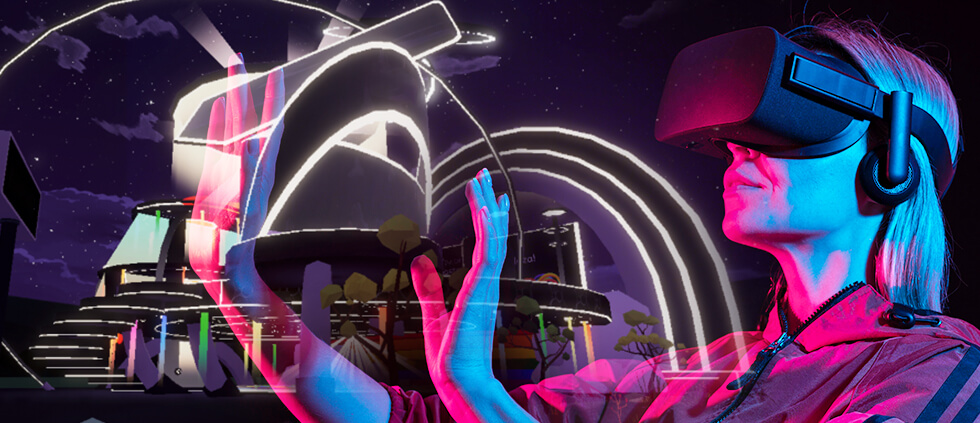 In late June, HSBC tweeted a clever animation depicting what it means to "level up" to Web3 and the metaverse:
Accompanying the video was an invitation to "journey into the #metaverse with HSBC" and an article about what the brand means by "leveling up." Its basic premise? Previous and existing versions of the internet have been ho-hum in comparison with what's to come:
"Web 1.0 and 2.0? Been there, done that. In the new world of Web3, a digital version of you can buy your own land, watch your favorite musicians perform live – or perhaps visit a virtual exhibition and buy some digital art."
In this third evolution of the internet, says HSBC's Rajeev Tummala, most of the buzz is around the metaverse, where consumer avatars interact in digital environments, including shops with virtual and/or real-world products and venues for virtual experiences.
It's easy to see why there's already so much speculation about business and marketing opportunities in the metaverse, and when it comes to financial institutions, Accenture says the FOMO is real:
To avoid missing out – and to capture attention and get ahead on learning from the environment – some FIs are already experimenting in the metaverse.
Below, we explain exactly what these pioneering brands are doing in the space and share some early intel on the kinds of opportunities that exist for financial services brands in the metaverse. These include, but are not limited to, virtual branches and advisors, greater digital engagement, payments that straddle virtual and real-world environments, plus marketing via sponsorships, merch, events, experiences and more.
Financial services brands in the metaverse
"This is a critical juncture for businesses to explore, experiment, take calculated risks, fail fast and learn faster, to understand what it takes to offer services in this space with the potential to provide immense value for clients," HSBC's Rajeev Tummala says. And that's precisely what several financial services brands, including HSBC and its partnership with The Sandbox, seem to be doing as they make their moves toward the metaverse.
Mastercard celebrates Pride in the metaverse
As described in a Mastercard press release, its Mastercard Pride Plaza created "opportunities for community members and allies to connect in a space where attendees are encouraged to be their truest selves." The experience included "candid conversations with LGBTQIA+ thought leaders, a surprise musical performance, limited edition NFT wearables and an appearance by Mastercard's NYC Pride March float."
Mastercard created its Pride experiences within an existing digital space for the LGBTQ community, where Pride Month celebrations, including a parade, were already planned. In addition, the brand's participation aligned with its trailblazing True Name program, which permits transgender and nonbinary people to display their chosen name on their credit card. American Banker reports, "The Pride event does not involve banking or payments, but it does align with the card network's other corporate missions."
American Express hosts Wimbledon 2022 experiences
Partnering with the All England Lawn Tennis Club, American Express created #TheVirtualHill, described by Marketing Communication News as "a virtual re-imagining of Wimbledon's most iconic fan destination, an interactive metaverse experience that lets fans everywhere experience the quirks, history, characters and rewards of a day on the Hill. Fans take on daily missions around the Hill for the chance to earn WimbleCoin and daily prizes.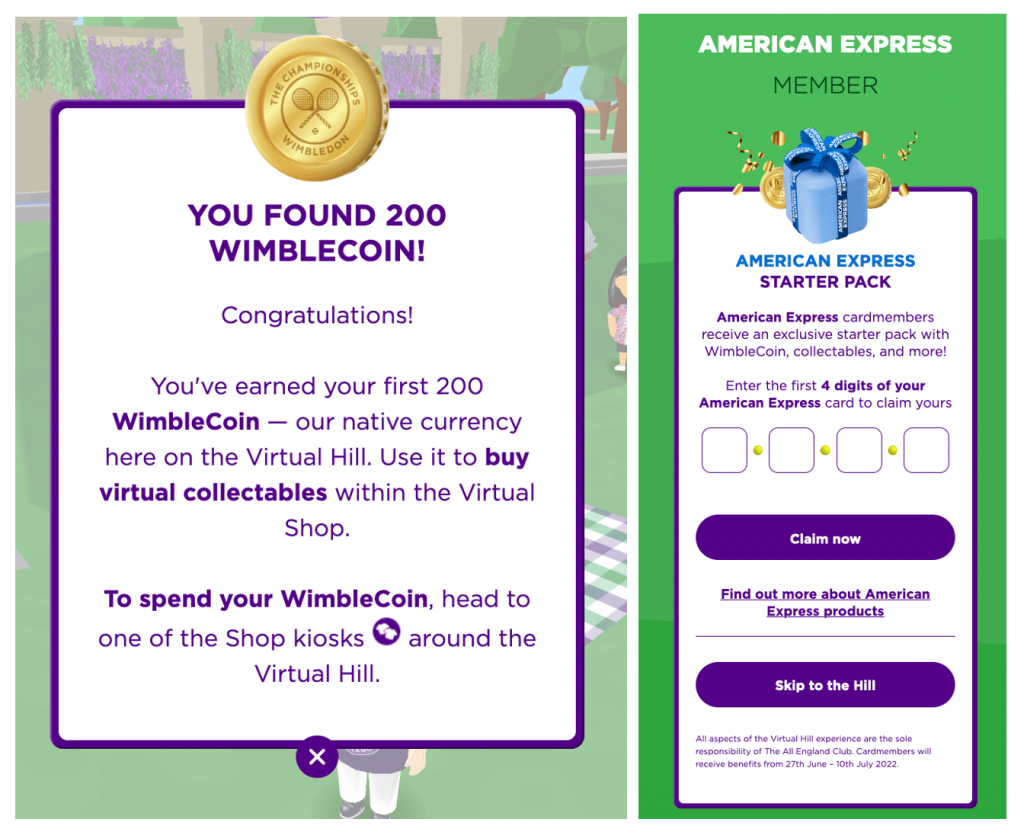 Staying true-to-brand, American Express incorporated exclusive experiences for cardmembers, including the chance to rub virtual elbows with tennis star Andy Murray and to access one of its iconic Amex lounges.
Visa sets its sights on being the "engine of the revolution"
In August of 2021, Visa used the cryptocurrency Ethereum to purchase "CryptoPunk 7610," a unique work of digital art described in Forbes as "an avatar of a female character, distinguishable by a mohawk, large green eyes and bright red lipstick." This digital asset is what's known as an NFT – a non-fungible token – and with the transaction, Visa officially entered the metaverse, says Forbes, "blazing a new trail for the kinds of services payments companies and banks may need to offer in the future."
The purchase was Visa's way of building its NFT expertise and positioning itself to assist customers with NFTs in the future, but that may be too understated. According to Forbes, Visa sees a much larger opportunity: "If the metaverse merchants are bound to transform the economy, Visa sees its role in being the engine of that revolution."
Since its acquisition of CryptoPunk 7610, Visa has continued to invest in the NFT ecosystem, launching the Visa Creator Program earlier this year.
According to Beyond Games, the initiative "supports new artists, musicians, fashion designers and more – allowing them to learn and adopt Non Fungible Tokens (NFTs) into their systems of commerce." Visa will provide program cohorts with "technical and product mentorship, community building, access to thought leaders, exposure to Visa's clients and partners and a stipend."
JPMorgan features thought leadership in its Onyx lounge
As reported by finextra, JPMorgan opened its Onyx lounge to "coincide with the publication of a paper on the opportunities presented by the metaverse." The unique space – featuring a Jamie Dimon portrait and a pacing tiger – is an unusual container for branded thought leadership content.
To turn the content into an experience, American Banker says, the room showcased "a couple of wall-mounted displays. Clicking on one of the displays started a video 'demo' of how payments could be made in space using smart contracts. Another shows a timeline of the bank's blockchain projects."
ZELF stakes its claim as "bank of the metaverse"
It's well accepted that there'll be banking in the metaverse, and ZELF has declared itself the "bank of the metaverse." On the brand's Medium blog, it calls its digital Visa card "a world-first" – "a way for gamers to do their banking within Discord, their 'always-on' messenger, and the possibility to trade virtual assets (skins, in-game cosmetics, weapons, etc.) in their favorite games, through real money transactions."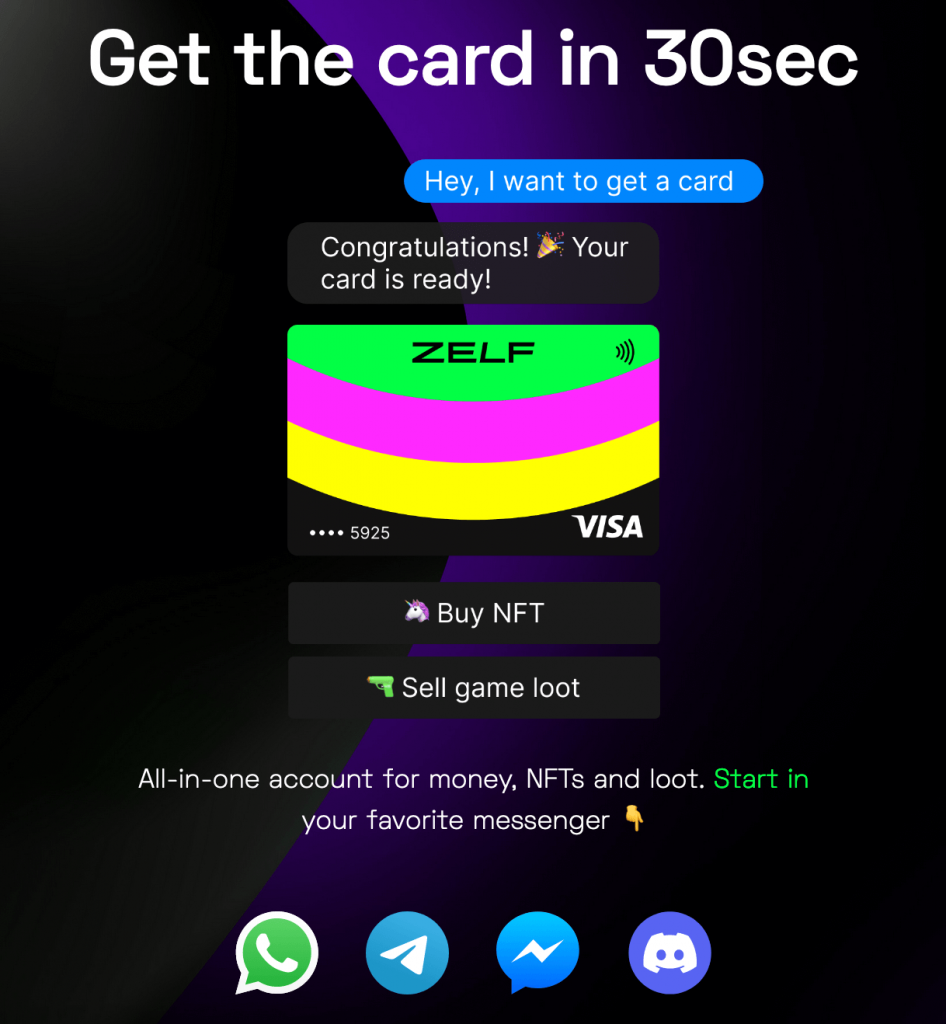 In addition, Elliot Goykhman, the CEO and founder, says ZELF is "enabling the future of metaverse banking… providing controlled financial services to the gaming industry [and] helping to ensure the sustainability of the gaming economies. We believe our tech is coming at the right time to position ZELF as the bank for the gaming generations and the first neobank of the metaverse."
Envisioning financial services in the metaverse
Admittedly, it can still be difficult for more traditional FIs, including regional or local banks and credit unions, to picture what they may be able to do in the metaverse to better serve customers, members and their bottom lines. But don't worry – we're happy to help you imagine the possibilities! In addition to reviewing the FS examples above, we encourage you to check out early metaverse experiences from popular brands outside the industry. These explorations are a great way to get a clearer picture of the types of experiences and transactions that are taking place in the metaverse.
Currently, cosmetic and fashion brands are leading the way, according to Media Post. It says, "Nearly half of all consumers say they're interested in buying virtual 'looks' such as makeup or hairstyling that can be applied to their avatar or to themselves virtually through a digital filter." An article in The Drum describes "out of this world" experiences from Gucci, Coca-Cola, Louis Vuitton, Balenciaga and Pokémon. The Digital Speaker details projects from Burberry, Nike and others. Practical E-Commerce adds Disney, Hyundai, Warner Bros. and Microsoft to the list. Metaverse experiences from brands also include a virtual world from Wendy's, a burrito building game from Chipotle, a digital skatepark from Van's and competitive car racing from MINI.
It's also worth expanding your investigation of the metaverse to include lesser-known brands. Already, for example, you can buy or lease real estate, find a lawyer, improve your fitness, meet new love interests and go on dates or commemorate a loved one.
For further inspiration, here are some early examples of high-value product/service opportunities – and marketing opportunities – that intersect with financial services and are highly likely to transform the customer experience.
Engaging younger consumers
In a white paper about the metaverse, Visa identifies "increase in importance of Millennials and Gen Z as the new generation of consumers" as a key area where inflection points for FIs intersect with the metaverse. Specifically, Visa reports, "The metaverse is primarily inhabited by Generation Z, and most of its remaining users are Millennials, a digitally active group who spend a considerable amount of time online and are more likely to be cashless and attracted by digital currencies." It identifies "finance solutions for Millennials and Gen Z" as the most immediate opportunity for FIs in the metaverse.
Influencer marketing
We've written before about how banks and credit unions can tap influencers. Similar opportunities will exist in the metaverse, most likely starting with celebrities and highly popular influencers from both gaming and social media. Some celebrities, like Snoop Dogg, are already exploring how to realize their personal brands in the space.
Payments and wallets
There's already commerce in the metaverse, and McKinsey says, "79% of consumers active on the metaverse have made a purchase." These financial transactions require payments solutions, and American Banker spoke to Visa's Terry Angelos about the opportunity, which includes appealing to a new demographic. According to Angelos, metaverse purchases "can be funded by a traditional card" and "fit into a broader financial services relationship."
As reported by Foreks Digital Solutions, these card transactions may be facilitated by metaverse wallets. Visa recommends, "With digital wallets becoming a focal point of digital asset trading and having the potential to become a form of digital identity, FIs should consider building a strong position in digital wallets and pursuing the associated opportunities."
Billboards and signage
Just like the real world, 3D virtual spaces have surfaces where FIs can place advertising. Check out the "venue billboards" in Decentraland that guide guests to Mastercard's Pride Plaza:
Customer service and digital engagement
Virtual branches, along with new iterations of virtual assistants, are almost certain in the metaverse. As Accenture notes in its Ultimate Guide to Banking in the Metaverse, the true value here is that the metaverse can bring real conversation to digital engagement.
CMS Wire envisions customers going into virtual branches to meet loan officers or conduct teller-assisted transactions. FinTech Magazine calls this a "new dimension" for customer service since interactions in the metaverse are more than digital: They're face-to-face… or at least avatar-to-avatar. According to Accenture, this could "bring a more personal and human feel to remote and virtual customer interactions." It anticipates the metaverse will offer an opportunity for more personalized interaction, including "providing high-touch service for customers looking for sophisticated products and delivering personalized financial advice, such as virtual annual portfolio reviews, financial planning sessions and product recommendations."
Event integration
Buzz around major sporting and cultural events is already spreading to the metaverse, and financial services brands can host conversations and experiences (like the Meta Gala or the Amex Wimbledon experience mentioned above) around these events just as they do IRL.
For inspiration, take a look at what NBCUniversal is doing. Its ad and programming partnerships are "giving viewers a deeper look into what's cooking in the Top Chef kitchen and an exclusive 360-degree view of the Thanksgiving Day parade" and "bringing one of E!'s favorite hosts into Absolutland, a Coachella metaverse experience where festival goers can meet and bond over their shared love of festival culture through virtual drinks, experiences and more."
And check out what Miller Lite did around this year's Super Bowl: It created "the first-ever brand-hosted virtual bar in the metaverse" complete with virtual pilsners and branded NFT merch. As described in Chain Store Age, the Meta Lite Bar offered "an immersive, communal experience" with "interactive features [that] included darts, billiards, a photo booth for 'meta-selfies,' a virtual jukebox and digital instruments that customers could play on a virtual stage." In addition to hosting promotions co-branded with Decentraland, Miller Lite held "an exclusive metaverse screening of its Super Bowl ad."
"Traditional" lending products
TerraZero, a company that develops and acquires metaverse projects, is also financing opportunities in the metaverse, including a plan to offer loans for consumers to buy virtual real estate. PYMNTS reports that TerraZero "plans to use 'metaverse mortgage' loans to collateralize every transaction with the underlying NFTs as digital assets." Accenture sees this as an opportunity, as well. It says, "Banks can extend their role as custodians of customers' assets to the metaverse by securing, insuring and lending against cryptocurrency, NFTs and virtual real estate."
How-to's and product demos
Harvard Business Review says that the immersive environment of the metaverse creates several "hands-on" opportunities like "training future surgeons to rolling out product demos." In financial services, these could include interactive experiences that show how to use new payment products (remember all those contactless card demos?) or breathe new life into financial education.
Points and rewards
FIs can follow Amex's lead above and deploy exclusive experiences and new types of rewards for cardholders in the metaverse.
How banks and credit unions can get started in the metaverse
American Banker says, "A presence in the metaverse could help banks attract young customers and possibly create new products and business models." As you can see from the examples we shared, that's exactly what's happening, including in financial services. However, as we noted in June, the primary opportunity now is to test and learn without losing sight of your brand and how it serves its customers.
"Marketing has always looked to test innovative platforms," reports Fast Company. "Meeting people where they are is a core tactic that remains true… Whether the metaverse is the future of human interaction in digital environments remains to be seen. For now, brands must explore it. But, in doing so, there's another truth to hold on to: Brand integrity and managing consistency always matter, regardless of the platform."
Media Post echoes this test and learn approach: "Plan a pilot. Learn from existing creators. Engage your audience in a meaningful way that adds value. Just as brands learned with Web2, any effort in Web3 should align with company mission and values, overindex in brand safety and revolve around a test-and-learn strategy tied to measurable objectives."