Are Debit Cards for Kids and Teens Useful Teachers of Financial Education?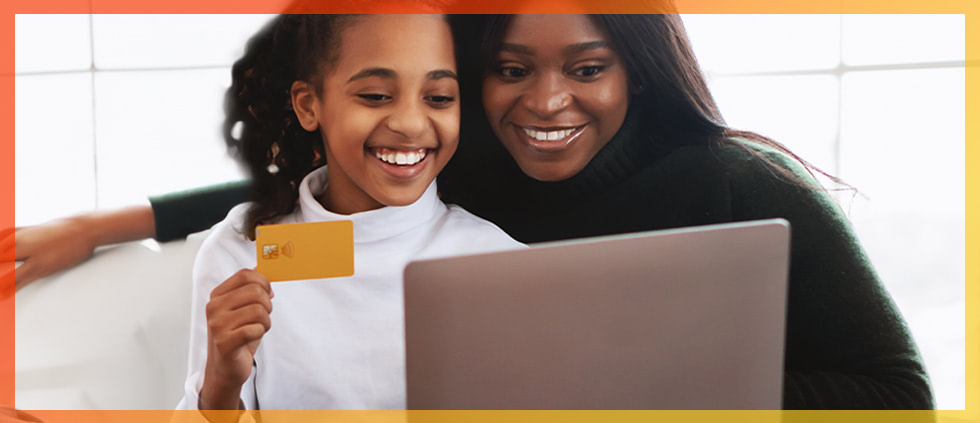 Venmo. Greenlight. Chase. Capital One. Go Henry. These are just some financial brands offering kids and teens debit card products while pitching them as fertile learning grounds for financial education.
So how are fintechs and FIs supporting their claims about financial literacy gains? We explored public-facing content marketing from a few key players to see what types of financial education these debit card issuers offer their youngest consumers – and their families.
In all cases, we observed that these financial brands were engaging both parents and children in the pursuit of financial education. This team effort makes sense based on the age of eligibility for accounts and debit cards (as young as six years old in many cases) and also reinforces many heavily marketed card features, such as parental controls.
Greenlight Debit Card
Greenlight offers financial education for kids and parents through its website, its app and social media. In fact, it's impossible to visit the website for the Greenlight debit card (available to kids of any age) without noticing the fintech's emphasis on learning. It's front and center nearly everywhere. Even the tagline for Greenlight's debit card focuses on the educational component: "Raise financially smart kids."
Greenlight backs up its focus on learning with online resources for kids, teens and parents, including a blog, a multi-season award-winning podcast ("Million Bazillion") and learning modules in partnership with Kahoot. Within the Greenlight app itself, the brand offers additional resources, including "learn mode" (which delivers insights and definitions as users navigate the app) and an award-winning financial literacy game called Level Up.
On social media, Greenlight publishes financial education content well designed for its audience and incorporates trendy content formats and memes. For example, Greenlight recently posted videos on the importance of building credit and how to do so before age 18). It also riffed on a popular Barbie meme to show what it's like when an impulse buy derails a savings goal:
Venmo Teen Debit Card
Venmo launched its Venmo Teen Debit Card earlier this year for ages 13 to 17. In a press release announcing the new card product, the fintech described it as a "way to engage with and learn more about managing money" and said Venmo "helps teach financial responsibility and understanding." Unlike Greenlight, which spreads its financial education for teens across web, app and social, Venmo focuses its financial literacy efforts on social media led by two video series: Money Talks and Dear Venmo. (While this content has a complementary presence on the web, both series are designed to be social-first.)
Money Talks, the newer of the two, features a host who goes out in the field to interview others about their personal experiences with money. Each episode has a landing page (like this one on hacking your money habits) with financial tips, tools/calculators and an embedded video, which is also featured on Instagram and TikTok:
Venmo's earlier financial education series, Dear Venmo, is a talk show format. Recorded in a studio, it features two hosts –a "financial therapist" and a Certified Financial Educator – answering questions about finances. Its web presence (at the bottom of the Money Talks page) is made up of a text-based Q&A, but on social media, it's all about the videos. Here's an example of an episode on paying off debt and getting finances back on track:
Chase First Banking
Chase's debit card for kids is also positioned as a way for the brand's young customers – kids ages six to 17 – to acquire "skills for the future" and "build good money habits through hands-on learning." Chase encourages parents to use the Chase First Banking account and its associated debit card to "teach your kids the money foundations of spend, save and earn." Chase First Banking is the newest product among several Chase accounts and options available to young consumers.
Chase doesn't seem to lead with financial education content in its marketing of the Chase First Banking debit card, and even though it publishes money tips on social media (like Instagram), its social content is for a general – not youth – audience. However, the brand does offer an online library for parents and students (including tools like budgeting forms and tip sheets for talking about money) and articles on topics like "How to raise a money-minded mini-me."
We were especially intrigued by The Quest, a web-based graphic novel that shows tweens and teens the "adventures" related to setting financial goals and saving accordingly.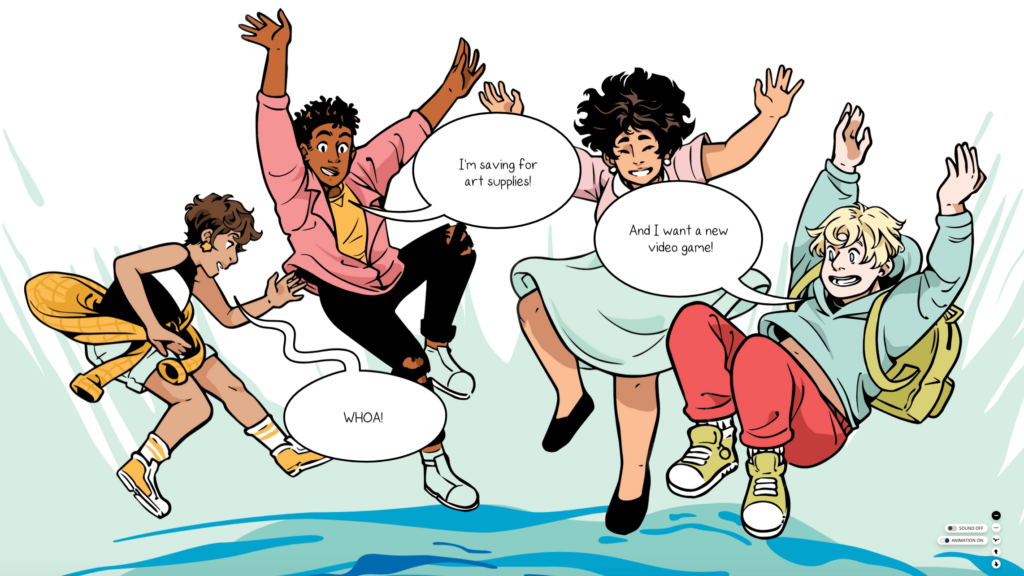 Capital One Teen Checking
Instead of focusing on financial education when promoting its Teen Checking account and debit card (available for kids, tweens and teens ages eight and up), Capital One leads with messaging about its top-rated mobile app, freedom from fees and balance minimums and independence for kids and teens. However, under "parental controls," the product page says, "Stay on top of your child's spending and take advantage of teachable money moments." Seeming to leave these teachable moments to the family, Chase publishes financial tips in the Money Management section of its website and uses social media (like this Instagram post) to drive to those articles.
Go Henry
Go Henry (in both the U.S. and the U.K.) pitches its debit card and app as a way for kids ages six to 18 to learn about money, including spending, giving, budgeting and investing. Front and center on its website are two primary opportunities for financial education: the web-based "Money Talk" (featuring several series of listicle-style tips) and the app-based "Money Missions" (interactive, gamified lessons). This Instagram post shows app users have spent "330,000 hours learning about money."
Its annual Youth Economy Report demonstrates that Go Henry also publishes original research and thought leadership on kids and money.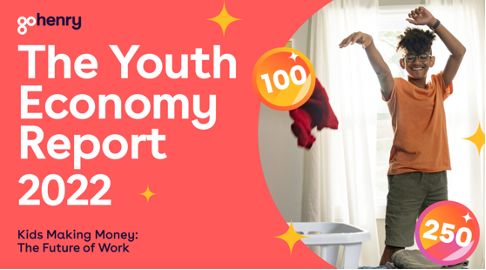 Like Greenlight and Venmo, Go Henry's social media channels target young consumers and regularly feature financial education for teens. A quick check of the app bank's Instagram and TikTok profiles (merged for the U.S. and U.K.) shows the brand posts about earning money, spending less (finding deals and other hacks) and generally making sound financial decisions.
Investing in Financial Education Content for Kids
It's clear financial institutions and fintechs are investing in financial education for kids and teens, and according to Visa's Practical Money Skills, it works. Visa says, "Exposure to financial education at an early age can lay the foundation for a more successful financial future." It points to "edutainment" or "gamification" (some of the approaches used by the brands we've highlighted) as effective ways to help children learn about financial literacy.
We also think investments in financial education make sense for families and are "worth it" for brands – especially those offering products specifically for young consumers. Here's why: Brands need to do more than sell to this segment; they must back up products with resources that help families use them wisely because there's a lot at stake… and not just for parents and kids.
In a BankRate article placed by Greenlight, the brand writes, "One effective way to provide a child with financial management experience is to give your son or daughter a debit card. Learning to use a debit card responsibly can provide young people with many benefits—from financial independence and confidence to real-life budgeting practice."
It seems parents agree. According to a Finance Buzz survey, a kid-focused debit card is among the most effective tools for teaching financial literacy (second only to budgeting apps).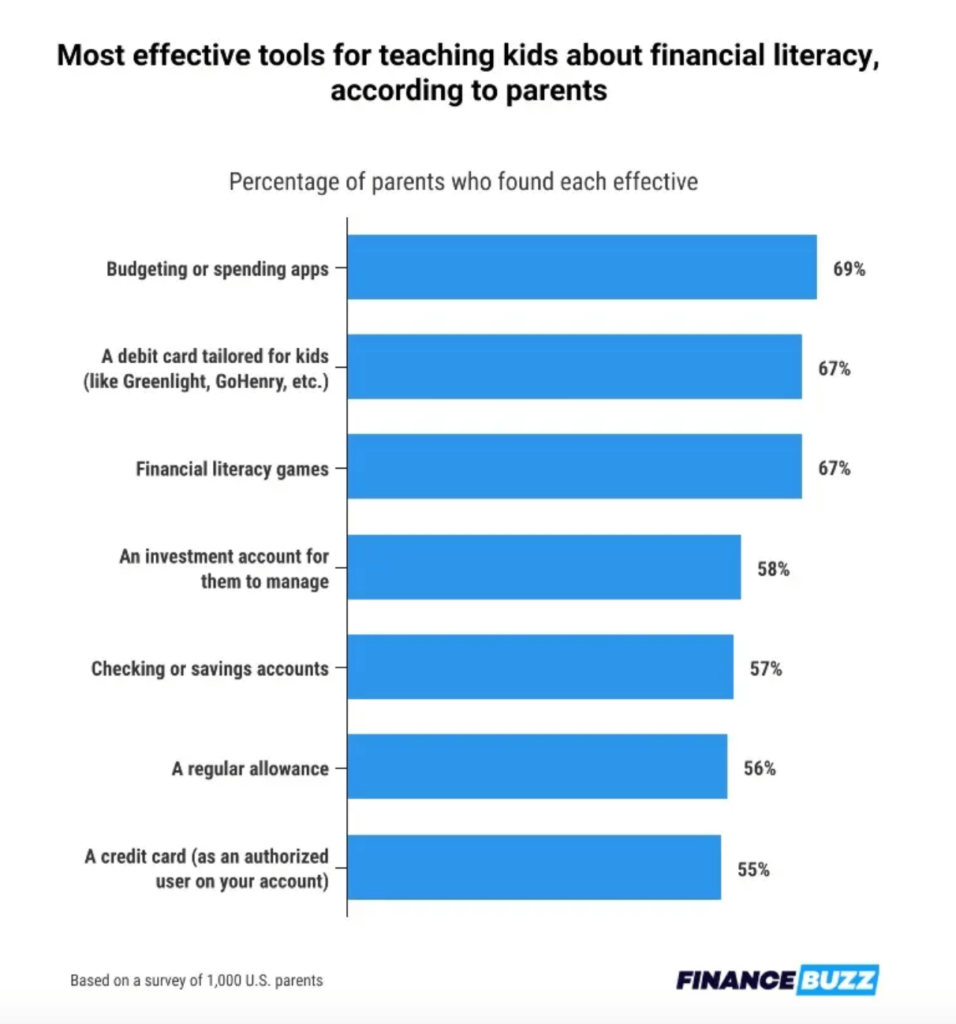 And although the use of card products (both debit and credit) is a sure way to learn about money, the best scenario for this "trial by fire" approach to saving, budgeting and spending (or over-spending) is for it to be accompanied by financial education. This guidance often comes from parents (and sometimes schools), but financial brands also have an interest in helping teens make good choices (i.e., have healthy finances) and in building trusted relationships early.
In March of this year, when Greenlight announced a program through which it is offering its banking and education products to traditional financial institutions, it cited customer relationships as part of its value proposition. In a Banking Dive article on these partnerships, Greenlight's SVP of business development said that, even though the teen accounts aren't big deposit generators for banks and credit unions, they give FIs a chance to "create deep and potentially long-lasting relationships."
Financial education content is at the core of these relationships. With it, financial institutions and fintechs can establish themselves as partners with parents, families and the kids/students themselves – creating lifelong customers and brand advocates.