Chase Sapphire Preferred Direct Mail Control Gets a Pandemic Update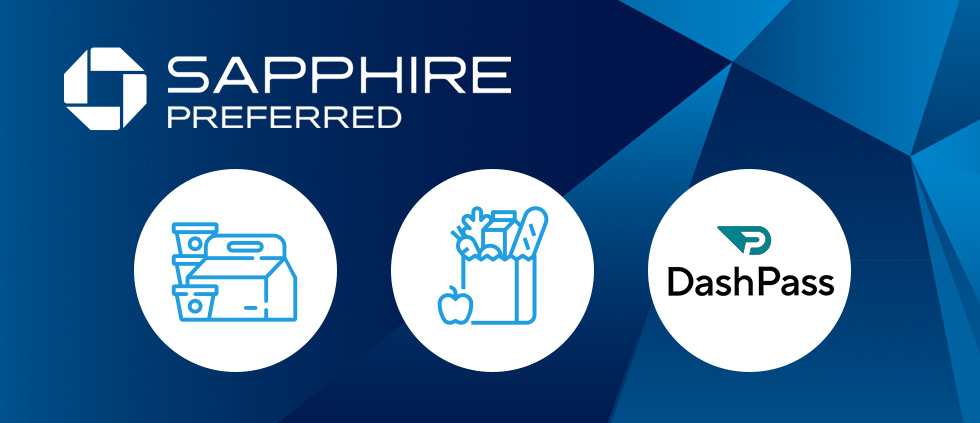 JPMC introduced Chase Sapphire Preferred (CSP) in 2011 to fanfare. If you were an industry enthusiast, you may recall how CSP went to market as the anti-gold card with above-the-line TV campaigns and direct marketing. The launch was extremely successful in driving card applications with Millennials, who either aspired to or did a lot of traveling and dining.
Fast-forward to 2021. How does an issuer who has a winning credit card formula regroup and respond with the two categories at the center of its value proposition (traveling and dining) taking a huge hit?
Mintel's tracking1 indicates Chase ceased DM marketing of CSP after April 2020, returning with a modest campaign seven months later in November. Anecdotally, we've noticed January mailbox activity and verified, using Comperemedia, that Chase has returned to promoting CSP in the mail stream. (Note: Digital advertising and email marketing of CSP are seen across 2020.)
How has Chase modified the travel card and adapted its marketing?
Chase now has two bonus offers in the mail – 60k and 80k – likely driven by targeting. Using temporary product tweaks and changes to communications to the DM control, Chase strikes a balance between immediate relevancy and "travel" product continuity among other challenges.
Chase Sapphire Preferred marketing mirrors trends seen in credit card mail solicitations2 in Q320:
Aligning with consumer preferences – Issuers know that points and cashback are preferred, so point-based cards are trending as mail volume slowly grows.
Following the competitive acquisition channel mix – There's been an industry uptick in acquisition efforts as issuers follow Amex's lead over the past eight months and return to direct mail.
Pulling back on balance transfer offers – BT and reduced APR offers are declining for the first time in the past two years. Chase follows suit and does not promote either in mail acquisition marketing.
Relying on pre-screened offers – These dominate the mail as they circumvent elevated risk associated with the pandemic. The direct mail captured is all pre-screened.
Promoting the most utilized response channel – Chase direct mail leads with digital application CTAs, as digital is the most utilized response channel no matter how the card application is obtained.
Here's a summary of the Chase Sapphire Preferred card benefits for these pandemic times:
2x point on dining including delivery services and takeout – Although the dining category earn has been core to the card, CSP communications now call out delivery services and takeout because of their relevance.
2x points on groceries (up to $1k/month including eligible pick-up and delivery services) – A new temporary card benefit is earning 2 points versus the usual 1 point in the grocery category. As reported by The Points Guy, Chase recently extended this temporary points accelerator through end of April 2021.
Complimentary DashPass through DoorDash – This offers unlimited deliveries with no delivery fee and reduced fees on order over $12 (minimum of one year on qualifying purchases). The Chase DoorDash partnership dates from January 2020.
Leveraging these benefits, Chase stays true to its champion control DM, while making appropriate content revisions to better engage with potential cardholders:
Expressing positivity in the face of challenges – Copy, such as "The Rewards card for savvy travelers like you," is replaced with "When you're ready to travel again, make the most out of every experience with CSP." This reframes the travel card positioning without abandoning it and acknowledges the pent-up demand for travel verified by many consumer surveys.
Catering to today's needs and rewarding them – The DM focuses on these "of the moment" earn opportunities in a simple and meaningful way with emphasis on take-out rather than restaurant dining experiences and more rewards for grocery purchases and grocery/food delivery.
Leveraging partnerships for the new normal – Promoting the DashPass offer for delivery services has high appeal to prospects. There is increasing growth of these services: DoorDash revenue surged to $1.92B in the first nine months of 2020, 3x more than the same period previously. Touting this partnership with DashPass replaces low-priority travel benefits.
Adapting, not abandoning, card positioning – The direct mail brochure remains filled with travel imagery and phrases/taglines, like "Your next adventure starts here" and "Go where the rewards lead you." This allows Chase to leverage the product's brand identity and equity. As consumers become more optimistic about the future – with the eventual return of travel and full dining experiences – product continuity will have been achieved. Copy tweaks to the letter are repeated within the brochure.
A look at the April versus January DM – outer envelopes and letters – points out the minimal, but meaningful, adjustments made by Chase to better promote Chase Sapphire Reserve.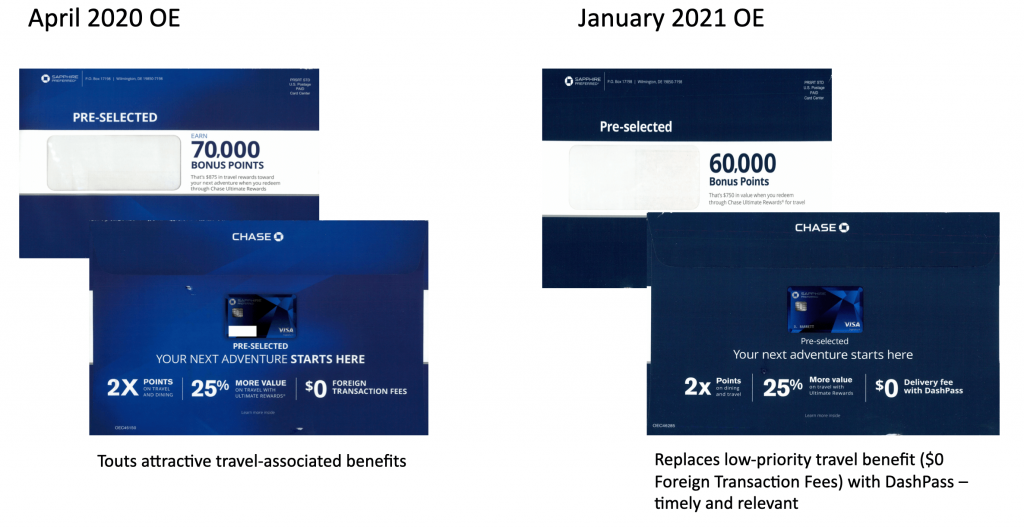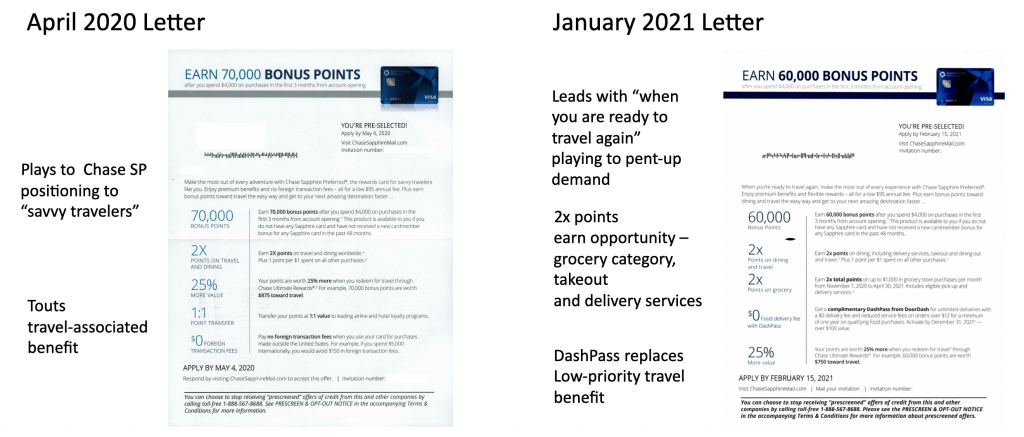 Sources:
Creative sourced from Mintel Comperemedia.
1. Mintel Comperemedia, This Month In Credit Cards Direct Mail November 2020, published 12/21/20.
2. Mintel Comperemedia, Q3 2020 Credit Card Activity and Response Rate Report, published 1/7/21.
Tags:
Chase Sapphire Preferred
,
COVID-19
,
credit card marketing
,
direct mail
,
JPMorgan Chase
,
travel rewards