Demonstrating the USP of BBVA Aqua Visa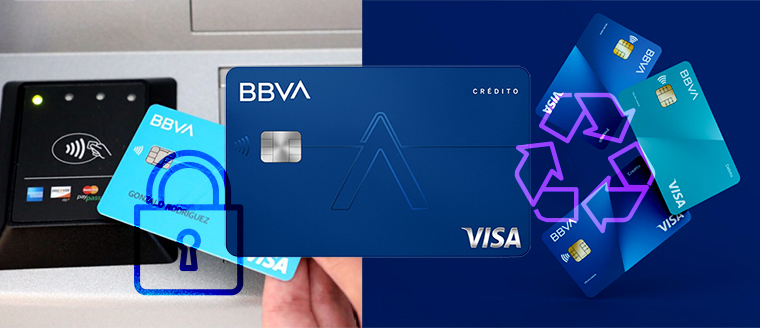 Recently, BBVA (Spain) introduced Aqua, a "physical and digital" payment card that comes with rewards. While rewards are rarely new news, Aqua is making news for something else: a physical recycled plastic card that is void of mag stripe, account number, expiration date and CVV code. 
Apple and Goldman Sachs were the first to move from a static CVV to a "dynamic security code," as it is more commonly referred to in the Apple community. But the hidden card credentials of BBVA Aqua Visa include not only a dynamic CVV code that delivers a high level of security but also the ability to use the card in three modes: credit, debit or prepaid.
BBVA Aqua Visa works on cloud technology and "cryptographic algorithms," ensuring the security of the unique code generated for cardholder use. Card elements are housed virtually on a separate mobile app. Every time a customer wants to make a purchase, they access the app and check the card number, dynamic CVV and expiration date. The cardholder is given a choice of transaction method (e.g., in-store mobile payments, contactless ATM withdrawals, etc.), and the app enables the cardholder to control all movements and expenses.
The introduction of Aqua to the BBVA Spanish market in late October 2020 included outdoor promotions intended to create buzz while demonstrating both the unique physical attributes of the card – a stripped-down plastic – and a very high level of card security.
To that end, BBVA's marketing director Jaime Bisbal contributed his personal Aqua card to installations on Gran Vía 36 street in Madrid. This area is similar to NYC's Broadway – with the hustle and bustle of a busy shopping area along with its share of pick-pockets. (Press coverage indicates multiple installations were placed along this popular street.) The headline points to the actual "live" card, encased in plastic, telling pedestrians, "This is the card of BBVA's Director of Marketing." The support copy then explains Aqua Visa's USP.
Watch the fabrication of the BBVA Aqua Visa card transit promotion (below), effectively showcasing the actual card at eye-level to introduce and engage Madrid's commuters with the unique new Aqua Visa card.
For Aqua launch purposes, the transit advertising serves to create buzz by dramatizing security protection – a differentiated benefit of the card.
Since Aqua Visa was launched in Q4 2019, additional marketing support, such as this YouTube demo, promotes the stripped-down card and how using the card by accessing the card credentials and the dynamic code is "easy and fast."
Tags:
BBVA Compass
,
credit card marketing
,
new product launch
,
Visa