GO2bank Challenges the Challengers, "Go"-ing on the Offensive to Serve the Underbanked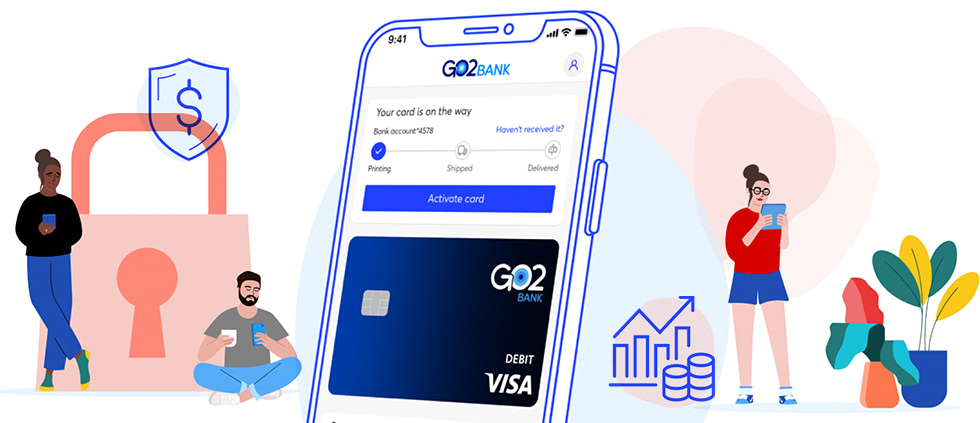 A couple of weeks ago, Green Dot quietly announced its new GO2bank – a mobile-first offering designed to provide banking and financial services to the underbanked.
With branding reminiscent of its GoBank online checking account (which coincidentally no longer offers debit cards online, forcing accountholders to obtain them via retail channels), GO2bank is positioned to be completely digital —as "mobile banking at its best." Promoting its app as "the ultimate" to manage money from anywhere, GO2bank also lists the elimination of hidden fees or monthly fees with eligible direct deposit (otherwise, a low $5 monthly).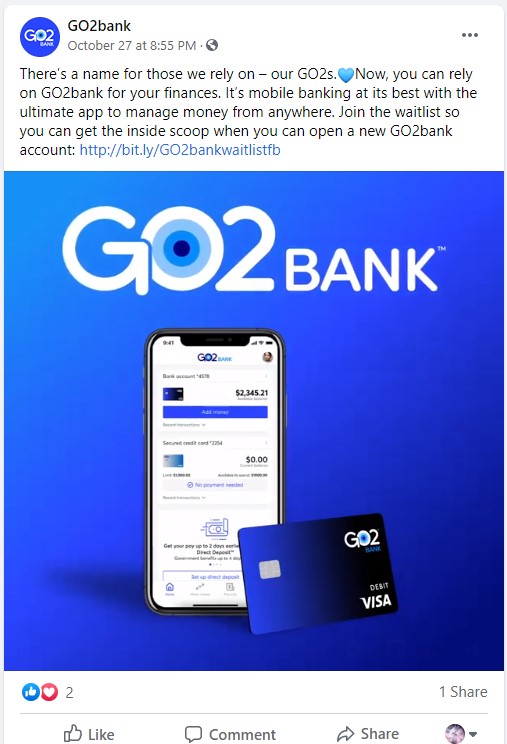 Other aspects of the GO2 value proposition, with appeal to the underbanked audience, include:
Free in-network ATMs
High-yield interest rates on savings accounts "where money can grow'"
Up to 7% (merchant-funded) instant cash back earn at nearly 100 merchants for eGift Card purchases within the app (Amazon eGift cards are 3%)
Optional overdraft protection up to $200
The ability for the accountholder to get "fast access to their pay" and/or government benefits up to two and four days early, respectively, with direct deposit
Mention of FDIC-insurance is also prominent, as is access to credit and "tools to help build and improve it." A secure card is positioned as a "perfect companion" to a bank account.
Taking a page out of their historical playbook, it is noted that Green Dot cautiously launched GoBank back in 2013 in a limited beta release to only 10,000 customers. Right now, Green Dot appears to be pacing the GO2bank launch as somewhat of a slow burn with the ability for interested consumers to join an open waitlist from its website and little else to do besides following the launch on social media.
As of this writing GO2bank's Facebook page had 16 followers, including ourselves. Instagram and Twitter are both equal in their infancy. Joining the waitlist leads to a simple acknowledgement page where the fun seems to end. There is a confirmation email confirming waitlist status but no apparent drip initiative — which is a lost opportunity to engage with the audience or even have them share GO2bank with their friends and connections. Also missing is a bilingual option for the website for an audience where language accessibility is important.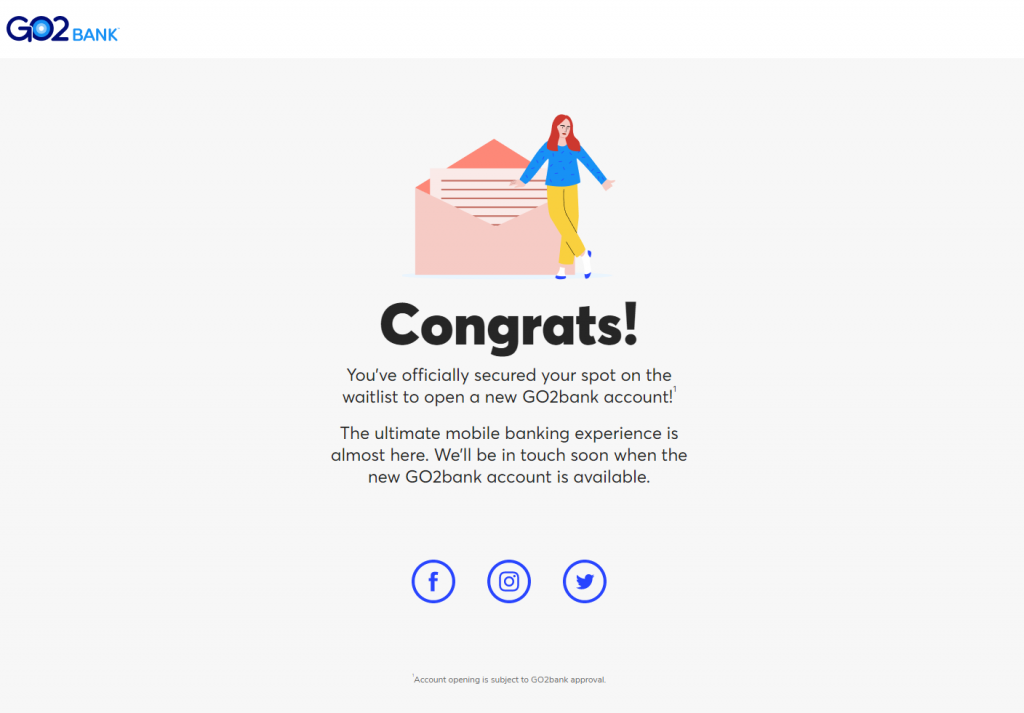 With understanding of the underbanked audience and the mobile-first nature of GO2bank, it is expected that the brand's marketing yet to come will promote and reinforce its presence via online, digital and social channels, as well as navigate the altered consumer behaviors of a COVID-19-littered landscape.
Given what we can see of its value prop and positioning, it is evident that GO2bank is targeting a very mobile and underserved community. As neobanks and fintechs – such as Varo, Cash App, Chime, Monzo, N26, Robinhood, Simple – and more – aggressively proliferate to serve and capture this consumer, Green Dot's strategy to counter them with its own offering to expand beyond the limits of GoBank makes total sense. It's one we will be keeping an eye on.
Tags:
financial services marketing
,
Green Dot Bank
,
mobile banking
,
new product launch
,
underbanked