American Express is Reinventing the Rewards Platform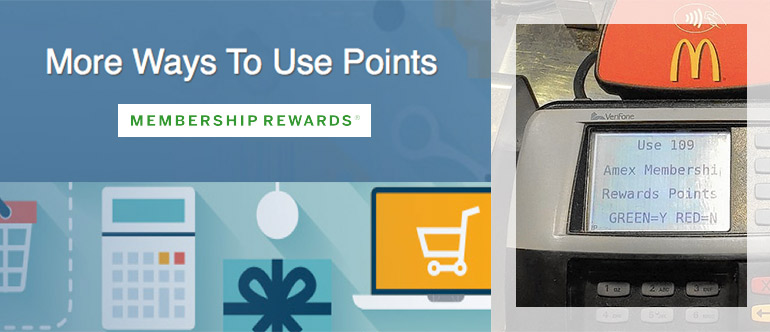 In our on-the-go, constantly connected, mobile world where so much is at our fingertips, consumers have a new expectation of wanting things quickly, easily and in the moment.
This expectation is challenging industries to look for new opportunities to engage consumers, opportunities that will meet an increasingly impatient society head on. One area that American Express is exploring has the potential to change the face of the credit card rewards platform by bringing an "on-the-go" approach to the current burn structure.
Historically, typical credit card rewards platforms have been comprised of two separate steps: earning reward points when a card is used for purchases and then waiting until enough points are earned to redeem them for a selection of rewards (like gift cards, merchandise, cash back or travel). In this construct, obtaining a reward is deferred until enough points are earned and until the cardmember takes that proactive step to review the reward offering and make a selection.
The current experience can often feel lengthy, disconnected and a little lackluster. But can this model be transformed for on-the-go use, creating a sense of immediacy?
Amex seems to think so, and it is tapping into using reward points in real time by giving cardmembers the ability to redeem points for in-person transactions.
In June of this year, Amex announced a partnership with Uber, a service that connects passengers with drivers through a mobile app. Amex rewards program members only need to register their cards with Uber, download the latest version of the Uber app and tap the "enroll me" button. They will then start seeing options for either "Earn 2x Points" or "Use Points" upon paying for a ride.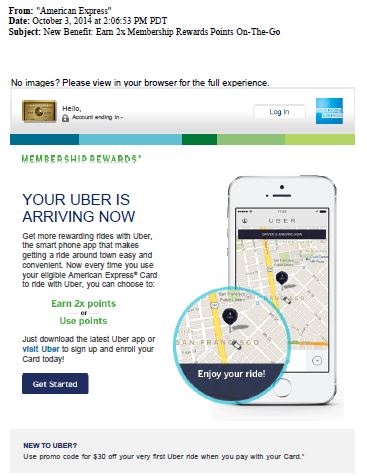 This is an interesting extension of the program Amex started last fall with VeriFone, whereby eligible cardmembers, when choosing to pay with credit, could use their membership rewards points to pay a NYC taxi fare. Pay screens swiped with an Amex card serve up the number of points needed to cover the fare and offers the option to pay with points.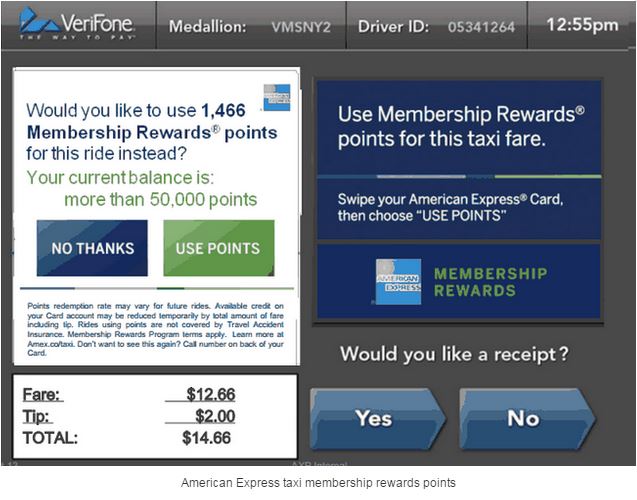 And as of October, Amex and McDonald's started allowing cardmembers in certain markets (full roll out projected for December) to use points to pay for a purchase at McDonald's counters. After cardmembers swipe their eligible card, the screen will display the number of points needed for the purchase (100 points equates to $1). If they wish, they can opt to use their points to pay for their meal.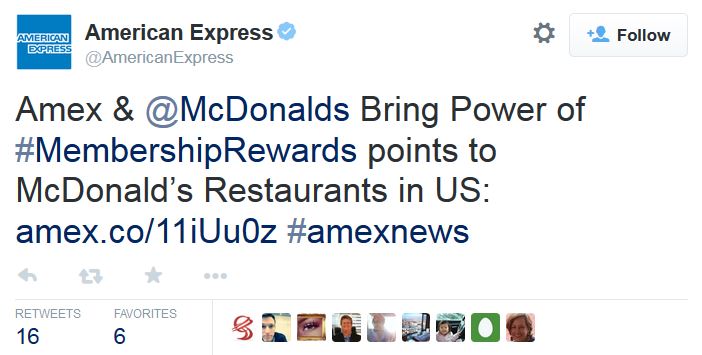 Takeaways
The way credit card reward points are being used is starting to evolve. Amex and Amazon had already allowed the use of points for online purchases, and now Amex has moved redemption to the physical point of sale, addressing a sticking point in the traditional rewards construct: delayed rewards. Coupling points redemption with everyday transactions is tangible, bringing a sense of immediacy and freedom. As partnerships continue to be formed, redemption options could become more relevant to more consumers, reinvigorating cardmember engagement — and points redemption is a valuable gauge for measuring engagement.
It will be imperative for financial institutions to be open to these evolutions, as points could become a more universal form of digital currency, a significant shift from the current, limiting construct. And it's likely that other payment companies will start to follow Amex's lead. For bank employees and consumers who have been steeped in the traditional rewards platform, clear communication and education will be warranted for retention and growth.
Tags:
American Express
,
credit card marketing
,
financial services marketing
,
mobile
,
rewards