American Express Commiserates With Millennials: "Adulting" Is Hard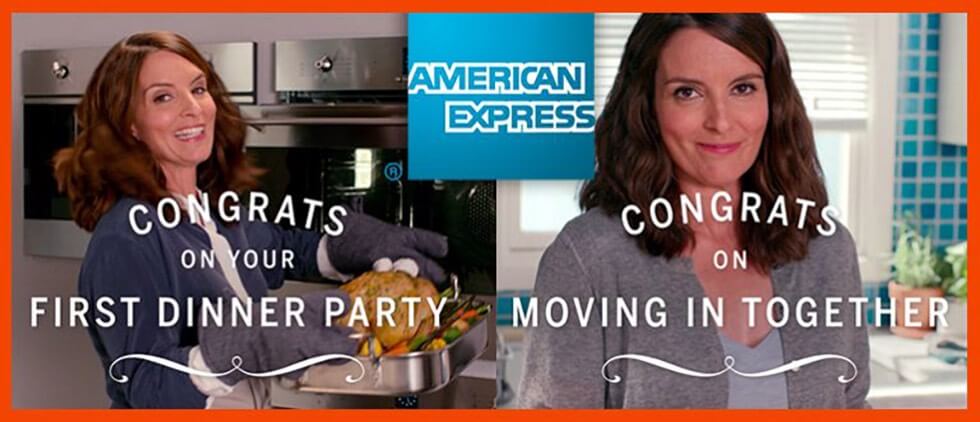 We love the Digiday tweet about the new American Express "Everyday Congrats" campaign targeting older Millennials: "Tina Fey is congratulating Millennials for adulting in AmEx's latest campaign."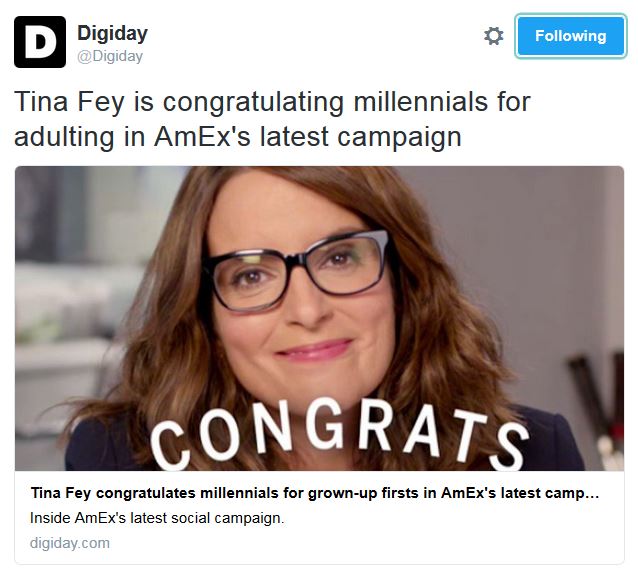 Adulting is hard, but as Millennials post on social media about important life milestones, they may find that American Express is there cheering them on in the form of a video "thumbs up" from Tina Fey. The "Congrats" videos rely on Fey's goofy personality and humor as she makes clumsy attempts at the Millennial milestones herself (nearly serving a frozen chicken in "Your First Dinner Party") or gives offbeat advice like decorating "Your New Office" with a bouquet of beef jerky or munching on potato chips to drown out your own baby's crying on an airplane:
In other words, Amex is telling Millennials: "Great job! And, by the way, we know it's harder than it looks." While the videos lead with "Congrats" (you can view them all here), they also seem to remark, "Good luck with that! It may not get any easier as you go along, but you will have American Express." And that's a key element: tone. The brand isn't claiming to "get" Millennials, it's not trying to act like Millennials, and it's not talking down to them about these milestones.
Instead, it finds a messaging sweet spot in commiserating about imperfect attempts to achieve what life asks of us in moments like these: new jobs, new offices, job interviews, meeting in-laws, flying with babies, traveling with significant others and moving in together. Even trying to be responsible with shopping habits can go awry:
The goal, as reported by Digiday, is for the brand "to be a supportive friend, both believable and credible." As Jeannie Chu, vice president of global social media and content strategy at American Express, told the publication, "We're not saying Tina or the brand is going through the same things, we're saying that we're steadfast and we're here for you, no matter what life throws at you."
Although we really think the tone/message is spot-on, the campaign's execution on Facebook and Instagram (@americanexpress ) is where it has the potential to get really interesting. The videos are designed not as stand-alone posts on the brand's social profiles and YouTube channel but as greeting cards. The plan is for Amex to "send" them to users and for the users to engage with the post by responding, chatting up the experience of receiving the videos or by sharing them with their friends/followers.
The social component of the campaign is made possible by two important facts: people share their accomplishments and important moments on social media and the targeting capabilities of the social platforms are now quite advanced. Digiday says, "AmEx and its agency DigitasLBi, have combed through Facebook and Instagram data to identify segments of users going through such milestones, in order to effectively target them." In addition, the brand will be able to track "both engagement and attitudinal metrics about brand favorability."
Takeaway
Financial services (as a category) has difficulty leading; it is much more comfortable following. After all, it's an industry built on very strict rules and traditions. Very often, this conservative mindset leaks into marketing, but not for American Express. The brand continues to prove that stepping out of the lines is not only safe but also effective… as long as the effort is highly targeted, relevant and authentic.
Amex takes chances, but it is always strategic and smart. For example, consider what we know about Facebook: posts from brands aren't likely to be seen. The Facebook algorithm changed a couple years ago ("Facebook Zero") to discourage overly promotional posts and help brands mature their content beyond selling. As Hubspot writes, "Facebook's end goal here is to have its algorithm match News Feed content to the individual needs and interests of each and every user." The gold standard has become relevance and engagement, and this campaign from American Express nails it.
The brand does not limit its social content to overly broad, static posts. Instead, it delivers relevant, timely messages directly to a specific audience in response to information from the audience itself. It gathers knowledge from social media (i.e. it listens first) and uses it to segment the audience in order to select the most fitting content. The approach shows a keen understanding how social channels have evolved. They're no longer platforms for mass distribution. Instead, they have potential to establish connections and nurture relationships… even for brands.