NYC Public Transit to Go Contactless, Push U.S. Adoption of Tap to Pay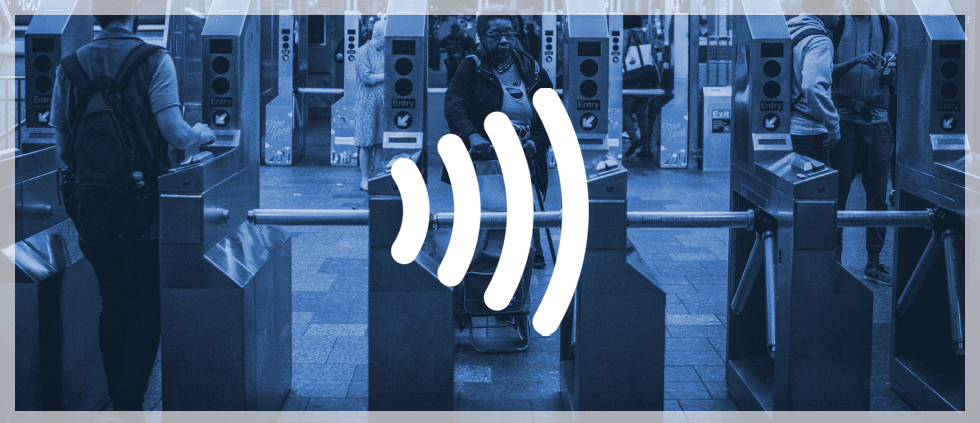 The news that commuters using New York City Metropolitan Transportation Authority (MTA) subways and buses will soon be able to "tap a contactless bank card or their mobile wallet at turnstiles" inspired CNBC to declare that a world without cash is coming soon.
The CNBC article states that the U.S. is "way behind the rest of the world" when it comes to adopting contactless payments. The lag (which also happened with EMV cards) isn't news to those the financial services industry, who also already know that using the technology to create efficiencies in a major public transit system could represent a tipping point. As noted in a recent report cited by CNBC:
"Just as contactless payments in the U.K. got a boost when the London Underground transportation system began using 'pay as you go,' the implementation of the same technology by transit authorities in several major U.S. cities — including Boston, Chicago and San Diego, as well as New York — 'should be a catalyst for broader contactless usage' nationwide."
American Express, Visa and Mastercard have been using major sponsorships to promote contactless payments worldwide and, more recently, in the U.S. The sponsorships are part of the larger effort to push consumers toward contactless – a capability being rolled out to cards in the U.S., including Bonvoy from Marriot and SPG Amex and 100 million cards from Chase. The NYC MTA implementation of the new contactless fare payment system will achieve precisely what these marketing campaigns and product roll-outs are pursuing: expansive trial and use of the "tap to pay" experience. With average weekday subway ridership of over 5.5 million and average weekday bus ridership of nearly 2 million, the MTA effort will habituate a large group of U.S. consumers.
Even as contactless payments gain momentum, however, there are many consumers whom it leaves out, including the "unbanked." NPR reported recently about the cashless business push – and pushback – in Philadelphia, specifically the negative impact of a cashless society on the city's low-income individuals. Advocates worry these individuals could go without "basic staples such as toiletry items and food" if businesses "turn[ed] away people with cash." The MTA is taking this into account. As described in its press release, "An additional critical component of the program will provide benefits to customers who do not have, or want to use, smartphones or contactless bank cards by enabling them to purchase and reload contactless transit cards from new vending machines and through an out-of-system retail network."