Telemedicine's Future: Healthcare Marketing Will Determine if it Sizzles or Fizzles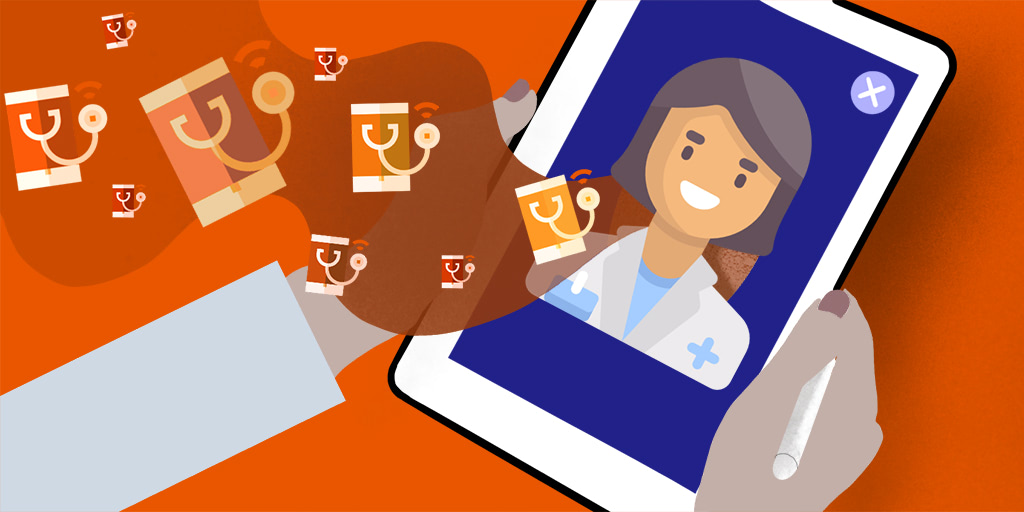 After decades of slow growth, it took just two months of impact by COVID-19 for telemedicine to take off. Though not the natural first choice for patients, in recent weeks telemedicine emerged as the only choice for connecting with many providers. It was also recommended as the first-try for medical treatment by the CDC and many health plans, including our own health plan client MVP Health Care. Does this usher in a new era for telemedicine as part of mainstream medical practice?
Even though medical treatment may never go back to how it was before, if we do return to some kind of normalcy within the next year, will the momentum of connected health be unstoppable? Can it thrive in non-crisis conditions? We think it can, but only if three things happen: 1) regulatory relaxation continues, 2) CMS continues to honor reimbursement, and 3) people choose to try or continue using telemedicine.
Presuming that the first two factors persist, now is the time to think about the conditions that will affect future patient choice.
1. Habit
In 2019, TIME reported on a survey which found that only 10% of Americans used telemedicine. However, in the single month of March 2020, telemedicine saw a 50% surge in utilization, according to an article from CNBC. Yet, considering base utilization, that's not truly a sea-change just yet. Also, regardless of the pandemic spike, it is human nature to regress to habit. Unless there are satisfactory and repeatable experiences, the reality is that once COVID-19 passes, new users will forget the one or two times they had a phone or video appointment with their doctor or used their health plan's telemedicine service and go back to "normal."
2. Trust
Despite recent increased trial of telemedicine, Modern Healthcare reported that over 30% of the population have delayed seeing a doctor during the pandemic. This means that nearly one in three people have not recognized telemedicine as a viable alternative during the crisis. Many people don't trust it as "real" medicine. They see it as a lesser quality medical practice and are skeptical about the accuracy of diagnoses. Also, since using telemedicine often means seeing a new provider who is not the patient's primary physician, or even the same physician time after time, willingness to see different providers is outside comfort zones. Plus, common concerns about privacy and confidentiality in telemedicine also need to be attenuated.
3. Experience
Equally important to trust is the patient's perception of the telemedicine experience. Some people, especially elderly patients, may be averse to change and technology even though they would particularly benefit from its convenience. Another common misconception is that telemedicine is impersonal. Certainly too, after months of social distancing, people will be craving in-person connections. Ironically, as Ann Mond Johnson, American Telemedicine Association CEO, points out to CNN, there are many in-person appointments where the practitioner does not lay a hand on the patient. In those instances, some people may actually find a face-to-face video meeting or a direct phone call equally personally satisfying. It has to be tried to be believed.
Being positively convinced of the safety, quality and experience of telemedicine will ultimately convert patients. As marketers, we'll leave it up to telemedicine providers to make sure that they are running on the right platform and delivering quality care. However, we can make recommendations on what marketing communications can do to support a permanent shift to acceptance of telemedicine.
First, get your telemedicine branding in order
Every medical practice has a brand, whether it has been purposefully cultivated or not. While an office-based practice, hospital system or health plan can leverage its brand reputation to extend its service line to telemedicine, it is especially important for dedicated telemedicine practices to clearly define their brand to develop awareness and support engagement. The look, tone and feel of an organization play an integral role in the all-important chemistry of the first impression as well as in cultivating a sense of familiarity and credibility. Moreover, the surge in telemedicine trial during COVID-19 will accelerate competition, especially for dedicated telemedicine providers, and so will the need to differentiate amongst the options. Anyone finding you via organic or paid search needs to be assured of your credibility and be compelled to continue exploring your offering from the instant they hit your home page.
Second, create and nurture a loyal patient following
A spectrum of marketing activities will need to be implemented to achieve sustained awareness and patient engagement. These may range in level of effort and investment depending upon your situation and goals. Tactics may vary as well, depending upon whether telemedicine is being offered by an office-based provider or a virtual practice. Tactics are broken down into three objectives: 1) build awareness, 2) develop trust, 3) sustain and grow utilization. You can also download a PDF of these tactics here.
Build awareness
Traditional medical providers should introduce and/or remind patients of your office's telemedicine options through whatever regular channels you establish, i.e., letter, text, email, direct mail, and phone call. Send periodic reminders defining the ideal conditions and circumstances for which to try telemedicine first.
Prominently identify your telemedicine hours and access information on your website and in your online directory listings, and highlight any specialty service lines you offer.
Hospitals and office-based practices should have visual displays about their available telemedicine services. A waiting room is a perfect place to promote telemedicine's advantages of shorter waits, no required travel time and ideal social distancing from other sick patients. Be sure to include details such as which health plans cover your telemedicine service and feature cost savings, if applicable.
Feature in-office explainer videos on your telemedicine services and include real patient testimonials, if you can.
Take advantage of the in-person appointments to personally assure your patients of the quality, security and safety and other benefits of trying your practice's telemedicine offering. These meetings also present a perfect opportunity to address any questions or misconceptions.
Dedicated telemedicine practices need to work even harder to build awareness than physical practices. Having a website and a blog is not enough. People are mostly unaware of the gamut of telemedicine service providers and the many lines of expertise available. To move the needle on awareness, consider implementing paid marketing to target key target groups for your telemedicine service line. While this requires an appetite for investment, you can test or pilot a targeted paid program to determine what works and then scale to need.
Develop trust
Develop trust as a go-to medical expert with curated and original content through an e-newsletter or blog and activities on social platforms that are appropriate to your patient base. Consider topics for streaming on Facebook Live, Twitter Chat, webinars, etc., and promote them and your medical experts appropriately.
Offer online virtual Open Houses to introduce your practice, have attendees meet the doctors, demonstrate how your telemedicine practice works, and answer questions.
Reinforce trust and drive traffic to your website through assets such as topical videos, eBooks, checklists, FAQs, etc.
Consider implementing a visible review rating. This will keep your medical staff accountable and provide a metric that can help people feel comfortable choosing your service.
Sustain and grow utilization
Nurture the connection with patients through periodic email and text reminders as well as information on important health news. These communications may be implemented through automated email marketing.
Create a welcoming and informative onboarding experience for new patients.
Personalize your patients' experience through regular follow-ups after appointments to check on their post-appointment wellness and appointment satisfaction.
Implement a tasteful referral program, such as committing to donate to one of several health-related charities for each newly referred patient.
The COVID-19 pandemic has put a spotlight on telemedicine, and with that will come a rush of telemedicine solutions to the category. There will be successes and failures, but one thing is for sure – those that thrive will be the providers that develop a strategic marketing plan, and that follow through on building their patients' habits, trust and experience.
Tags:
COVID-19
,
healthcare marketing
,
healthcare technology
,
healthcare trends
,
telehealth
,
telehealth marketing
,
telemedicine
,
telemedicine adoption