Medicare Marketing Insights: What Direct Mail Messaging Do Seniors Prefer?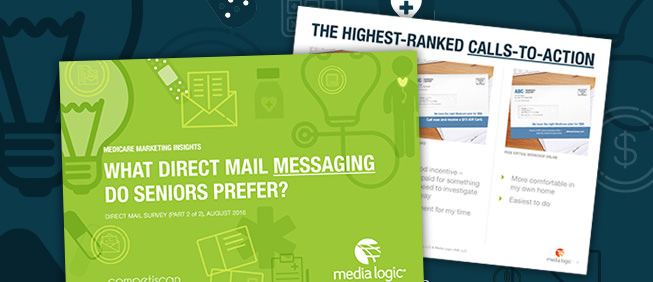 Direct mail plays a critical role in Medicare AEP marketing campaigns, so creating pieces that will be opened and elicit response is key. Last month, we released the findings from Part 1 of our Medicare marketing report on seniors' preferences related to direct mail designs. But when it comes to successful direct mail, design is only part of the equation.
In order for direct mail to be effective, the right messaging is also an essential element. Healthcare marketers must craft messages with the understanding of the Medicare factors that are most important to seniors.
To understand what messaging is most likely to resonate with the Medicare audience, we conducted an online survey of 250 adults aged 65 and older. We showed the participants various plan and product copy options, as well as numerous calls-to-action and offers – all to discover what messaging is most likely to get a response from this audience.
Should your direct mail highlight low cost or longevity, rewards or ratings? In this report, we answer these questions, plus share which talking points ranked highest among respondents, and which calls-to-action, offers, and copy options should be avoided.  Read through all of our findings before the launch of your fall AEP campaign:
Interested in learning more about the best practices for Open Enrollment? Contact Jim McDonald, Director of Business Development at (518) 456-3015.
"What Direct Mail Messaging Do Seniors Prefer?" is based on an online survey designed and analyzed by Media Logic. The survey was conducted in June 2016 among a nationally representative sample of 250 adults, aged 65 and older.
Updated 03/23/2017. Originally published 08/23/2016.
Tags:
AEP
,
direct mail
,
Medicare
,
Medicare marketing