Back to blog
Can Digital and Social Tools Reduce Hospital Readmissions?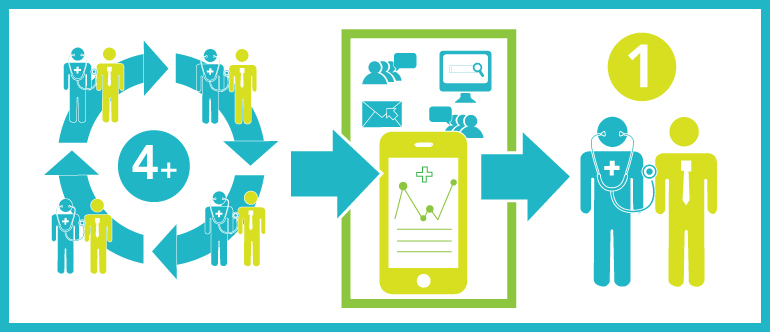 It's no secret that there's increased pressure on providers to reduce the number of unnecessary and return visits from patients. Some of the avoidable culprits include loss or omission of care instructions, unanswered questions and diminished patient mindfulness over time.
A recent personal experience started me thinking more about this issue. After surgery, I lost my post-surgery sheet by the time I got home from the hospital. Plus, I was foggy on details covered during the discharge conversation with the nurse, and I had a forgotten to ask a few questions. I wished I had an easy way to access the information I was missing. How great would it have been, too, to have reminders about the self-care items I was supposed to be doing during the days in between doctor's appointments!
In my case, none of the missteps resulted in readmission, but not everyone is so lucky. How many people miss important signs of complications by being too shy to call for re-instruction or risk infection by not being reminded of some important aftercare instruction? And are there any easy fixes to reduce some of this confusion… and reduce hospital readmissions?
Certainly, there's increased interest in mobile health apps, so much so that major companies like Samsung and Apple are serious about aligning their own products with them. Though not without problems (like bugs and privacy), these technologies point to solutions for healthcare communications beyond print discharge papers. And the good news is not all of them require investment in a mobile app.
Many existing digital and social tools already have the potential to assist with communication that can reinforce physician instructions and clear up confusion and, as a result, have the potential to avoid unnecessary readmissions.
Physician and hospital websites
A number of resources can be added to provider websites (either inside or outside of a patient portal):
general discharge and after care instructions;
FAQs relating to treating common conditions and aftercare;
video demonstrations for patent self-care, such as cleansing stitched areas, changing foley bags and self-administering tests; and
symptom checklists with recommended actions for each.
Email and text
Doctors' offices may communicate directly, as patients allow when they sign up for emails or opt into text messages. With regard to avoiding readmission, helpful points of contact may include:
check-ins to see how patients are feeling;
reminders* about key after-care instructions and follow-up appointments; and
inquiries to see if patients have specific questions.
Remember, once contact has been initiated via email or text, it may be important to move the conversation to the phone or secure patient portal in order to be HIPAA compliant. (Here are some other tips and cautions.)
Social media
Being mindful of privacy concerns, information on social media must be provided collectively: conversations that need to be one-to-one must be taken offline.With that in mind, the best use of social in terms of reducing readmissions will be general education. Social media posts can point to the provider's online resources, for example, and offer tips about how to handle recovery, including certain symptoms and conditions.
Telehealth
Sometimes, a quick one-to-one conversation with a doctor makes sense, but office scheduling or the inconvenience for a recovering patient to make a visit precludes an otherwise important conversation. An emerging solution for this is offered by telehealth, connecting the patient to his own physician (or to a service providing 24/7 board certified physician access) via phone, computer or tablet. Skyping – or other video chat – with a patient, for example, may help provide some visual clues for the provider to assess the situation, as well.
Takeaway
Digital and social communications have the potential to not only decrease readmissions but also play a role in provider marketing. In addition to helping patients return if and when they need to be seen, increasing virtual touch points with patients can be an effective way to build positive perception of – and loyalty to – a practice.
 *Digital reminders about certain self-care actions, such as taking medication, can even be handled by third parties.
Tags:
digital marketing for healthcare
,
healthcare marketing
,
hospital marketing
,
social media for healthcare
,
telehealth marketing