How Financial Brands Can Use Observances to Connect Meaningfully with Audiences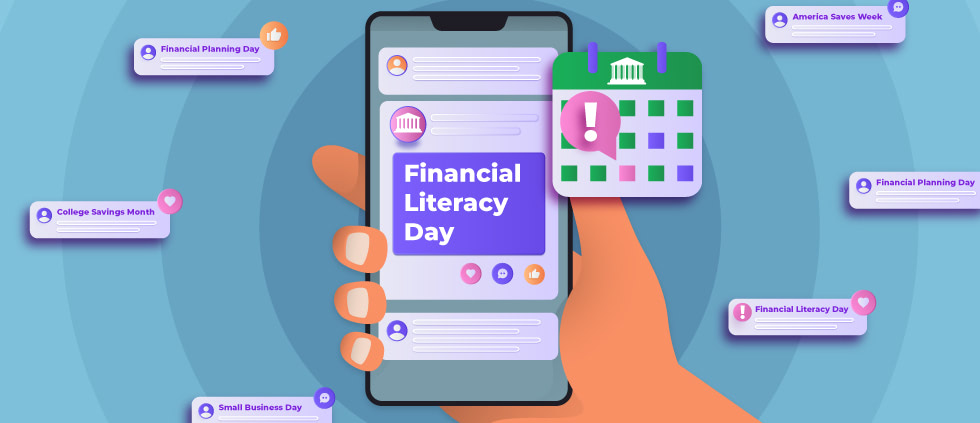 Picture this: You're scrolling through your Instagram feed and an image of a gooey chocolate cake catches your eye. The hashtag tells you it's #NationalChocolateCakeDay. Sounds good. Who doesn't like cake? You pause to see which blogger or friend shared the image and notice it was neither—it was your local bank honoring the observance. Hmm. What does cake have to do with financial services?
We've all experienced the head-scratching moment on social media when brands promote observances that are completely unrelated to their identity, community and mission. Don't get us wrong: We're all in on dessert but also believe social posts need to make sense within the context of the brand.
National Chocolate Cake Day might sound trivial, but a financial services marketing strategy around observances becomes much more critical when larger social issues are the focal point. For example, brands have come under scrutiny for "celebrating" Juneteenth on social media without following through on larger diversity, equity and inclusion efforts within their organizations. Other brands rightly received criticism for promoting Pride Month on their platforms while simultaneously donating to anti-LGBTQ organizations.
Today's social media users have low tolerance for insincerity, and they aren't afraid to clap back if they believe a brand's claims are empty promises. We're glad to see audiences hold brands accountable for the statements they make on social media. In fact, this power to incite real-world change is part of the magic of social media!
Let's take a deeper look at how financial services brands can acknowledge observances in meaningful ways that serve both the brand *and* the audience.
The role of observances in financial services marketing
Many marketers sketch out content calendars based on relevant observances and for good reason! Observances—days, weeks and months that aim to celebrate or bring awareness to a variety of topics—can:
help the brand join in the conversation about a trending topic, which is an excellent way to boost engagement;
serve as a jumping-off point to showcase a brand's involvement in social causes and/or philanthropy; and
humanize the brand and promote connection with audiences in relatable ways.
In cases where the observance is playful, a fun approach to recognizing it can freshen up brand feeds. And when observances recognize more serious topics, brands with authentic ties to them have opportunities to highlight their positive contributions.
Let's dive in to how all this plays out in the real-life social media ecosystem.
How financial services brands bring observances to life
In this tweet, Fifth Third Bank makes a clever play on its name by creating its own observance, Fifth Third Day on May 3! That's 5/3. Get it? We like the boldness—but what we like even more is that they use the occasion to share the *action* they're taking to improve the community around them by donating 5.3 million meals during the month of May.
Chase recently shared a tweet that joins the conversation on #ThisDayInHistory by commemorating the construction of the Brooklyn Bridge. The brand shares a fun educational fact about one of New York City's greatest landmarks and highlights why it's meaningful to the brand: Chase financed its $15 million-dollar construction. The information underscores the brand's historical legacy, deep-rooted ties to the city and its lasting financial fortitude. That's a win!
Citi takes a welcome departure from the trend of "rainbow washing" during June's Pride Month with a special LinkedIn Live series spotlighting the LGBTQ+ community. The approach is creative, meaningful and educational. The opportunity to connect with a real-world celebrity outside the conventional channels adds extra excitement and novelty. Most of all, we like how this adds substance to Citi's virtual presence.
New York-based Academic Financial Credit Union capitalized on World Chocolate Day with an Instagram post. Its team used the observance as an opportunity to discuss member benefits, which include discounts to theme parks, including world-renowned chocolate destination Hersheypark.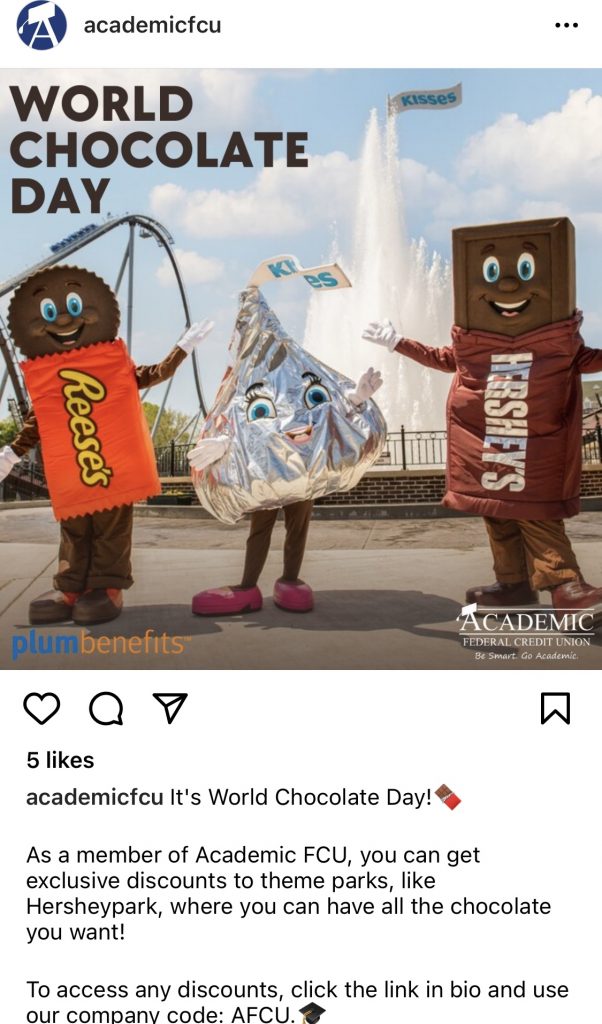 Takeaways
Now that we've looked at best-practice examples, let's talk about how you can apply these strategies to your own brand. Try these tips:
Keep it real. Audiences can immediately sense when brands don't stay true to their identity. Jordan Muse, head of account leadership at The Martin Agency, told Marketing Brew that sometimes the best approach is to skip mentioning a holiday or observance altogether if there's no obvious alignment with brand values and behaviors.
On the other hand, if it makes sense for your brand to address an observance, particularly one that's tied to a large-scale issue, it can be good to make the effort… as long as you're honest about where you are. According to Nicole Simpson, director of diversity, equity and inclusion at the agency Rapp, brands are right to be cautious about how they approach observances like Juneteenth. "I understand brands being wary," she explains. "Getting it wrong means losing money and losing customers." However, she says, that shouldn't stop them from trying: "Doing nothing [can be] problematic, too. … Not trying means that the needle is not moving. But that requires vulnerability and acknowledging what you do and do not know. If we don't try to have these conversations, we're not going to get anywhere."
Look for the right fit. For meaningful content, there *must* be a clear connection between the brand and the observance. It's best if this occurs naturally, rather than forcing a fit, because, as noted above, brands must be authentic. For FS brands, consider focusing on the industry's landmark days like Financial Literacy Month (April) or National Financial Awareness Day (August 14).
Focus on action. When it comes to taking a stance on large-scale issues, like social justice or environmental impacts, be sure that your words are aligned with your actions. Posting about Earth Day, for example, can be a great opportunity to discuss how your brand seeks to improve the environment through volunteerism, donations and more. Look at this as evidence of authenticity. As a general rule, the central point of your content should be about how you've taken action to make a difference within or beyond your organization.
Tell a story and provide value. Consider what value you can offer your audience beyond awareness of the observance. Are you providing them with a cool experience, education or something else that could benefit them, like a discount? Keep in mind that the observance is not the actual news you're aiming to share. It's the jumping off point to tell a larger story about your brand – including its customers, employees and community.
We hope these notes help you take a thoughtful and strategic approach to deciding which relevant dates should be on your financial brand radar.
And although it may not be on our content calendar, we can't help but wonder… is it National Chocolate Cake Day, yet? Asking for a friend, of course.