Like It's 1991: Bank Branch Grand Opening Celebrations
Most people believe banks are eliminating branch infrastructure and reducing bank branches.  The truth is banks are closing, downsizing and opening new (smaller, less staffed) branches. While most big banks are making significant changes with little marketing fanfare, if you dig deep enough you can find bigger players who have not yet abandoned "new branch/old formula" branch promotions. However, across the board, smaller players – regional banks, community banks, credit unions – still readily embrace the customer-centric practice of the Grand Opening Celebration (GOC).
Bank of America
For Bank of America, branch transformation appears to be "business-as-usual" as it continues to reduce but enhance existing branches and open new branches selectively in targeted markets. To date in 2017, BAC opened three completely automated branches with high-tech ATMs and video conferencing with employees at other branch locations.
BAC will open more self-serving branches (50-60 over the year), including branches in new markets: Denver, Indianapolis and Minneapolis.  Interestingly, BAC's entry into the Twin Cities is designed to serve the 300,000 BAC customers already there as transplants from established BAC markets.  The new Skyway branch features a learning center – the first of its kind – stocked with iPads at the ready to teach customers about mobile banking and other services.  Local press images show under-the-radar "Now Open" signage with little to no apparent GOCs for any of these shiny new branches.
JP Morgan Chase
JPMC reduced its number of branches in 2015 by over 3% with plans to continue closings across 2016. For the remaining Chase branches, the trend is towards cardless transaction ATMs and a changing branch model where 60% of branch staff provides advice and the remaining 40% provides transactional services.  New branch openings are fairly low key with one notable exception.
Last year, Chase re-opened its World Trade Center branch and – befitting the setting and 40-year history of a WTC branch presence – the bank heavily promoted the grand opening event.   Amidst the opening day hoopla, Chase tastefully and sensitively shared design details of the architecturally impressive branch located on hallowed ground.
T.D. Bank
Despite its big bank stature, T.D. Bank remains friendly, green and grass-roots. It routinely associates an "event" with each new branch opening. Promoted on Facebook, each typically includes food trucks, family fun and festivities.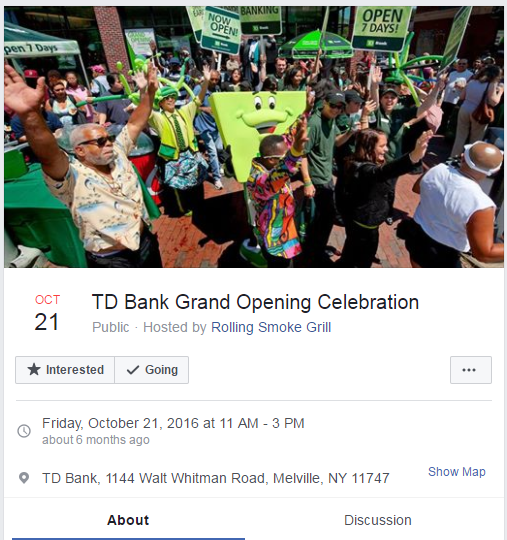 U.S. Bank
U.S. Bank appears to scale its branch openings to the market. We've seen promotions for Ribbon Cutting Ceremonies – typically one hour events with special guests from the bank and community offering light refreshments and giveaways – in some locations, while others  warrant more celebratory openings. Here's how a USB press release describes the GOC of a new California branch next door to where it also opened a community center:
"…. We're not just opening a branch, we're becoming an integral part of the community. To celebrate… the public is welcome to a grand opening celebration in the parking lot of the new location. Branch staff will serve hot dogs, popcorn and drinks…. [There will be] giveaways and entertainment for kids."
Smaller banks and credit unions
With their communications about new branches, many smaller financial institutions strive to find the right balance between promoting technology (reinforcing the idea that they keep pace) and staying true to their "relationship" positioning. They want traffic into the new branches and use many tried-and-true GOC tactics. For example:
Rivermark Community Credit Union touts Personal Teller Kiosk technology along with softer benefits, such as expert staff, online appointment setting and extended hours. Its festivities included a "Grand Opening Getaway Giveaway" where visitors to the location could pick up game pieces for the chance to win a trip to Hawaii.
Mid-Hudson Valley Federal Credit Union promotes a "new state-of-the-art" branch offering ATMs with Personal Teller assistance and a tablet bar for online banking access. However, it also stays true to the traditional GOC with tours, refreshments, face-painting and an appearance by MHV's Bee-Buxby character.
Blue Credit Union does a great job amplifying its brand: its GOC efforts reflect its appeal to Millennials. For this FI, opening a branch calls for a block party with partnership participation from neighboring businesses, including several juice bars and Orangetheory, the trendy fitness brand, which plans to reciprocate and invite Blue Credit Union to its own GOC taking place shortly. In a press release about the event, it says, "Orangetheory loved participating in Blue's grand opening… We were thoroughly impressed with the turnout and buzz from our new, amazing neighbors."

And so, in some areas and for some institutions, the GOC is alive and thriving. Details vary but the formula is replicated to include
refreshments and activities geared towards the family;
bank management ribbon cutting and speeches;
bounty offers or rate enhancements for new account openings;
conservative giveaways (prizes that feel celebratory but not out-of-line for the particular FI to be gifting); and
brand amplification "light," through the appearance of brand-affiliated characters and visual expressions of branding (staff wearing branded golf shirts, brand color themed decorations, etc.).
Here are some specific examples: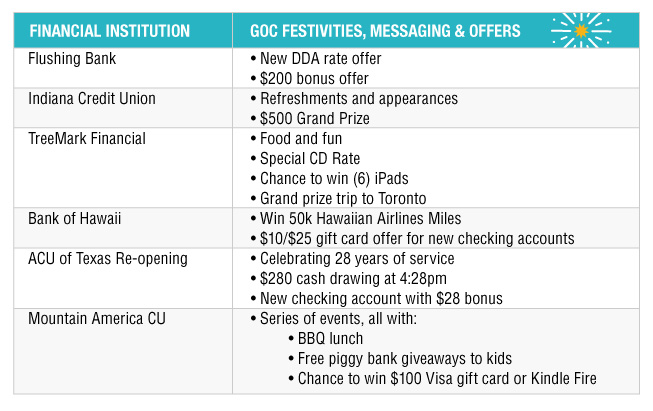 The GOCs are typically featured on social platforms (even allowing guests to respond to event invites on Facebook), via traditional print and flyers, e-newsletters and e-mails, press releases and websites.  Many of the banks and credit unions include post-event video footage on social channels and YouTube.
Perhaps the great divide – those institutions who celebrate versus those who don't – is not simply a product of bank size and stakeholder satisfaction (less real estate, less staffing) but is more closely tied to neighborhood — be it urban or suburban – and the expectations and needs of customers down to the zip code.  If true, we expect the Grand Opening Celebration to continue and thrive as banks across the U.S. understand their neighborhoods will show up and party right along with them.
Tags:
bank marketing
,
branch banking
,
credit union marketing
,
financial services marketing