How FIs Can Benefit From Debit Card Loyalty and Rewards Programs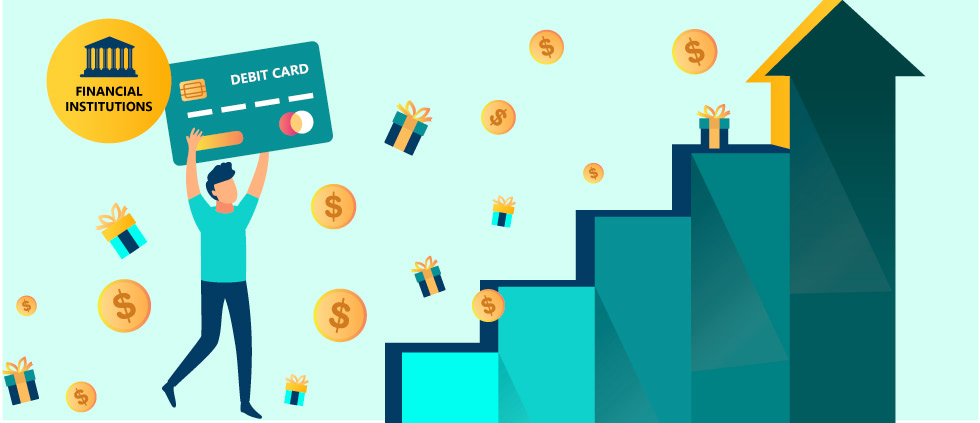 As a team of specialized financial services marketing experts, we've partnered with several top financial brands on strategy and execution of rewards program marketing, and we've written extensively about customer loyalty. Before 2010, debit card rewards were common, but in the post-Dodd-Frank era, rewards have been most closely associated with credit cards. Now, however, we're seeing more FIs offering (or considering) loyalty programs for debit cards.
On a recent podcast episode, Payments Journal talked with Fiserv's Jeri Scheel and Javelin's Brian Riley about this emergence of debit card rewards, specifically how they can benefit FIs. Here are some key takeaways from their discussion.
Use debit card rewards as a differentiator. Scheel notes, "A credit card is expected to have rewards, but the real opportunity for financial institutions is to think about how to tie in rewards on the debit side because it can really set them apart from their competitors. They're a differentiator and determine which card gets top-of-wallet status."
Create a debit-specific strategy. Payments Journal cautions FIs about "launching a rewards program for debit in a haphazard way." The publication says, "Simply applying a cut-and-paste credit rewards program is not the right approach."
Examine spending patterns to size up the opportunity. As Scheel notes, debit card spend (with no rewards) exceeds credit card spend (with rewards) in many cases. (According to his numbers, the average is approximately $13,000 vs. $4,000 each year.) He says rewards on the debit side can "almost double" the average spend for those customers most engaged in redemption. Ultimately, he says, this helps FIs "drive revenue and stickiness for their cardholders."
Know thy customer. To bolster usage and retention, rewards programs must reflect cardholder interests and preferences. Scheel urges FIs to consider the types of rewards customers want and when and where they want to redeem them. "Making [redemption options] relevant to your cardholders is absolutely critical," says Scheel.
Specific strategies for debit card rewards will vary by FI and by audience. We encourage FIs to do their homework to explore their specific opportunity for using loyalty programs to boost debit usage and retention. We'd be happy to help. Contact our team today.