5 Radically Different Approaches to Content Marketing from Top Financial Services Brands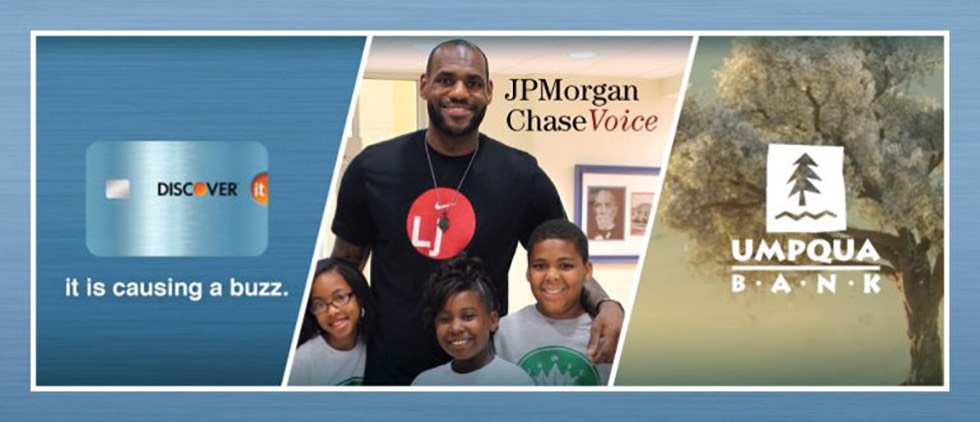 Financial services brands are really starting to "get" content marketing, and their content-driven initiatives are more diverse than you may expect.
This diversity signals an advanced understanding of content marketing: there is no one-size-fits-all strategy.  What's right for one credit card issuer won't likely work for another. It also signals a willingness to try new things, and that kind of agility – though it can open the door for greater relevance – hasn't always been seen as an option for financial institutions.
And so we offer five radically different approaches to content marketing that not only stay "on-brand" and deepen the customer experience but also show just how much financial services content marketing has evolved:
1.
Discover and Buzzfeed Up a Tree K-I-S-S-I-N-G
If there's an online publication that has perfected the meme and the click-worthy headline, it's Buzzfeed. And when Discover got together with Buzzfeed to create a series of sponsored posts, it was a marriage made in Millennial marketing heaven. The partnership gave birth to the exact kind of sharable, highly visual content you'd expect from Buzzfeed. Introducing the Discovercard listicle:
Discover introduces each post with a product-based pitch related to the content (a mention of its Miles card on the travel listicle or cashback rewards in the listicle about rewarding moments) and uses its Twitter feed to promote the content: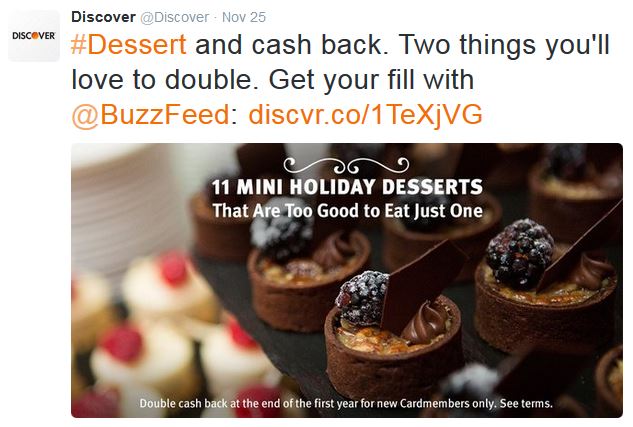 2.
Much like Buzzfeed: Forbes…
…though so very different, of course! Forbes offers a content marketing platform to "connect marketers to the Forbes audience." JPMorgan ChaseVoice is a hub where the financial services brand publishes content it describes as "fundamental to the world's economic strength."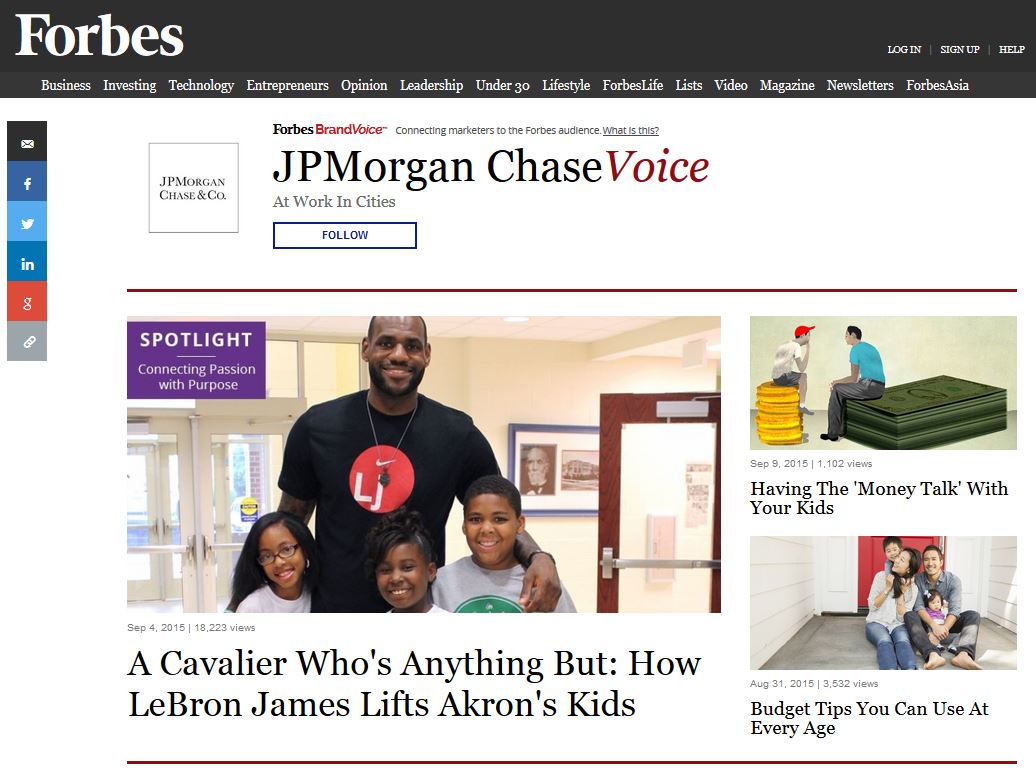 These are feel-good stories that show how "civic and community leaders are working together" and how "businesses are opening and expanding as innovators [to develop] practical ways to address complex problems." And though the stories are very much related to the JPMorgan Chase brand, they aren't limited to your run-of-the-mill, press release style promotion of corporate identity and good will. Many of the articles feature interviews (like a recent one about the impact of veterans on corporate America) and personal points of view (like this one on truths learned by a new(ish) CEO). In addition, they often contain engaging photographs and videos.
3.
Not your grandma's marketing channels
An original short film. An art installation. A podcast. These are not the resources found in the traditional financial services marketing toolkit. Instead, they are experiences… and that's precisely why they may work so well.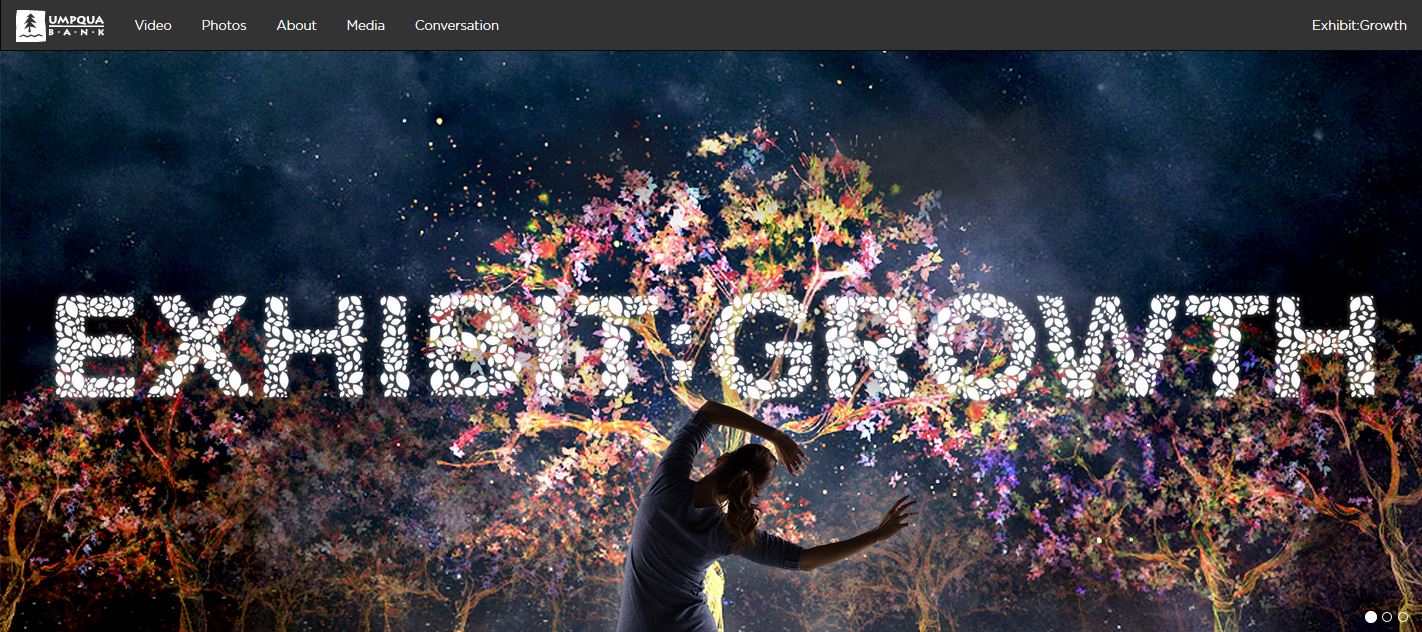 Earlier this fall, Umpqua Bank announced it was kickstarting the conversation about money with an initiative called "Made to Grow." Aimed at countering the impact of financial stress on America's health, it included
Nowhere inside the 40-foot geodesic dome that housed "Exhibit:Growth" – nor anywhere else in the campaign – was the focus on banking or banking products. Even the money-focused podcast, called "unconventional" by American Banker, uses a conversational style to explore personal journeys with money not banks, accounts or credit cards. Is it any good? The Billfold calls it "your new favorite podcast."
4.
Extreme Makeover: The Chase website edition
Although we've seen branded content hubs before, like the "online journal" Wells Fargo Stories and Journeymakers from American Express Travel, the content existed outside the financial institutions' main websites where they pitched products and provided customers with account access. In contrast, Chase's website redesign "puts investigative, multimedia stories prominently next to customers' banking and servicing" (source: Contently), and, as Ad Age points out, the online experience "mimics Chase's mobile app."
The result, according to Chase, was that "users who viewed the ['News & Stories'] section stayed on the website three times longer than those who didn't" (source: Ad Age).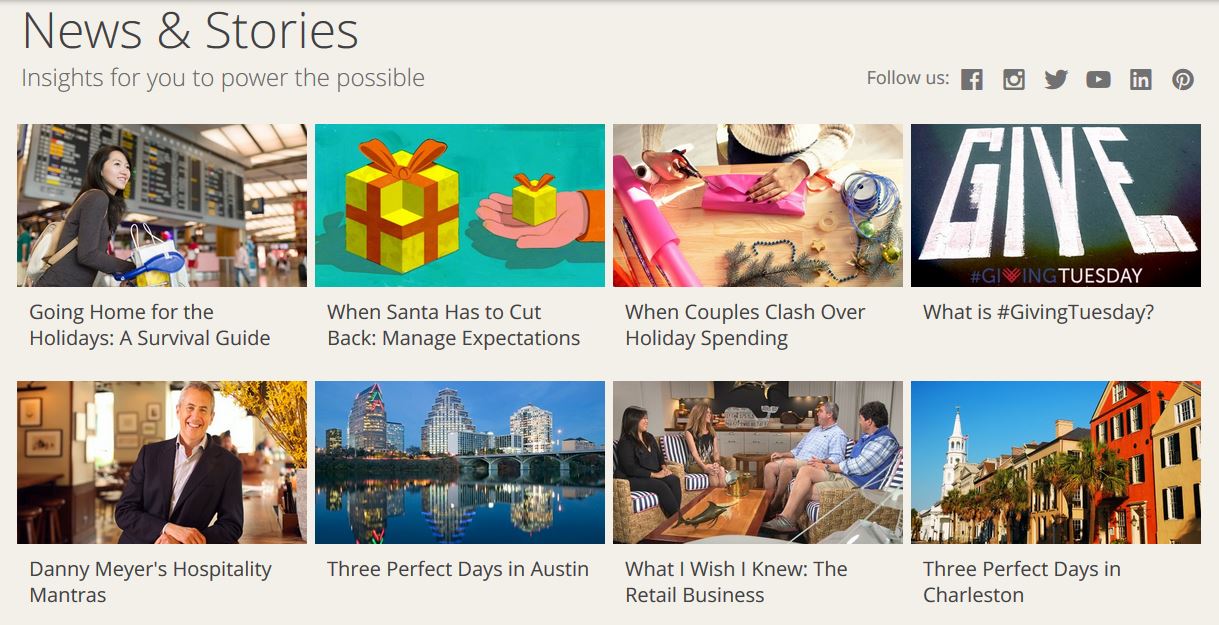 5.
What makes you so special?
This fall, American Express asked influential card members this exact question (though in a much nicer way, we're sure) and used the answers to create a video series:

Amex posts the 30-second animated videos – which give the iconic American Express signature a refreshing new spin – on Twitter and Facebook as status updates with the #SignatureStories hashtag. Here are a few example from recent weeks:
We're linking you to the tweets (above) instead of embedding the videos because they exist only on the social platform (vs. YouTube, for example), and that's a good thing: the content is instantly accessible. Users don't need to leave their personal feeds to click through to another location.
Tags:
American Express
,
Chase
,
Discover
,
financial services content marketing
,
JPMorgan Chase
,
social media for financial services
,
Umpqua Bank