How Marketers Can Leverage Evolving Audio Spaces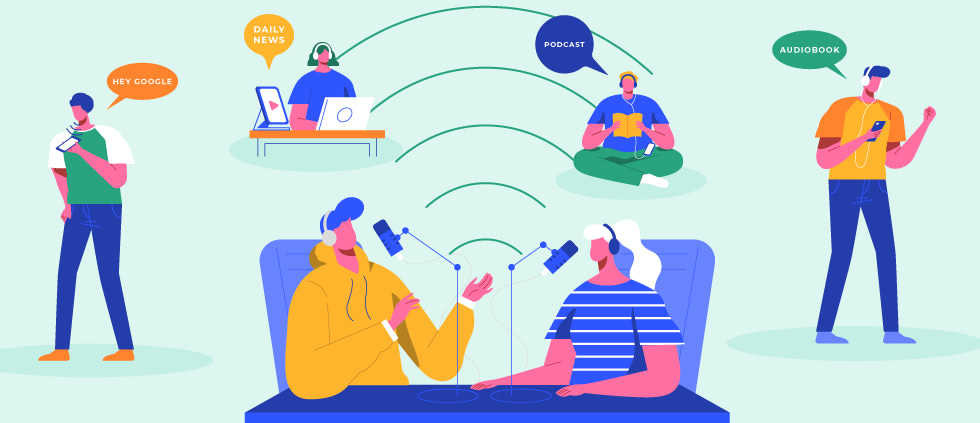 Forbes has reported a music streaming "boom," noting that subscriptions have surpassed 80 million, and NPR and Edison say that listenership for news, podcasts, audiobooks and talk radio is at "an all-time high" – including with younger and multicultural audiences. Add popular new social media options to the mix, and what we're seeing is a large (and growing) audience for audio content, along with related opportunities for marketing.
The audience for audio
Adweek describes audio's significant audience this way: "An estimated 95.6% of Americans 13 or older listen to some form of audio in their daily lives, which amounts to 270 million people listening daily." The publication also notes that key listening habits are trending up. For example, the audience is listening an average of "4.8 different times a day, on two different platforms, using two different devices to listen."
It's highly likely one of those devices is a mobile device, says NPR in a press release about its report with Edison. It says, "Mobile listening has increased 278% over the past seven years, with one-third (34%) of all time spent listening to spoken word audio being done on a mobile device."
One possible reason for audio's popularity is that it fills a unique role. Fortune 500 advisor Jerimiah Owyang refers to audio as "The Goldilocks Medium," meaning that it's "just right" for audience connection. Owyang says that text may not be enough for consumers to engage but that video may be too much – especially if your customer is highly mobile.
Some audio technologies help translate this dynamic to literal connection and engagement, allowing brands to respond directly to consumer questions. These tools – like smart speakers, voice assistants and voice search – are also highly popular. One-third of Americans over the age of 12 now own a smart speaker. In addition, 71% of consumers prefer to conduct queries by voice instead of typing, and Google prioritizes voice search as much as traditional searches.
With the size and scope of the audio space, reaching listeners has high appeal to brands. Here, we offer snapshots of some content marketing and advertising opportunities available in evolving audio spaces.
Audio-first social media
Inspired by the success of Clubhouse, a pioneer social app that hosted 6 million registered users within its first year, audio-first content is becoming a priority for major social platforms. This relatively new content channel is reaching an impressive number of people, now across Twitter, LinkedIn, Facebook, Instagram and Spotify, in addition to Clubhouse. Since the emphasis of social audio is that it's live, it creates exciting, in-the-moment experiences brands can share with engaged audiences. Here are some basics on current leaders in the social audio space:
The marketing opportunity – either by deploying subject matter experts or working with popular creators and influencers – is primarily related to content creation and thought leadership. Brands can use their presence in these live audio spaces to provide important informational, educational or entertaining content directly to consumers. (As is true with other forms of content marketing, best practice here is to avoid hard selling tactics and instead focus on content that's valuable to the audience.)
Podcast content as thought leadership
In 2022, according to buzzsprout, "51% of the population has listened to a podcast, and roughly 78% are familiar with the medium. Podcast listeners increased by 29.5% from 2018 to 2021, and over one-third (104 million) of Americans listen to podcasts regularly." Podcasts are relatively easy to create and can help brands build thought leadership and tap into the reach of their industry influencers, while getting a possible SEO boost.
There are two key ways to utilize podcasts for thought leadership:
Host your own podcast /Hosting a podcast can position brands as industry authorities and help them share expertise and resources with customers and prospects. As we wrote in a blog post on using podcasts to engage consumers, these podcasts represent opportunities to target and grow audiences in particular niches.
Appear as a guest / Brands can also build thought leadership as guests on established podcasts that are relevant to their industry and their audiences. As described by Podchaser,being a guest on a podcast is a good way to generate shareable content and attract traffic to your website (via show notes, transcripts and promotional material).
Audio advertising and sponsored content
In addition to content creation opportunities, evolving audio is helping to establish new avenues for digital advertising and sponsored content.
Advertising in audio spaces / Digital advertising opportunities exist for brands in music streaming and podcast platforms. According to Statista, "In 2020, music streaming revenue hit 13.4 billion U.S. dollars worldwide, more than 28 times the figure recorded a decade ago." And a recent industry report, shows that podcast advertising revenues have been steadily rising and are expected to reach $2.2 billion by 2023. Although some ads placed are similar to traditional radio ads, many popular podcast hosts read the ads themselves, and brands (like Dunkin) are experimenting with new ad formats that match listeners' musical tastes.
Sponsored content /Print and digital publications have offered sponsored content opportunities for years. Now, audio presents similar opportunities.These paid placementsfor brand audio – at an industry expert's blog, for example – can be beneficial to reaching a wider audience. Media Logic client EverC saw success working with Payments Journal to develop (and promote!) an article and podcast regarding trends in the payments industry.
Smart speakers, voice assistants and voice search
Emerging – and now, in some cases, fairly common – technologies are boosting consumer use of conversations to engage with brands on digital channels. These include speaking commands to (and asking questions of) in-home smart speakers and using voice search on handheld mobile devices. Brands can leverage these new consumer habits and interact with customers in these digital environments by repurposing and optimizing their content, in particular product descriptions, featured snippets and answers to FAQs.
Smart speakers and voice assistants / Smart speakers and voice assistants have changed the way consumers request and find information. Whether a brand creates a skill for popular voice assistants like Alexa, Google Assistant or Siri (commonly accessed via smart speakers or smart phones) or create their own in-app assistants (like this one from Bankjoy), this technology gives brands the opportunity to deliver helpful information exactly where and when consumers need (and directly request) them.
For instance, the Tide Stain Remover skill provides step by step instructions to remove stubborn stains. Domino's and Starbucks have deployed voice skills to allow customers to reorder their favorite food and drink. And health care brands are using smart speakers and voice assistants to help customers understand their benefits, fill prescriptions and schedule calls with customer service.
Voice search / Mobile phones and smart speakers have also changed the search engine dynamic. Over 71% of consumers now prefer to conduct queries by voice (versus typing), and Google gives voice search as much weight as traditional searches. Voice search is an important component of mobile-first SEO strategies, and voice-based shopping may account for over $40 billion in sales by 2022. In addition, stats gathered by Truelist indicate that "36% of consumers use voice search to add products to their shopping lists," and "44% [of smart speaker owners] use their devices to order products almost weekly." Best practices for optimizing for voice search include using structured data and schema markup on your website, refining page content to match search intent and optimizing key words in metadata.