Uber, Lyft Hope to Drive Improvements in Healthcare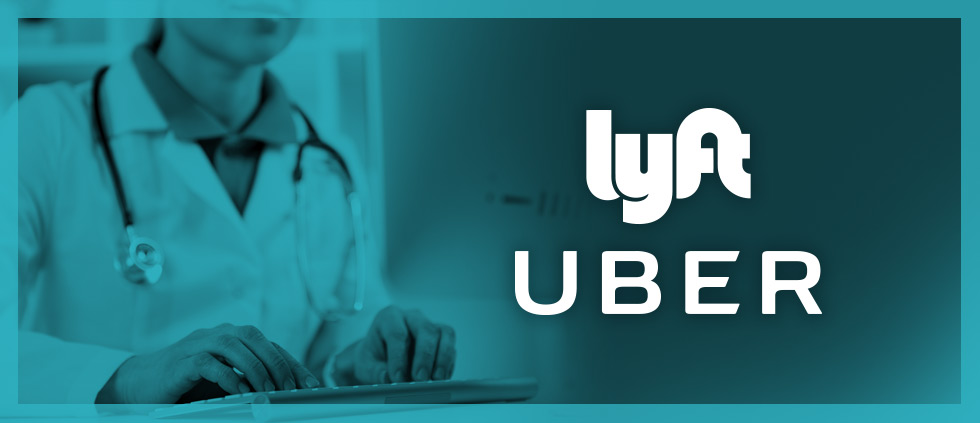 Tech giants have focused their attention on healthcare as the next industry they would like to change. Companies such as Amazon, Apple, Google, Lyft, and Uber are often thought of as disruptors – companies who can (and have) turned existing industries and markets upside down by introducing creative, efficient, and new innovations that change the way we do business and carry out our day-to-day lives.
Enter Uber and Lyft. Both ridesharing companies have different business models for their ventures, but their goal is the same – providing a more cost-effective and reliable option for non-emergency medical transportation (NEMT) than taxis and shuttles, traditionally used by physicians to transport patients.
Why the focus on better transportation? The traditional system has proven to be inefficient, according to Modern Healthcare. The National Academy of Sciences published a study that said 3.6 billion Americans miss non-emergency medical appointments each year due to transportation issues. Missed appointments can lead to delayed diagnosis and treatment for patients, which can be critical. Also, missed appointments cost our healthcare system money… a lot of money. According to SCI Solutions, the total equals about $150 billion each year. In addition, more now than ever, providers have an additional incentive to adopt the new technology. Gartner analyst Tom Handler says, "if you get penalized (for not following up with patients), there's incentive for you to track them better, and sometimes that means helping them get to you."
Uber and Lyft offer technology to eliminate inefficiencies providers experience including tracking to make sure drivers pick up patients on time, GPS to make sure they take them to the right place, the ability to schedule appointments in real time or in advance, and also manage billing. Shared rides cost less on average than taxis, which saves money overall for providers who are paying for patient rides. Simple reporting and management also benefits providers who receive reimbursement from Medicaid for NEMT.
Both Lyft Concierge and Uber Health have APIs that allow organizations to integrate them into their own systems. This means that riders do not need to have an app – or even a smartphone – to be able to use the service. Patients are notified with a text message to their mobile phone or a call to their landline. Doctors can print out details for the patient including the car's color and license plate number.
Transportation options are an example of one of the social determinants of health identified by Healthy People 2020 – the federal government's initiative to build a healthier nation. The initiative focuses on making advances not only in healthcare but also in fields such as agriculture, business, education and transportation. In partnering directly with healthcare providers, Uber and Lyft have positioned themselves as technology companies that want to try to address (and hopefully solve) issues with social and physical environments that keep Americans from leading healthy lives.
Check back with us over the next few weeks as we talk more about the social determinants of health and ways that health and tech companies are working to "create social and physical environments that promote good health for all…" and how healthcare marketers are helping them get that message across to consumers.
Tags:
health insurers
,
healthcare marketing
,
healthcare technology
,
Lyft
,
technology adoption
,
Uber