The Potential Benefits of Podcast Advertising for Healthcare Marketers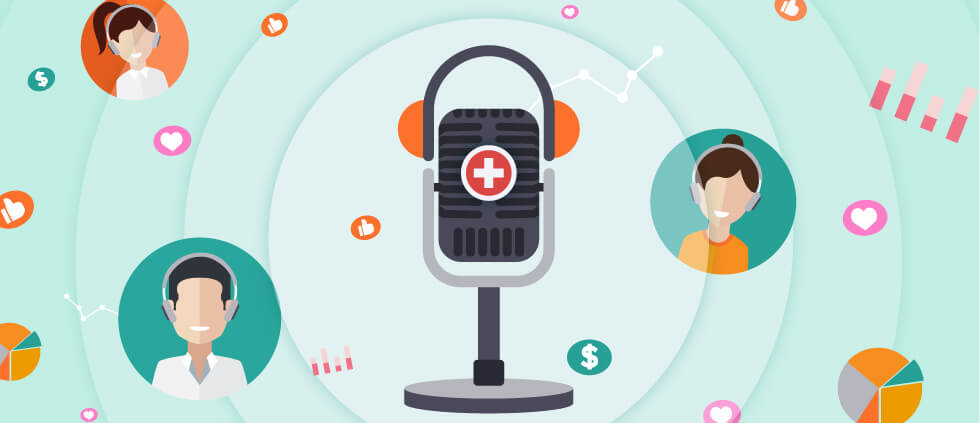 Podcasts have been around since 2004, and while their popularity has steadily grown, recent media coverage of podcasts has brought them more attention says WhyPodcasts.org. They have potential as an advertising medium for healthcare marketers for multiple reasons:
The ability to target niche audiences. Our Emerging Media Team notes that audience fragmentation is spurring advertisers to take advantage of podcasting's targeting ability.
Growing listenership. The Infinite Dial 2021® from Edison Research and Triton Digital found that approximately 80 million Americans ages 12+ are weekly podcast listeners. This is a 12% increase from 2020.
Engaged listenership. According to WhyPodcasts.org, podcast listeners are loyal and engaged, mobile and social.
Strong reported ROI. The Podcast Conversions Benchmark Report from Podsights studied 532 campaigns run by 232 brands from October 2018 through July 2020. They found podcast campaigns delivered an average return on ad spend of $2.42 for every dollar invested.
For Medicare marketers, also consider these insights:
U.S. adults ages 55 and older have doubled their podcast listenership consistently with the number listening to a podcast within the last month doubling between 2017 and 2020 (Source: Statista)
Podcasts continue to grow in popularity year over year (YoY) among men and women ages 63+ (Source: Media Logic's 2020 Senior Media Preferences Survey)
Types of podcast advertising
There are several types of podcast advertising. Audio ads are the most common and tend to be relatively short. They are either pre-recorded or a live host endorsement. These ads are placed at the beginning (pre-roll), middle (mid-roll) and end (end-roll) of the show. The most common pricing model is cost per mille (CPM) or cost per 1,000 listeners. Under this model, the charge would roll out as every thousand ad impressions served.
In their survey of podcast "Super Listeners" – those who listen to at least five or more hours of podcasts each week – Edison Research found that host-read ads provide the most value with 33% of Super Listeners saying they paid more attention.
Additional opportunities include:
Blog posts
Email
Events
Social media mentions
Website advertising
Additional podcast advertising considerations for healthcare marketers
It's important to match your organization with a good podcast. "Ensure whatever shows you want to partner with are aligned with your brand values and target audience. Know the content of the show, the host and if they conduct themselves in a way that is consistent with your brand voice and ethos," says Kurt Kaufer, a CMO in AdAge. The key to a successful podcast advertising campaign lies in finding the right partnerships and creating ads that add real value to the listener and the potential customer.
Admittedly, it can be difficult to measure ROI from podcast advertising, especially when tracking your ads performance on a podcast hosted by another organization. The podcaster should provide monthly insights into how the advertisements are doing. These insights include download numbers, web traffic numbers, advertisement impressions and click-throughs, email click numbers, and more. However, they cannot measure how many people have purchased without tracking information. One suggestion is to bring podcast ad listeners to a particular landing page using a special link or providing listeners with a specific code.
Brand awareness can be an important objective for podcast advertising. A recent Claritas study found that podcasts can lift brand awareness between 24% to 79%. This is a notable statistic for health plan marketers launching in a new service area when measuring brand awareness.
Besides being interested in podcasts as the advertiser, podcasting can also be an important part of your healthcare content marketing strategy – right there with blog articles, social media posts and email marketing. If you're a healthcare organization looking for more ways to build awareness for your brand, create a community of listeners and better engage with consumers, check out our previous blog post (complete with some strategic considerations for getting started and relevant examples.)
We've only scratched the service on what healthcare organizations can do with podcasts and podcast advertising. As this medium continues to grow, we'll follow up with more insights, tips and other information.