Healthcare Consumer Survey: How Medicare Shoppers Are Feeling About Seminars Post-Pandemic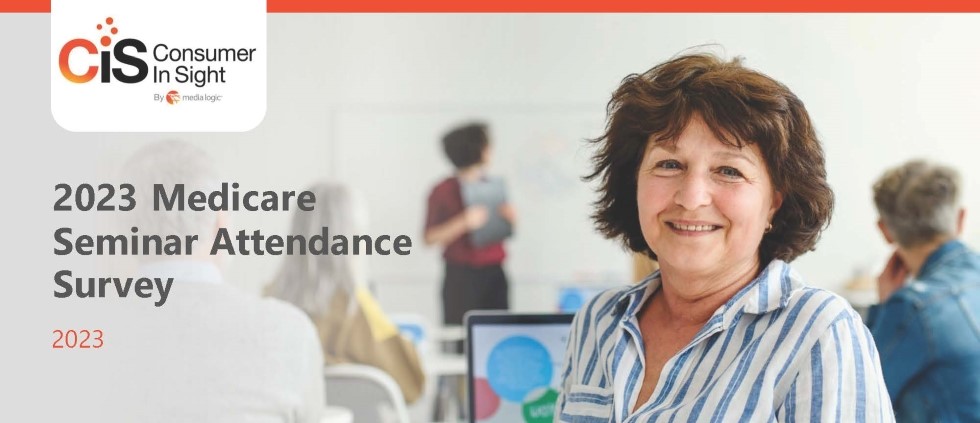 Offering in-person seminars has historically been a go-to tactic for Medicare health insurance carriers to acquire new members. This practice, however, was completely disrupted starting in 2020 when the pandemic forced carriers to shift their engagement strategies to online efforts to meet shoppers' needs when in-person meetings weren't possible.
When COVID-19 fears began receding and vaccines were widely available, Media Logic wondered how Medicare shoppers were feeling about seminars and events since being forced online to shop for Medicare insurance. As part of our ongoing series of healthcare consumer surveys, Media Logic's Consumer In Sight research team surveyed 300 adults aged 64-72 across the U.S. who were in the process of first-time enrollment or had completed their initial Medicare enrollment within the past 12 months. We asked questions about their attitudes and behaviors relating to attending informational events about Medicare plans today. Notably, we conducted the survey before more recent concerns about the emergence of new COVID-19 variants.
Here are some of our takeaways from the responses:
Medicare shoppers like to take their enrollment journey on their own terms and prefer gathering information online or by other readily available means, watching pre-recorded webinars and meeting one-on-one with healthcare insurance representatives.
For webinars and events, the convenience of watching them as pre-recorded videos received slightly more interest over each of the other options but attending a live event — either in person or online — was the overall preference for 50% of respondents.
Content and access are important for ensuring Medicare event attendance, but incentives can be an even greater motivator. While only 27% of respondents said they would be likely to attend a seminar, 58% indicated they would likely attend for an incentive.
Medicare shoppers are more apt to engage in a session with their existing healthcare insurer or a national healthcare insurance company — showing a possible preference for known carriers.
Look at the full survey below to see the results, including respondents' likelihood of attending Medicare seminars, their preferred venues and the incentives that have the biggest impact. You can also download a PDF version of the deck.  
For more insights, read our findings from a survey of New-to-Medicare shoppers and results from a poll of seniors on their attitudes and outlooks on the year ahead. Stay tuned for more surveys and strategic takeaways from Media Logic's Consumer In Sight throughout the year.
Any questions? Reach out to Media Logic today.