The Attitude and Outlook of Seniors on the Year Ahead: 2023 Healthcare Marketing Survey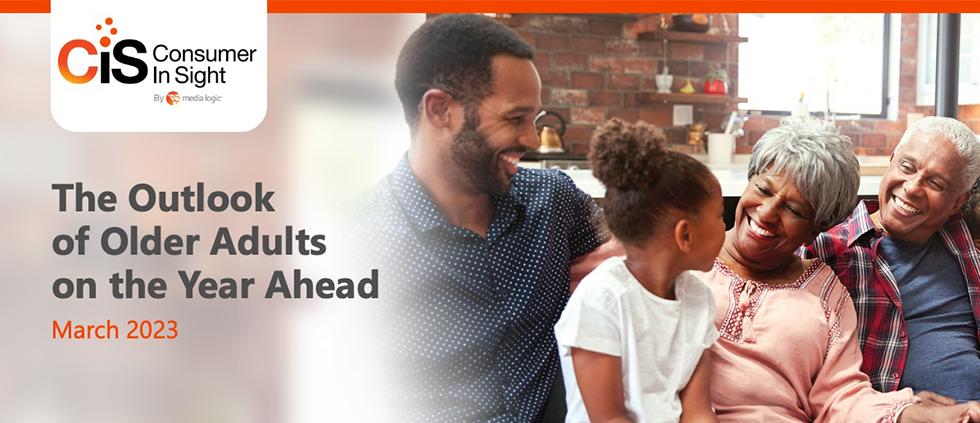 Each year brings both opportunities and challenges to the 65+ population of the United States. In 2023, older adults have seen residual impacts from the pandemic, inflation, changes in U.S. employment and very active news cycles about the world around them.
Understanding the general outlook and point of view of the 65+ cohort on their current and future status can be valuable for informing health insurance companies on product development and messaging in marketing communications.
As part of our ongoing series of healthcare consumer surveys, Media Logic's Consumer In Sight research team surveyed 300 seniors aged 64-75. We asked questions about their sense of well-being, sources of concern and plans to meet their goals for the year ahead.
Here are some of our takeaways from the responses:
Older adults are slightly more negative than positive in their outlook on the year ahead.
Respondents' level of worry about personal finances and the continued availability of social security and Medicare followed their foremost concerns about the U.S. economy and the state of national politics.
Survey respondents said they are taking steps to cut back on expenses like dining out, leisure, groceries and entertainment.
A majority of respondents rate their own health as very good to excellent.
Look at the full survey below to see these results, including what brings seniors joy, how they plan to maximize their health and stay active and more. You can also download a PDF version of the deck.
For more insights on seniors' attitude, outlook, behavior and preferences in 2023, check out our survey on the recent Medicare Annual Election Period (AEP). Stay tuned for more surveys and strategic takeaways from Consumer In Sight throughout the year.
Any questions? Reach out to Media Logic today.