Trends and Stats To Know about the D-SNP Market and Prospects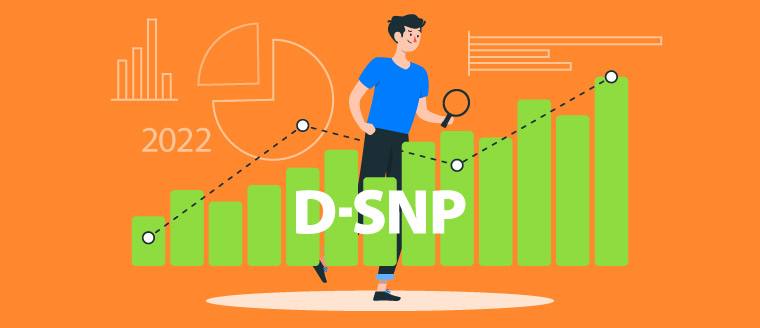 As Medicare marketers, we pay close attention to the rapid growth of Medicare Advantage (MA) plans, and dual-eligible special needs plans (D-SNPs) are on the rise. A recent Modern Healthcare article reported that, according to Millman, the number of D-SNPs on the market rose 16.4% to 703 plans in 2021, and data from the Centers for Medicare and Medicaid Services (CMS) shows enrollment rose by 22% YoY to more than 4 million at the start of 2022.
In light of this substantial growth, Medicare marketers should take note of the following notable trends and statistics about the D-SNP market and dual eligible prospects when marketing to this audience.
Trends and statistics about the D-SNP market
This year, in particular, there will likely be an influx of dual switching.
CMS is going to shut down D-SNP lookalikes in 2023, meaning that enrollees in any MA plan with more than 80% of a dually eligible population will be forced to find a new plan — a move which has contributed to raising insurer interest in these plans in recent years. This is positive for payers that offer Dual plans, especially in markets with waning D-SNP lookalikes.
Some carriers have already seen significant growth – four of the largest MA insurers have 75% of the special needs market.
Since 2019, Centene has seen a 1,108.5% growth in special needs plan enrollment, CVS Health enrollment has grown by 465.2% and Bright Health by 190%. In terms of special needs plan market share in 2022, UnitedHealth Group takes the lead with 38.3% of total enrollment, Humana comes in second with 14.9% and Anthem takes third with 11.7% of the market share.
Trends and statistics about dual-eligible prospects
It's important for marketers to understand the characteristics of D-SNP prospects in order to target them. Data from the Better Medicare Alliance shows that, compared to individuals enrolled in Medicare only, dual eligible beneficiaries are:
More likely to be under the age of 65
More likely to live in rural areas
Less likely to be currently married
Less likely to have a college degree
Four times as likely to have high food insecurity
Three times as likely to speak a language other than English at home
Twice as likely to have depression
Nearly three times as likely to have cognitive impairment
Dually eligible beneficiaries can be among the more expensive members for a health payer.
The benefits that matter most to Dual consumers are, in priority order, (1) Dental, (2) Transportation, (3) Food and (4) Vision, according to Deft Research.
These benefits, particularly transportation and food, speak to social determinants of health (SDoH) and the challenges that this audience may face on a regular basis. Other benefits that are important for Dual consumers are those that provide access to healthcare — think telemedicine and in-home care. For marketers, it will be beneficial to focus on these four top-priority benefits.
Successful marketing tactics for the dual eligible audience are not always the same as for other Medicare beneficiaries.
For example, celebrity endorsements seem to resonate with lower income, socially isolated seniors, according to Deft. Research supports that some marketers have had success with advertising on cable TV and in physical displays at low-income brick and mortar establishments. Remember, Duals are often neglected by brokers or agents because of a lack of cross-sell opportunity, so payers must do more of the outreach themselves. Our D-SNP Marketing Tip Sheet can help you fine-tune your tactics.
With the 2023 sunsetting of D-SNP lookalikes and increased marketing of actual D-SNPs, the plans will likely continue to grow in enrollment and potential impact for the dual-eligible population, helping disadvantaged individuals access life-saving care.
"Dual eligibles are a medically, socially and often functionally complex population," said Allison Rizer, principal and study lead at ATI Advisory, in Better Medicare Alliance. "We continue to see Medicare Advantage closing gaps in care that exist in fee-for-service Medicare, with higher rates of preventive service utilization, access to a usual source of care, and lower out-of-pocket costs among duals enrolling in Medicare Advantage."
Check back with us soon as we share more about some of the challenges marketers may face when marketing to dual-eligible prospects.
Business vector created by stories – www.freepik.com