Back to blog
The Role of Immediacy in Marketing Upgrades to the Delta and Amex Co-Brand Cards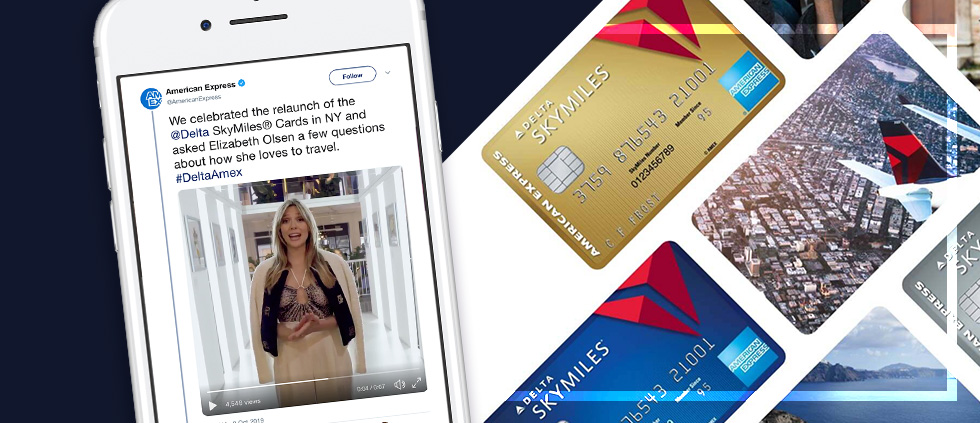 In late September, Delta and American Express announced changes to their line-up of SkyMiles credit cards. Starting on January 30, 2020, Delta SkyMiles cardholders can earn more miles on everyday purchases and take advantage of more travel perks. The updates come with increases in the annual fees (on all fee-based cards), especially for the high-end Delta SkyMiles Reserve American Express Card. At $550, the new Reserve Card annual fee puts it on par with the Amex Platinum Card and raises the bar when compared to cards from the two other major carriers: United Club Card and Citi AAdvantage Executive World Elite Mastercard.
Upgrades to co-brand credit card programs are nothing new, especially in the airline and hospitality sectors. In the last two years, we've seen new credit card offerings (and sometimes loyalty program overhauls) for United, Southwest, Hyatt and Marriott, just to name a few.
These launches generally follow a set pattern:
The co-brand and issuer announce updates or new cards in a press release.
Business and industry media report the changes that are coming.
Announcement emails are sent to existing customers.
The brands spend X months locking down the product construct and launch plan.
There's a big rollout and a push to get new cardholders.
However, Delta and Amex appeared to flip this script when they announced the changes on September 30. Instead of waiting four months to make a big acquisitions push, they jumped on the opportunity to promote the new cards immediately and with a sense of urgency.
First, the brands rolled out a dedicated microsite, NewDeltaAmex.com, that outlined in detail all of the new benefits and fees that come with each card along with a call to action that makes clear the main goal in laying out the information. Instead of telling prospects to wait, Delta and Amex want them to apply for the card now, and if they do, they will automatically get the new benefits starting on January 30. This seems like a simple way to take advantage of interest in the new card.
But wait, there's more. As part of the announcement of the cards, Delta and Amex also announced limited time bonus miles offers. For the month of October, prospects could take advantage of 60,000 or 75,000 bonus miles (depending on the card they selected). Again, these new cardholders would be automatically upgraded to the new card in January. While we cannot know all the ways the brands promoted the offers, we see this self-mailer on Comperemedia:

Finally, what launch promotion would be complete without a social media celebrity endorsement? Using the hashtag #DeltaAmex and partnering with Elizabeth Olsen, Delta and Amex rolled out a series of tweets and Instagram posts in early October.
We celebrated the relaunch of the @Delta SkyMiles® Cards in NY and asked Elizabeth Olsen a few questions about how she loves to travel. #DeltaAmex pic.twitter.com/GmXQL53YG2

— American Express (@AmericanExpress) October 9, 2019
As someone who loves flying with Delta, I've partnered with them and American Express for the launch of their new credit card! ? #DeltaAmex pic.twitter.com/Qpcx8o0ICr

— ?. (@eIzbthoIsn) October 3, 2019
This move makes a lot of sense in our age of immediacy. If you put something out in the world, a certain segment of consumers will want it now!
And while Delta and Amex need to prepare existing cardholders (and the general the marketplace) for these changes, by offering limited time bonus miles and automatic upgrades, they are able to take advantage of a sense of urgency while also preparing for what (we assume) will be a bigger push in Q1 2020. This seems like a smart way to roll out a new product, giving the companies two bites at the apple and a way to test and learn from what seems like a live "soft" launch.
Tags:
American Express
,
co-brand marketing
,
credit card marketing
,
Delta
,
new product launch