Driving Usage with Apple Pay: What Most Issuers are Missing
The introduction of Apple Pay has raised the stakes on card preference, but most issuers aren't responding – leaving opportunity on the table.
When Apple Pay (Apple's mobile payment/digital wallet service) was first announced, it was hailed both as the savior of the financial services industry and a parlor trick doomed to failure. The truth, of course, lies somewhere in-between.
But with more consumers trying Apple Pay (two out of three iPhone 6 users have used it), and more merchants accepting Apple Pay (700,000+ U.S. locations at last count), an important issue needs to be raised:
Will your card be lost in the shuffle?
Most major issuers now participate in Apple Pay. While awareness may have been the right focus initially, getting your card added to a device isn't enough.
Being "top of wallet" in Apple Pay (or rather, "default card") is even more important than with conventional cards because realistically, it's the only way to drive usage.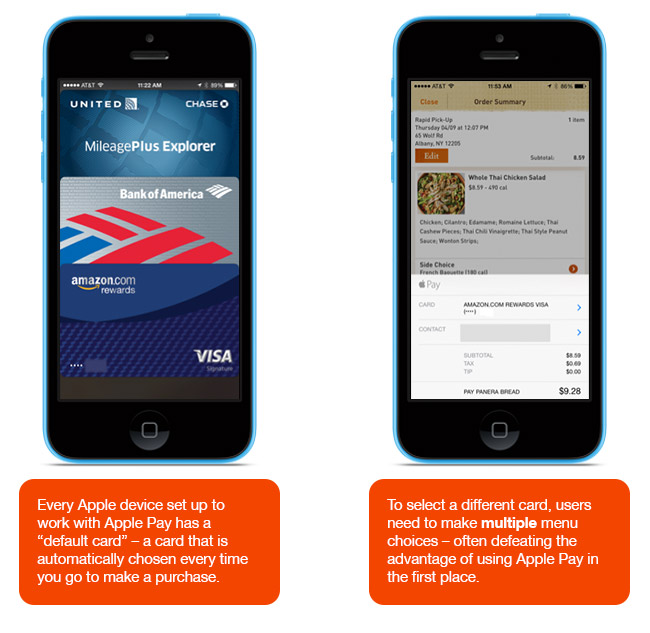 Whether grabbing a soda at the vending machine, paying for a rapid pickup order from within the Panera app or making a point of purchase transaction at a local Staples store, the default card is the easiest – and most often chosen – payment method.
But issuers aren't targeting this issue.
We recently looked at pre- and post-signup materials from 10 major issuers: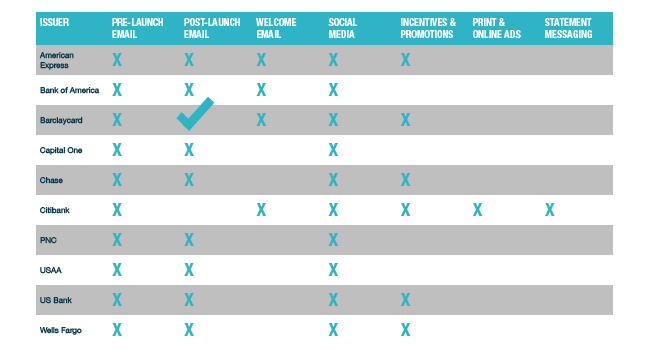 After reviewing 60+ different pieces of communication, we found ONLY ONE example that included ANY default card messaging at all.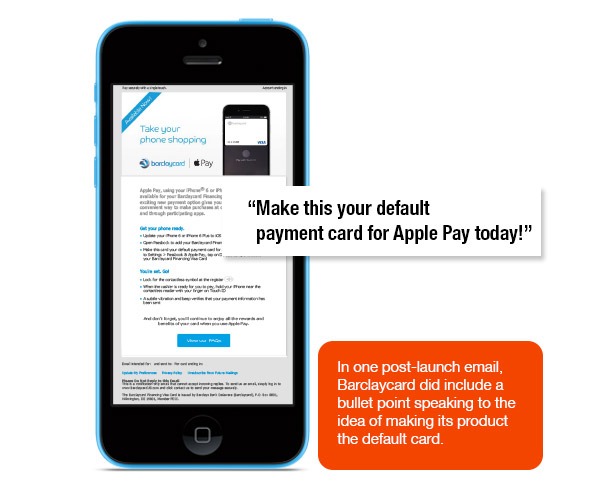 Savvy card marketers can capitalize on this opportunity by using messaging and education that drives action. Speak to the benefits of using YOUR card with Apple Pay. Consider using incentives tied to Apple Pay use. Then, educate cardholders on how to change their default card using visual guides wherever possible.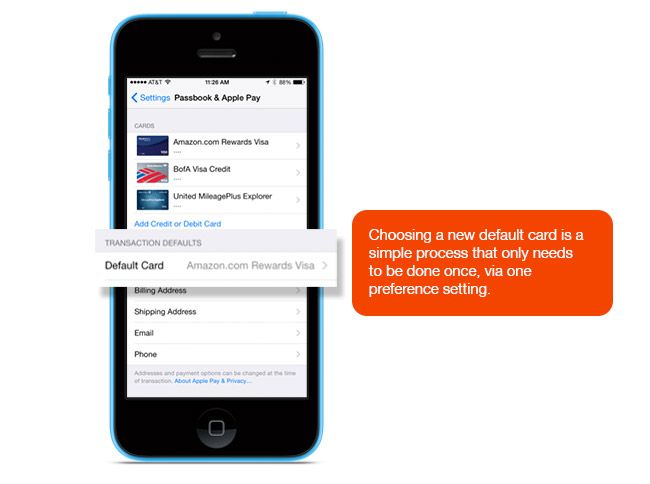 Apple Pay may still seem relatively new. But it's growing fast. And once patterns of behavior are established, they'll be even harder to change.
By incorporating default card messaging into your communications now, you can help gain a strong foothold on future usage.
Want to learn more? Contact Media Logic today.
Tags:
Apple Pay
,
credit card marketing
,
digital wallet
,
financial services marketing
,
mobile payments