UCSF Imaging: A Healthcare Content Marketing Success Story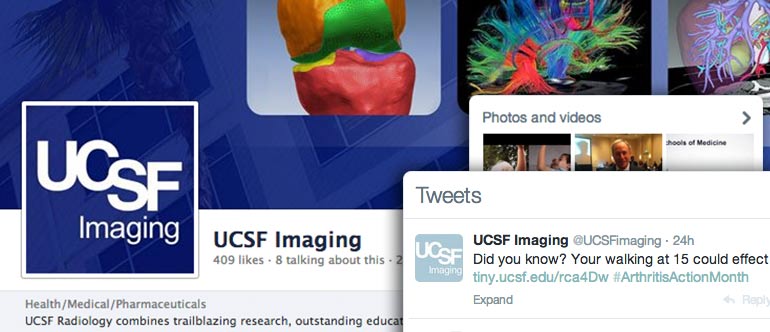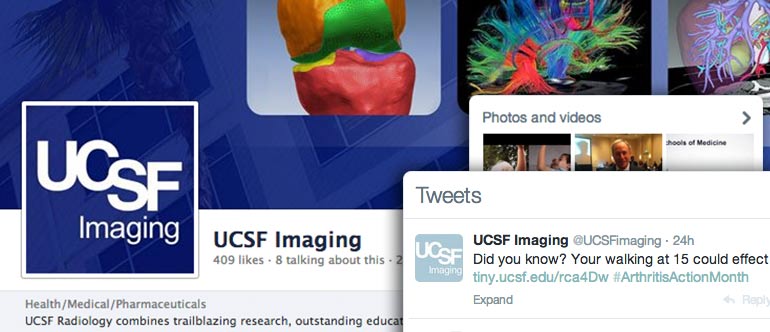 While many organizations are still trying to figure out how to harness the power of healthcare content marketing, Media Logic client UCSF Department of Radiology and Biomedical Imaging (UCSF Imaging) jumped on board in December 2010. Today, its efforts are driving SEO and garnering it attention as a leader in social media.
What began with the launch of a new blog and Twitter feed has grown to a robust content marketing strategy that also includes Facebook, Google+ and YouTube. Last year, the UCSF Imaging blog drew 56,000 visitors and is on track to nearly double that in 2014. But it isn't just the numbers that UCSF Imaging uses to measure its success. According to UCSF Imaging's Event and Communications Manager Katie Murphy, the real benefit is the "increased visibility for our new imaging technologies and the services we offer. It has also elevated awareness of the expertise of our physicians and what those in the department are doing."
So what are the secrets to UCSF Imaging's content marketing success?
Showcase subject matter expertise
Making it easy for a broad range of in-house subject matter experts to share insights and perspectives on what's new, why it's important and why consumers need to know about these developments is important for successful content marketing. For the UCSF Imaging blog, more than 40 doctors share in-depth expertise with consumers on the safety and benefits of the most advanced medical imaging techniques. "The blog presents an opportunity for faculty to present their work to the world in a way that is meaningful and useful to patients," according to Caroline Goodwill, marketing project manager at UCSF Imaging. Considering that 61 percent of all adults get health information online, according to a recent survey by Pew Research Center, that kind of thought leadership is extremely valuable.
Produce quality content
Building an audience and a rapport with influencers takes both time and consistency. While many organizations struggle with producing enough content, UCSF Imaging publishes more than 30 posts per week across Facebook, Twitter, Google+ and its blog.  A combination of original, repurposed and curated posts contribute to a content mix that is compelling, timely and interesting. The content is also what drives UCSF Imaging's incredible SEO. Currently, more than 81 percent of UCSF Imaging's traffic is organic – a nod to the power of quality content that Google now deems most valuable.
Promote content
Producing great content is only half the story; promoting it is the other half. Through social streams, with a focus on Twitter, UCSF Imaging promotes content to influential organizations and individuals, like @AuntMinnie, @RadiologyToday and @Radiology_RSNA. In fact, radiologists from all over the world engage with UCSF Imaging's tweets on a regular basis.   Retweets, favorites and interactions from these folks help build authority and gain traction for @UCSFImaging.
Choose the right team and the right tools
The challenges of content marketing are real: staffing, tools, expertise and workflow – just to name a few. While many organizations struggle to get the right pieces in place to overcome these challenges, UCSF Imaging partners with Media Logic's social content team for help with content strategy, writing, curating, optimizing, monitoring and publishing. Having an outside partner that specializes in content marketing allows UCSF Imaging to focus on doing what it does best – developing and sharing subject matter expertise quickly and efficiently.
Even when organizations can tap their subject matter experts for perspectives, content marketing requires a different set of skills and the right tools to turn those insights into meaningful assets that can be published and promoted. "Media Logic has made it possible to do what we need to do" according to Goodwill.  With a dedicated social content manager and access to Media Logic's content hub, the Media Logic and UCSF teams work collaboratively to turn UCSF Imaging's very technical perspectives into consumer-ready content, develop content ideas, curate interesting industry articles\ and interact with industry influencers.
The results for UCSF Imaging
Certainly the challenges of content marketing are real, but so are the benefits. And while UCSF Imaging monitors the numbers (like site visits, duration, links to the site, engagement and organic search), it sees the biggest benefits in exposure for its imaging services and increased visibility for its doctors' expertise.
Tags:
client work spotlight
,
content marketing for healthcare
,
content marketing strategy
,
healthcare marketing
,
Media Logic
,
UCSF Imaging