Regional Health Plans Partner with Digital Health Platforms to Manage Chronic Conditions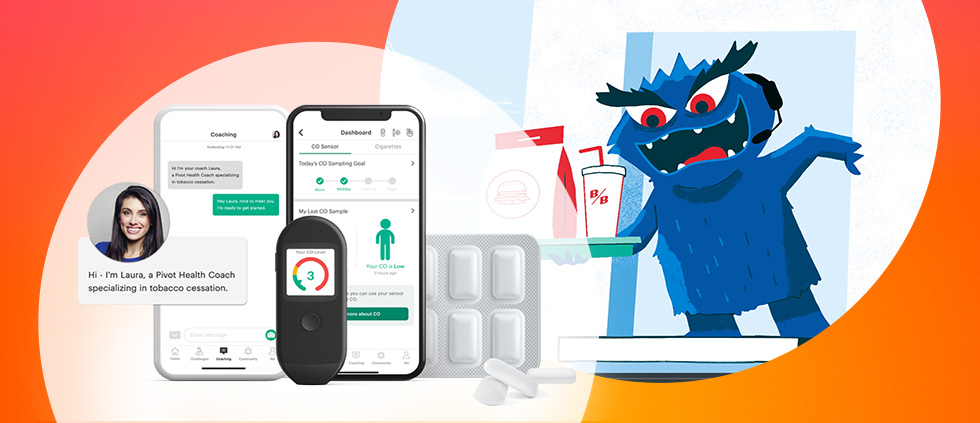 Think about the many ways that we use apps in our daily lives from fitness tracking to messaging to ridesharing and more! Many of us use mobile devices to regularly purchase goods and services, but what about to help manage chronic health conditions? According to the Centers for Disease Control and Prevention (CDC), 90% of the $3.5 trillion in annual healthcare expenses are for people with chronic and mental health conditions. We know that preventing chronic diseases (or managing them when prevention is not possible) can help reduce these costs.
Back in 2018, the Harvard Business Review looked closely at why apps managing chronic disease (CDM apps) hadn't been used widely… yet. The largest reason was that they are difficult to sell directly to patients who are not used to paying for chronic disease management and don't see management of these diseases as a leisure activity that they'd be willing to pay access for. As a result, the primary customer becomes either providers or payers. Providers, insurers and employers all want to cut healthcare costs while also improving patient outcomes. The growth of personalized CDM app options offered by payers or providers could help offset consumer costs and therefore be a bridge to developing consumer interests and widespread adoption of these solutions.
We recently noticed a few notable partnerships between regional payers (and/or their affiliated organizations) and digital health solutions that we'd like to share.
Blue Cross and Blue Shield of North Carolina launches two digital programs targeting smoking cessation and Type 2 diabetes
Recently, Blue Cross NC launched two digital programs available at no cost to individual under-65 members and fully insured group members. The first is through a partnership with Carrot Inc.'s Pivot platform for smoking cessation. According to Fierce Healthcare, tobacco-related illnesses cost North Carolina $13 billion per year. Members have access to trained tobacco experts, products for nicotine therapy, a personal brief sensor and an online community for inspiration and support. In addition, 3.7 million people in North Carolina have diabetes. Through the use of the Virta platform, users can regulate their blood sugar and eliminate the need for diabetes medications while having access to certified clinicians and health coaches to help with driving behavioral change and crafting meal plans.
HabitNu and Community Health Innovations (CHI) partner to deliver a CDC-recognized diabetes prevention program (DPP)
This summer Community Health Innovations (CHI), sister company of Aspire Health Plan (client) based in Monterey County, California, announced a partnership with HabitNu, a scalable technology solution that provides a platform to administer scientifically proven programs to combat lifestyle diseases such as diabetes. In Monterey County, over half of the population has diabetes or prediabetes, and CHI and local partners in the community have come together to help fight this epidemic. CHI is able to use HabitNu's CDC-recognized program along with its platform, digital tools, billing and claims submission, data aggregation and DPRP reporting capability to develop its own practices and scale the National Diabetes Prevention Program (DPP) to meet the needs of the population. They recently launched a campaign called "Don't Feed the Beast" complete with an informative website in both English and Spanish to help reach a particularly vulnerable Latino population.
Blue Cross and Blue Shield of Minnesota offers Omada Health's virtual Type 2 diabetes management program
In Minnesota, approximately 18,000 new cases of diabetes are diagnosed in adults annually. Blue Cross Blue Cross and Blue Shield of Minnesota has collaborated with Omada health since 2013. At the start of this year, they announced that they would provide Omada's separate diabetes management program for type 2 diabetes patients to self-insured employers with plans to expand it as a covered benefit for fully-insured employers reports Med City News. This announcement makes BCBSMN the first payer to offer Omada's virtual program for type 2 diabetes, which is fully recognized by the CDC. In addition to digital DPPs, Omada also offers other digital chronic disease programs for hypertension management, mental health support and more.
Takeaways
As the shift toward a value-based care model continues, we think we will see more digital management of chronic conditions. In all of the examples provided, there is a value proposition for a partnership between the digital health company and the healthcare organization – improving the overall health of the population by addressing a particular chronic condition affecting the community while also helping to reduce costs over time for providers and payers. Technology companies must market themselves as a solution that is easy-to-use and can provide value, but the partnership does not stop once the sale is made. The two groups must work together to get buy-in from providers and patients. This could include internal marketing, tutorials and other educational components. Then, it's about effectively marketing the solution to patients and members. It's definitely a partnership through all phases – adoption, integration, use and improvement over time. If you are looking for some advice on how to launch your "digital front door" and the technology solutions that power them, check out another recent blog post.
Tags:
health insurance marketing
,
healthcare marketing
,
healthcare technology