Here's to a Happy 2016: New Year's Resolutions for the Health Insurance Marketer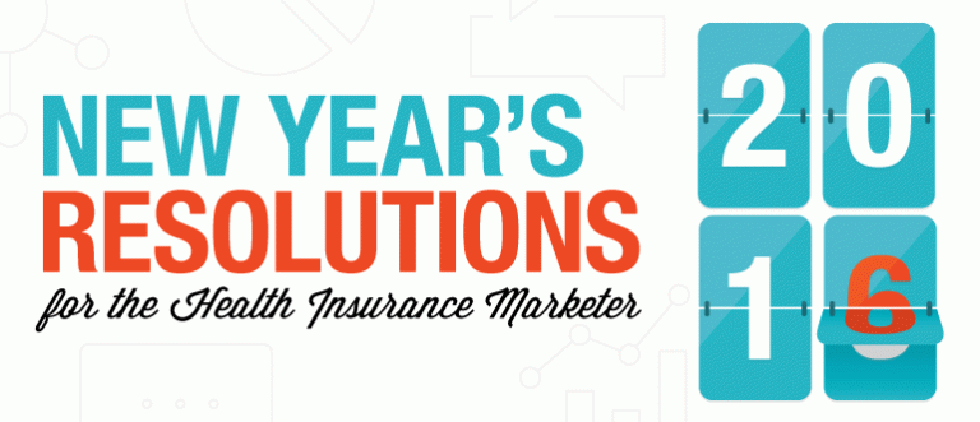 The champagne bottles are in the recycling bin. The noisemakers are back in storage. Naked Cowboy has reclaimed Times Square from Ryan Seacrest. We've auld lang syne-ed off on 2015, and 2016 is well underway.
It's time to make resolutions! But not those typical resolutions. If you'd like to lose a few pounds, exercise more or cut your Netflix bingeing in half, more power to you. But here, we want to talk about New Year's resolutions for the health insurance marketer for 2016.
While this certainly isn't a comprehensive list, our team has assembled a series of thought-starters and considerations to help you have a happy, and successful, new year.
Integration integral
Remember, in 2016, it's all "marketing." Every department in your company is part of your customer experience and key to delivering on your brand promise. Try to infuse a marketing mindset into product development, sales strategies and materials, onboarding, customer service and beyond. And make sure that everything is consistent, and everyone is on the same page.
Bland promise
Speaking of brand promise, with all the changes that have occurred in the past few years, 2016 is a great time to take a fresh look at (and possibly refine) your brand positioning. Is it still relevant? Does it help you stand out? Is it time for an evolution or reinvention?
Get more from metrics
Let's make analytics more actionable in 2016. That starts with better planning from day one. What will you track for each campaign? How can you remove barriers to data collection and improve database integration? How will you use the data…to inform 2017 efforts or to course-correct in real-time? And, ultimately, how will you determine success? It's not just about filling up spreadsheets. It's about using data to track and improve results of your health plan marketing efforts.
Literacy is key
Let's help consumers with healthcare literacy by providing tools and materials to make them better informed and more confident about your products. And while we're at it, let's eliminate (or at least minimize) "health care jargon" – and make sure all plans, benefits and communications are easy-to-understand.
Survey says
As retention numbers continue to dip across nearly every health insurance segment, consider funding some research to help you improve product and service offerings – and to help you understand the perspectives of and differences between your customer segments.
Don't get "Trumped"
Given that 2016 is an election year in what promises to be a contentious affair, consider expediting your media planning and purchasing – to ensure you have access to preferred placements.
Do a digital double-take
Across every consumer segment, research shows that your marketing website, member portal, mobile app and other digital media are critical to your success. Now's the time to evaluate these assets and potentially make improvements for the fall.
And finally…stay flexible
Health insurance marketers may want to do more yoga in 2016 because the industry will increasingly demand agility and an open mind. Mobile technologies, retail locations, telemedicine and other previously "breakthrough" industry trends have swiftly moved to the mainstream. We all need to keep an eye on the horizon to stay ahead of consumer expectations…and the competition.
Tags:
brand building
,
health insurers
,
health literacy
,
health plan marketing
,
healthcare marketing