Back to blog
Throwback Thursday (#tbt): What Do Memes Have to Do with Banking?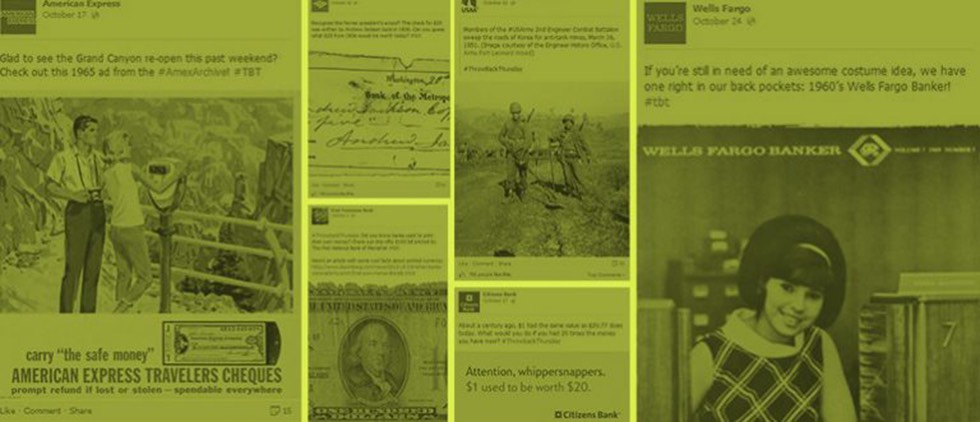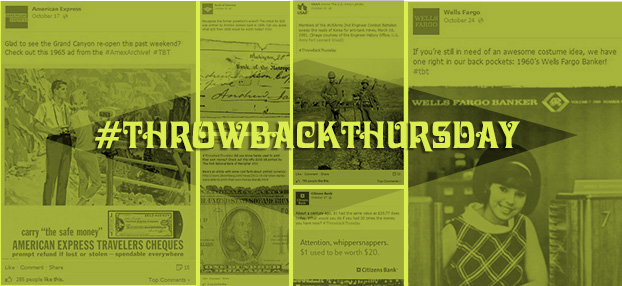 According to Merriam-Webster, a meme is "an idea, behavior, style or usage that spreads from person to person within a culture." We're most familiar with Internet memes, those that "go viral" through social media:  Grumpy Cat, Keep Calm, The Most Interesting Man in the World and Condescending Wonka, for example. Other Internet memes are based on hashtags, like #musicmonday and #followfriday.
So what do memes have to do with banking? It's an excellent question. (We hope relevance is always a priority when participating in social media: see "What Not To Do in Social Media: On Relevant Content for Financial Services.") Sometimes (yes, only sometimes), financial services companies may find a marketing opportunity – like branding or engagement – in a meme.
It seems one of the more popular memes among banks is "Throwback Thursday" (always tagged #throwbackthursday or #tbt). "#tbt" is a favorite of social media users on all the major platforms, including Facebook, Twitter and Instagram. In fact, over 100 million Instagram photos bear the #tbt hashtag, making it a very tempting trend to join. And we found several financial services institutions doing just that, including Wells Fargo, American Express, PNC Bank, Citizens Bank, Bank of America, USAA and First Tennessee Bank.
As reported by The Financial Brand, banks get the most engagement on Facebook when they ride the momentum of "a shared passion," like a sports team or charity. Is that the idea behind banks' participation in memes? If so, it's not exactly working. Unfortunately, even the 100 million photo momentum of #tbt isn't enough to stoke engagement with banks' #tbt posts.
Even still, banks continue to participate, and we think they do so primarily as a branding tool. Successful #tbt posts for banks may not have high engagement, but they appear to have the most value when they do three things:
contribute to the brand without a hard sell,
remain relevant to banking or the financial services industry and
embrace the spirit of the hashtag (which is, for #tbt, posting of an old pic, defined as one "from a different era of your life, not last week" or as one "from a while ago").
Here are examples from Facebook in recent weeks from those who hit the mark:
[layerslider id="2″]
*
All of these images are truly from other eras. In addition, these posts maintain a close connection to banking… with the exception of the USAA post. However, that post still works for USAA because its customer base – the military and military families – so closely defines the brand.
EXPERT TIP: The #tbt posts from Wells Fargo and American Express get bonus points for their tie-ins to timely topics, Halloween and the re-opened national parks, respectively.
And here are some #tbt posts that don't quite make it:
[layerslider id="3″]
*
The photos in the American Express and Citizens Bank posts aren't really throwbacks, are they? (In fact, the Citizens Bank post seems to talk more about the future.) And even though the PNC Bank photo is of a relic (an old VCR), its staged quality makes it feel insincere, and the banking tie-in isn't strong enough to carry it.
EXPERT TIP: In the case of memes, frequency isn't as important as quality. Only participate when both the image and messaging are spot on!
Tags:
bank marketing
,
financial services marketing
,
social media for financial services