Financial Brands Lead Advertising Spend on Streaming Services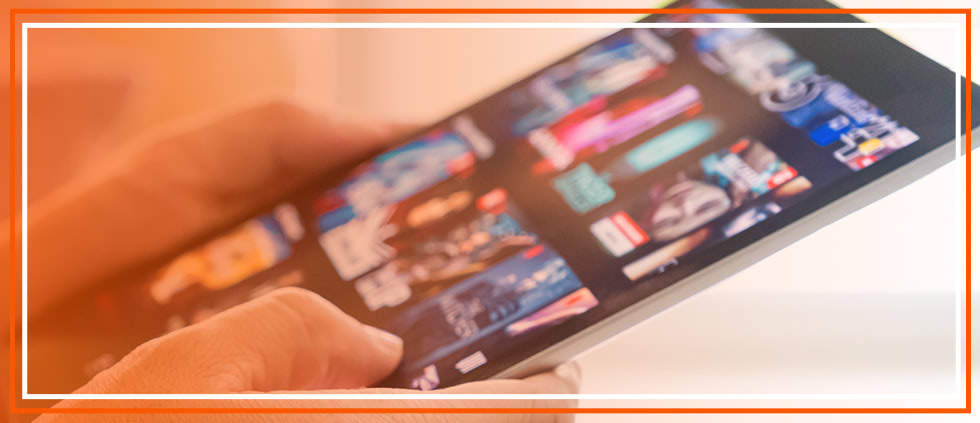 A recent Pathmatics report on the state of over-the-top (OTT) advertising indicates financial services brands are investing heavily in streaming TV and video. According to the data, financial brands are the top spenders across five platforms: Hulu, Pluto, Tubi, Peacock and Paramount.
The marketing spend makes sense to us: advertising on streaming TV and video is set to surpass linear TV within a couple of years and these channels offer brands several benefits, like advanced targeting, audience receptivity (include completed views) and a variety of ad formats. Together with continued evolution of streaming models, it's easy to see why advertising on these channels is booming!
Our new one-sheet (available below or here as a PDF) highlights trends and benefits, details financial services spend and showcases results from a recent Key Private Bank OTT campaign.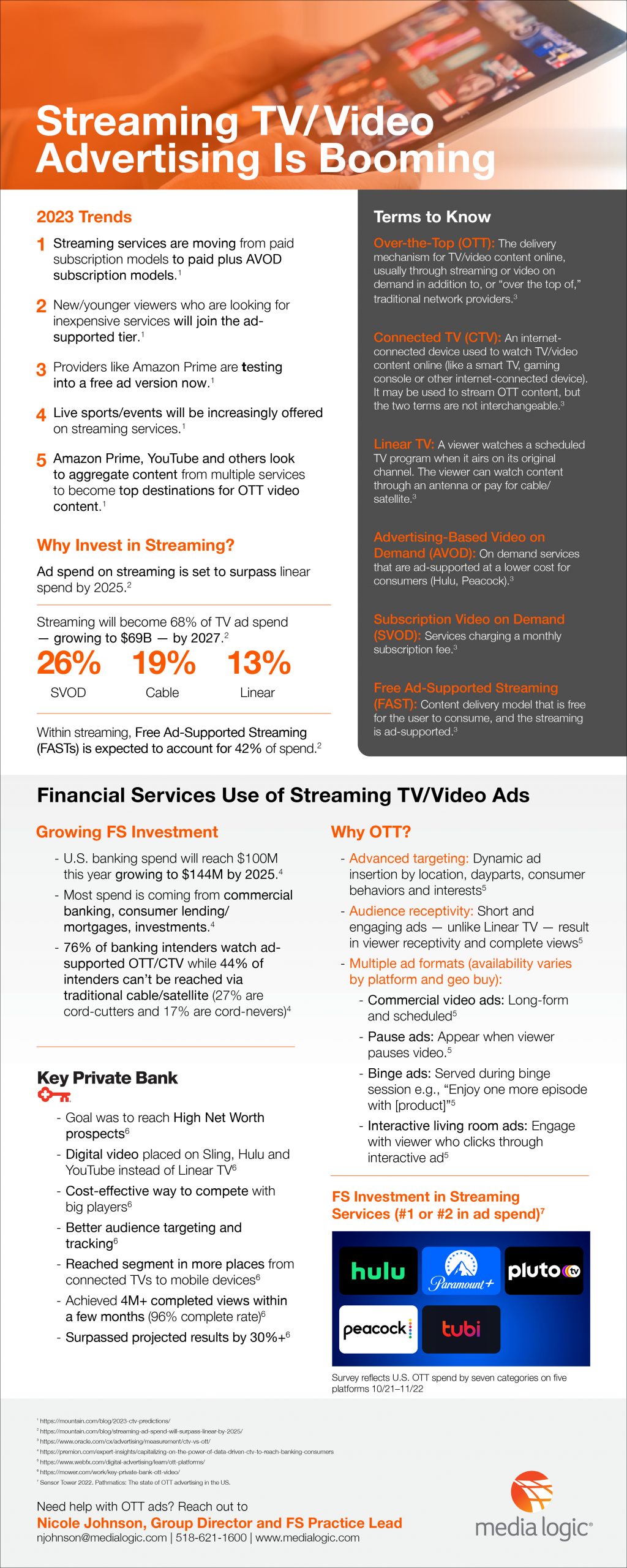 OTT, CTV, AVOD and more: Streaming acronyms you need to know
Oracle offers these definitions that can help you discuss streaming opportunities like a pro:
Over-the-Top (OTT): The delivery mechanism for TV/video content online, usually through streaming or video on demand in addition to, or "over the top of," traditional network providers.
Connected TV (CTV): An internet-connected device used to watch TV/video content online (a smart TV, gaming console, or other internet-connected device) It may be used to stream OTT content, but the two terms are not interchangeable.
Linear TV: A viewer watches a scheduled TV program when it airs on its original channel. The viewer can watch content through an antenna or pay for cable/satellite
Advertising-Based Video on Demand (AVOD): On demand services that are ad-supported at a lower cost for consumers (Hulu, Peacock)
Subscription Video on Demand (SVOD): Services charging a monthly subscription fee
Free Ad-Supported Streaming (FAST): Content delivery model that is free for the user to consume and the streaming is ad-supported.
Trends in streaming models and programming
Streaming models and programming continue to evolve. According to MNTN, we're likely to see the following in 2023:
Streaming services are moving from paid subscription models to paid plus AVOD subscription models.
New or younger viewers who are looking for inexpensive services will join the ad-supported tier.
Providers like Amazon Prime are testing into a free ad version now.
Live sports and events will be increasingly offered on streaming services.
Amazon Prime, YouTube and others look to aggregate content from multiple services to become top destinations for OTT video content.
Streaming TV and video advertising trends
MNTN makes these predictions about ad spend on streaming TV and video services:
Ad spend on streaming is set to surpass linear spend by 2025.
Streaming will become 68% of TV ad spend, growing to $69B by 2027.
Here's the breakdown: 26% SVOD, 19% cable, 13% linear.
Within streaming, Free Ad-Supported Streaming (FASTs) is expected to account for 42% of spend.
The benefits of OTT advertising
WebFX examined opportunities on YouTube, Hulu, Facebook Watch and TikTok and notes these key benefits:
Advanced targeting: Dynamic ad insertion by location, dayparts, consumer behaviors and interests .
Audience receptivity: Short and engaging ads (unlike linear TV) result in viewer receptivity and compete views.
Multiple ad formats (availability varies by platform and geo buy):

Commercial video ads – long-form and scheduled

Pause ads – appear when viewer pauses video

Binge ads – served during binge session (e.g., "Enjoy one more episode with [product]")

Interactive living room ads – engage with viewer who clicks through interactive ad
Financial services use of streaming TV and video ads
According to Premion, financial services brands are likely to increase investment in streaming TV and video advertising. Specifically,
U.S. banking spend will reach $100M this year, growing to $144M by 2025.
Most spend is coming from commercial banking, consumer lending/mortgages and investments.
76% of banking intenders watch ad-supported OTT/CTV, while 44% of intenders can't be reached via traditional cable/satellite. (27% are cord-cutters, and 17% are cord-nevers.)
Key Private Bank recently used OTT advertising to create an emotional connection with its high-net-worth (HNW)audience. Mower shares the following highlights and results from that effort:
Digital video placed on Sling, Hulu and YouTube, instead of linear TV.
Cost-effective way to compete with big players.
Better audience targeting and tracking.
Reached segment in more places, from connected TVs to mobile devices.
Achieved 4M+ completed views within a few months (96% complete rate).
Surpassed projected results by over 30%.
Access the streaming TV/video advertising one-sheet above or download it as a PDF here.