Back to blog
DRS Pairs Video with Proven Direct Mail Tactics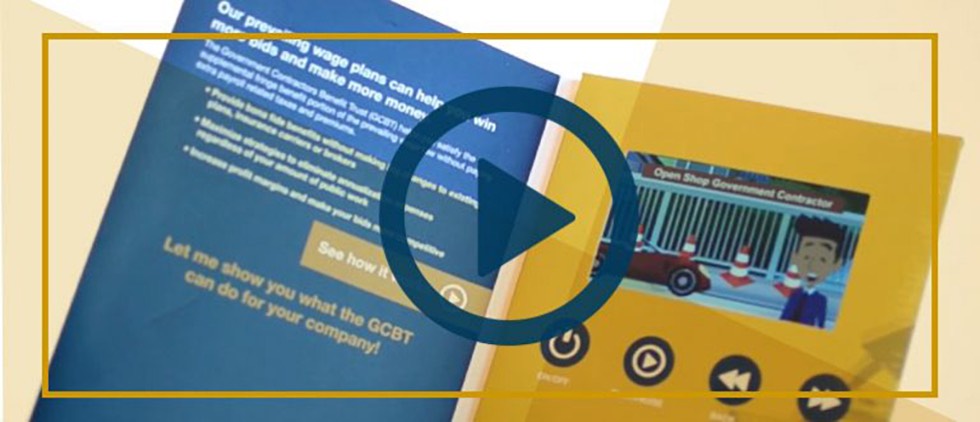 Direct Retirement Solutions (DRS) sponsors and administers the Government Contractors Benefit Trust (GCBT) – an innovative approach to wage plans that provides significant advantages for open shop contractors.
It's an impressive solution, but not a simple sell.
DRS had previously engaged Media Logic to develop an animated "explainer" video to help make its case. The video was featured on a microsite and had proven its effectiveness in clarifying the GCBT story.
Having recently expanded its market, DRS needed a more direct way to get that video in front of hot prospects. By capitalizing on new capabilities (and efficiencies) in direct mail, Media Logic was able to create a cost effective bi-fold direct mail piece with an integrated media player, charged and ready to go. No need to worry about lost web links. No drop off. The recipient only had to open the brochure and push "play."
DRS now had a powerful vehicle for showcasing its video to high-value prospects – delivered in a format that made a powerful impression (and begged to be shared).
This video and mailer have been working very well for DRS, which depends on its ability to simplify the GCBT offering in a unique and engaging way.
Got an important, but complex message to deliver? Talk to Media Logic today!
Tags:
client work spotlight
,
direct mail
,
Direct Retirement Solutions
,
Media Logic
,
video