Capital One's KaCHING Social Promotion Provides Marketing Support for New Rewards Credit Card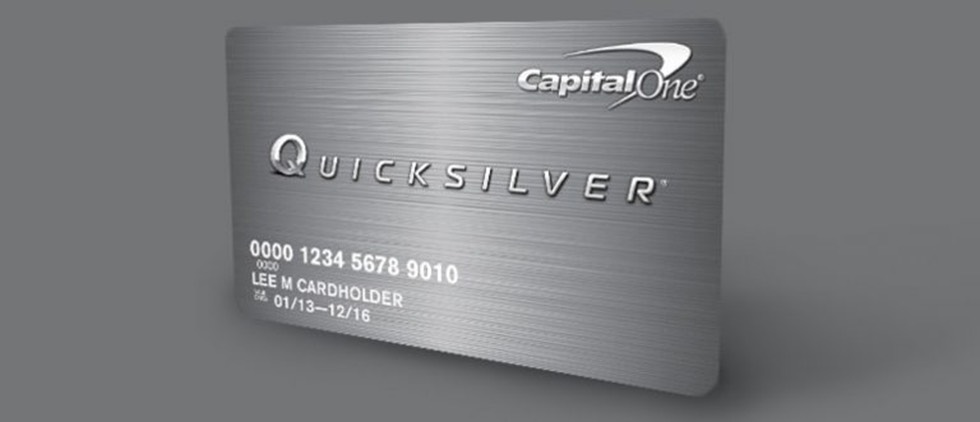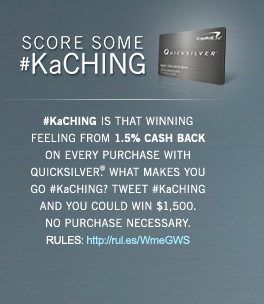 Last night I saw a TV spot for Capital One's Quicksilver® card. The spot grabbed my attention, as it was drastically different from the ones I'm used to seeing from this credit card issuer. It featured actor Samuel L. Jackson – an unexpected celebrity – and an unexpected (and simple) conceptual thrust.
Wanting to learn more about Quicksilver and Capital One's marketing investment in the product, I did some searching online. Capital One launched Quicksilver "in response to consumer frustrations with complex rewards structures requiring them to repeatedly enroll in narrow or rotating earn categories and capping the amount of cashback that can be earned. Quicksilver offers a simple and straightforward way to earn and redeem cashback rewards, with unlimited 1.5 percent cash back on every purchase, every day."
The Quicksilver card replaces Capital One's Cash Rewards card, so it makes sense for the celebrity endorsing the Cash Rewards product (Jimmy Fallon) to be replaced. And, as American Banker accurately states, the spot(s) "rely on Jackson's authoritative reputation and no-nonsense delivery to portray Quicksilver cards as simple, reliable and gimmick-free."
Intrigued, still, about the current marketing supporting for this product, I took a close look at Capital One's Quicksilver social promotion KaCHING. KaCHING is a sweepstakes-based promotion offering $1,500 prizes (a direct play on the product's 1.5 percent cash back value proposition) for every 100,000 tweets that include the #kaching or a "Moment of Victory" hashtag and celebrate "that winning feeling." Thirty-five prizes will be awarded, and once that is accomplished, the sweepstakes will end.
"Moment of Victory" hashtags include: #BringHomeBacon, #caching, #Ca-ching, #CashIn, #chaching, #Champion, #EasyMoney, #EpicWin, #EveryDamnDay, #ForTheWin, #FTW, #GetAhead, #GotThis, #Jackpot, #KaCHING, #ka-ching, #LikeABoss, #MakeItRain, #NoBrainer, #NoGames, #Score, #Straightshooting, #ThatsMoney, #TheUltimate, #Unlimited, #win, #winning and #Woot.
Very clever.  Very maverick. And very much celebrating life's small victories: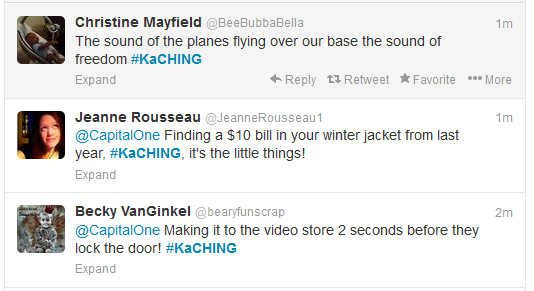 KaCHING is such a simple promotion – effectively mirroring the product's positioning and offering a low-lift, fun way to engage with the brand – that it is bound to be a big success.
Tags:
Capital One
,
credit card marketing
,
social media for financial services
,
social promotions for financial services