American Express Uses Social Media to Build Card Envy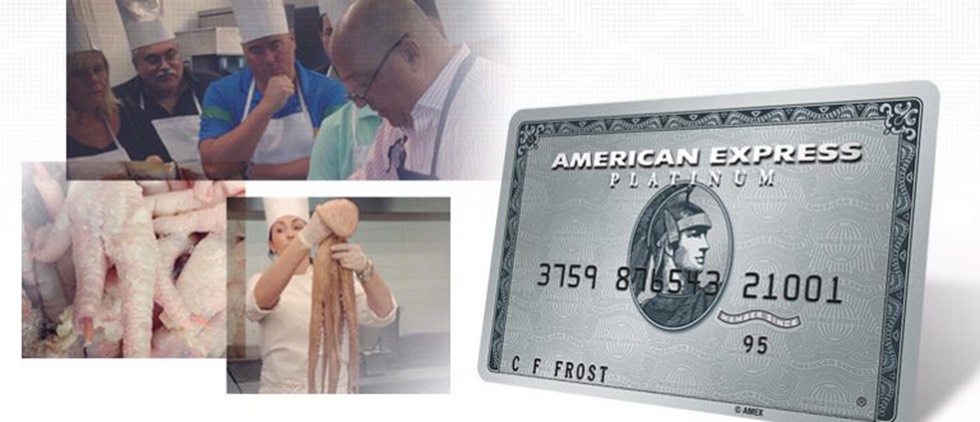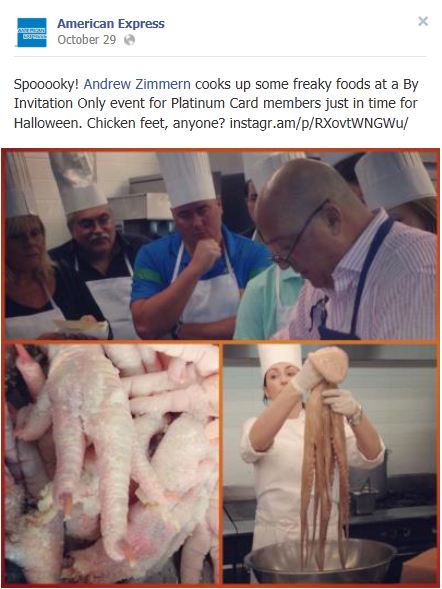 Giant vats of whole squid and chicken feet in the kitchen. Scary what you'll miss if you're not an American Express Platinum Card member! The scene, set at Halloween time by American Express, invited Platinum Card holders to an exclusive event to watch a celebrity chef "cook up some freaky foods."
It's just one example of how Amex uses social media to showcase its special perks and make prospects, um, hungry for Platinum membership.
American Express promotes Platinum Card members' exclusive access to its unique events primarily through Instagram and Twitter. And only sometimes (to keep the value offered by each platform distinct), it also cross-posts invitations and photos from Platinum events on its Facebook timeline. Whether it's a culinary adventure or special occasion, like America's Cup in San Francisco, the captions are interesting and the photos always stunning … two fundamentals of marketing for a social world that Media Logic emphasizes with its own clients.
Take-away #1: Create a sense of exclusive access
American Express Platinum events are one-of-a-kind, once-in-a-lifetime engagements that combine amazing food with great places and the chance to rub elbows with superstars. "By invitation only," the opportunities are so special they're not available anywhere else, and they're not available to "just" anyone – guests must be Platinum Card holders.
Take-away #2: Tie financial products to segment
Amex understands Platinum's affluent/high net worth segment so well, it knows which perks will have the most appeal. Showcasing those perks via social media – where they all-but speak for themselves – affirms the lifestyle of current cardholders while also tempting prospects. Always consider your audience (students, small business, travelers, etc.) and stay focused on products and offers aligned with their preferences.
Take-away #3: Use social media best practices
Although graphics and enticing copy – "Platinum Card members, have your culinary mind blown by the inventive menu at the latest epicurean concept from Grant Achatz …" – are the flashiest parts of this social strategy, Amex supports them with all the right tactics. Where appropriate, it utilizes hashtags (#byinvitationonly) and mentions both the influencers (in-demand celebrity chefs, rock stars and TV bigwigs, for example) and the trendy hotspots that serve as settings. By mentioning/tagging these event partners, especially when there's active sharing and re-tweeting, you not only enhance the feeling of networking with the elite but you also tantalize your influencers' fans and followers with your financial products.