Back to blog
It's Not Too Late: Course Correction Tactics for This Year's AEP Campaign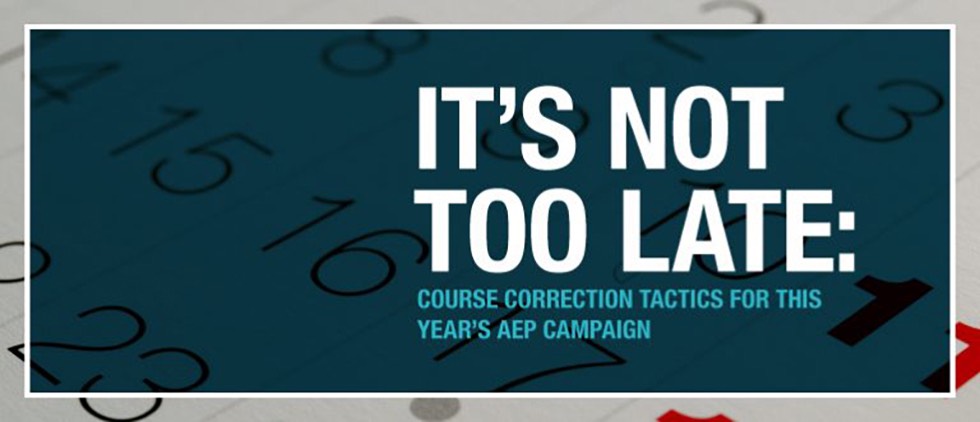 The amount of time marketers have to explicitly promote their Medicare solutions during the annual enrollment period is fleeting – just nine weeks or, more specifically, 68 days.  With such a short window, and the need for CMS review/approval of creative, making mid-campaign course adjustments seems implausible. Yet, there is quite a bit of tuning marketers can do after October 1st.
It requires planning and a commitment to being nimble. Most importantly, marketers must establish a framework and process to track and regularly report on campaign tactics. Without understanding campaign performance metrics at a per-tactic level regularly during the campaign, marketers are without the knowledge needed to determine if to make adjustments and, if so, to what. Second, internal and external partners must be open to a change in mindset in order to embrace this nimble approach. All team members should be ready to expedite their processes (without comprising quality) and open to allowing the data to guide the course of action. Once tracking mechanisms have been put in place, a reporting protocol established and mindsets shifted, marketers will be ready to exploit mid-campaign opportunities that arise.
The obvious tactics to consider are anything digital.
Online Display Banners
Creative (Modify imagery, design, copy and calls-to-action)
Media (Adjust spend, placement and strategy)
All aspects of an online display banner campaign can be modified on the fly. Online display banners have such a quick concept-to-market turnaround; even new creative can be conceived, developed and reviewed/approved by CMS post-AEP launch.
Paid Search
Creative (Modify copy and calls-to-action)
Media (Adjust spend, placement and strategy)
Similar to online display banners, paid search campaigns offer ample opportunity to adjust and optimize weekly.
Landing Pages
Creative (Modify imagery, design, copy and calls-to-action)
On occasion, relatively minor adjustments to landing pages can help increase lead conversion considerably.
Ultimately, any digital tactic (Paid Social, Digital Video, Mobile, etc.) offers opportunities to modify mid-stream. At the very least, these tactics, if underperforming, can be pulled and any budget saved can be put towards better-performing tactics.
Offline tactics, with a bit of forethought, also offer opportunities for mid-campaign adjustment.
DRTV
Creative (Optimize length)
Media (Adjust spend and placement)
Often DRTV spots are edited to various lengths. By applying unique 800 numbers and URLs to each version, marketers are able to determine if one length is outperforming or underperforming as compared to the others. Media spend can be adjusted accordingly depending on the results.
Additionally, by tracking the time of day that DRTV-generated calls are placed, marketers can fine-tune their media buy by running ads during high-performing dayparts.
Direct Mail
It may be hard to believe direct mail can be adjusted mid-stream, given how long it takes to go from concept to market. This year, though, with the unpredictable presidential election, we worked with one of our clients to have a direct mail piece approved (including by CMS) and ready to be printed. We will be tracking lead volumes through the month of October. If we see a suppressed lead volume due to the distraction that is Trump/Clinton, we will proceed with digitally printing the creative and getting it into mail the day after the election.
With some planning, even direct mail can be used nimbly.
Print Ads & Free Standing Inserts
Creative (Try multiple versions)
Media (Adjust spend and placement)
By applying tracking mechanisms by publication within creative running in early October, marketers can determine which placements are driving lead volume. This data can be used to focus November's ad dollars on the publications that prove to be most effective and efficient.
Fine-tuning your Medicare AEP campaign doesn't necessarily require a giant lift to significantly strengthen results. It does, however, demand a focused effort tracking and reporting campaign metrics, and the ability to make adjustments in swift and practical ways based on those results. In order to ensure that you're getting the most out of your DM, DRTV and digital marketing, developing a mid-campaign approach and implementing it when opportunities emerge – be it through minor tweaks or substantial modifications – is fundamental.
Tags:
AEP
,
health plan marketing
,
Medicare marketing