What iOS 14's User Privacy Features Mean for Healthcare Advertising Campaigns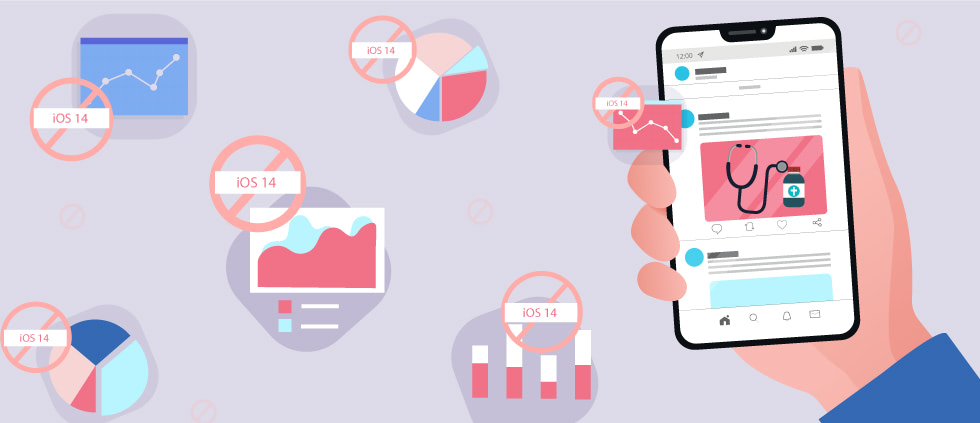 User privacy features rolled out as part of iOS 14 have placed Apple at odds with Facebook and other social media companies, who depend on specific tracking capabilities for optimization, targeting and measuring of brand advertisements on their platforms. Facebook opposes the changes so adamantly, it's considering taking Apple to court. Its main complaint? The App Tracking Transparency (ATT) feature of iOS 14, which allows users to opt in or out of data collection (and sharing) app by app.
This big tech battle is the most recent example of the conflict that exists between privacy protections and advertising tools. That battle is far from new. However, as users become more aware about who has their data and how it's used, companies are struggling to strike the right balance. Among them, of course, are advertisers, who not only rely on social platforms and other digital channels for precise targeting but also expect that the targeting will become even more precise over time.
At the very least, Apple's move would seem to press pause on that evolution and does, in fact, restrict already established targeting options. Although privacy experts are praising Apple, Facebook calls the data collection alert from ATT a "discouraging prompt" and warns advertisers that "as more people opt out of tracking on iOS 14 devices, ads personalization and performance reporting will be limited for both app and web conversion events."
What advertisers need to know about anti-tracking features in iOS 14
As Search Engine Journal (SEJ) points out, the "anticipated data loss right now is tied to iOS 14 users, [however,] the bigger picture is this is likely the start of how privacy will be handled in the future." SEJ is right: regardless of how the argument between Apple and Facebook is resolved, advertisers will need to keep the issue of user privacy vs. audience targeting on the radar, along with developments they're already watching (like Google's plan to kill third-party cookies in Chrome).
In the short term, however, advertisers do need to understand the scope of ATT and take specific actions.
Understanding the scope of ATT
Experts believe that many users will opt out of data sharing, and as SEJ says, this "disrupts the targeting Facebook Ads has relied on for a majority of its function," including elements of Ads Manager, Ads Reporting, the Ads Insights API and reporting of offsite conversions. Here's how Facebook puts it: "Apple's proposed changes will limit your ability to effectively reach, understand and engage people on mobile devices and across the web. They will impact your ability to understand performance, control who sees your ads and make informed decisions about your advertising budgets. As these changes take effect, over time you may see an overall decrease in ad performance and personalization and an increase in cost per action."
While this is significant, it is important to note that it is entirely mobile based and has the biggest impact on businesses that rely on mobile devices to activate, market to and remarket to customers and prospects. We're working with our healthcare clients to identify possible effects on their business by helping them understand how much of their marketing analytics data is driven by mobile, and moreso, by iOS.
That said, this change does create new challenges for anyone who uses Facebook to advertise to their customers, given how much activity happens on the Facebook app.
Actions to take to prepare for the iOS update and changes to Facebook
So what do you need to do? These recommendations from Facebook detail "actions you can take immediately, and actions you need to plan for in early 2021."
The most urgent actions are related to
Domain verification – This will limit disruption to conversion events aided by the Facebook pixel.
New maximums on Aggregated Event Measurement – You may need to trim down the number of conversion events you've designated, since the coming changes restrict that quantity to eight on each domain. Unused events will need to be retired or removed.
Attribution window changes – These will default to a 7-day click and can be adjusted to additional settings that include a 1-day view through. Longer windows, such as the 28-day click, are no longer an option. (This last piece would expect to depreciate results, as it allows for less attribution based on ad exposures, particularly for campaigns that are drive to website or app installs. Instead, campaigns will need to deploy statistical models to account for what were once clear conversions on iOS.)
Takeaways
We fully expect audience sizes to fluctuate (and likely decrease), as they may no longer include people on iOS 14, and we anticipate a push for brands and advertisers to place higher value on their own lists and available analytics to understand who customers are and how they interact with the brand's website (mobile vs. desktop). The take-home message here is simple: staying on top of the rapidly changing ad space – and being able to adapt! – are critical elements of healthcare marketing.