Back to blog
Hospital and Physician Marketing in the Era of (Nearly) Meaningless Online Ratings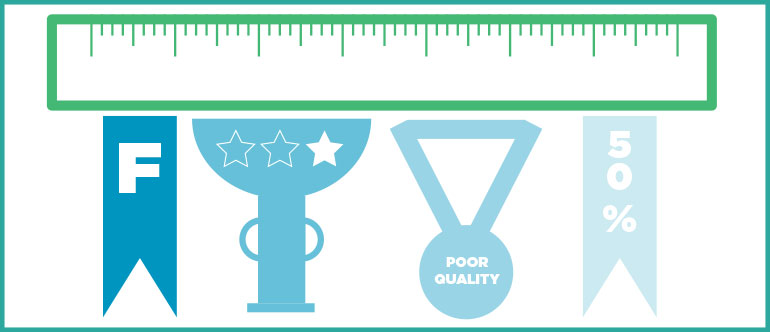 What we know: online physician ratings do not reflect the quality of clinical care. In fact, according to JAMA Internal Medicine, and as reported recently by HealthLeaders Media, online consumer ratings of physicians can be completely random.
This poses a challenge for healthcare providers, who understand that consumers do a considerable amount of health research online as a natural part of their decision-making process. For example,
"72 percent of Internet users say they look online for health information" [SOURCE: Pew Research].
"One in four consumers consulted online ratings when choosing a primary care physician" [SOURCE: USA Today].
"One-third of consumers in the United States who consulted physician website ratings reported selecting or avoiding physicians based on those ratings" [SOURCE: HealthLeaders].
This means, of course, that hospitals and medical practices want websites and ratings to portray their doctors favorably… or at least accurately. However, this doesn't seem to be the case: the JAMA study "found no evidence that physician website ratings were associated with clinical quality measures," says HealthLeaders.
Contrary to popular belief – and the lingering fear of healthcare providers – it's not vengeful or angry reviewers that skew ratings. It's also not related to the assumption that people are more likely to post negative reviews. Instead, skewed results are actually due to low numbers: ratings and rankings typically lack enough data to be statistically meaningful. Bradley Gray, PhD, lead author of the JAMA Internal Medicine study, told HealthLeaders, "We found a median of [a total of] four ratings per physician, which is not a high enough number for there to be any scientific rigor."
The National Center for Health Research (NCHR) has published about this before ("Should you Believe Online Reviews of Doctors?"). It cautions, "The vast majority of people do not rate or review their physicians on the Internet, so if you rely on these ratings you will have no information on the quality of care received by over 90 percent of patients."
In other words, existing rating systems are unreliable, and providers aren't the only ones who ought to be concerned. Dr. Gray says, "The results of our study should make consumers think twice about relying only on these website ratings as a source of quality information. This study also highlights the need for more valid and reliable physician quality information to be made publicly available."
The current system not only has insufficient data – it's also quite chaotic and confusing. As reported in USA Today, "Sites that include physician ratings include those devoted entirely to medical information, such as Healthgrades and Vitals, and broader consumer sites ranging from Yelp and Angie's List to Consumer Reports. Some score doctors based on patient surveys, and some allow patients to post comments." The NCHR explains variations this way: "Some reviews contain general statements about the patient's experience or impression of his doctor, while others comment more specifically on the doctor's competence and bedside manner.  Some reviews even offer opinions on the patient's experience beyond the care directly provided by the physician, such as comments on the office, staff, and availability of appointments."
To complicate matters further, the review criteria that may matter for a primary care physician could be quite different from those that are relevant to surgeons or specialists.
So what's the big-picture solution for capturing and reporting the kind of data that can truly help consumers make choices? Is it a comprehensive and universally adopted system (e.g., "big data")? Is it providers using their own digital assets to publish patient feedback they've gathered either via internal mechanisms or third-party services? Or is it a refinement of what we're already seeing online? Will a technology innovator come up with a solution no one has thought of yet?
No matter what evolves from a data standpoint, high deductibles and greater out-of-pocket costs have turned healthcare consumers into shoppers… which means they're going to need the information as they research their options. Therefore, providers need to dedicate marketing resources to a strategy for being a resource to existing and prospective patients. Successful strategies will include:
content marketing that educates consumers about when to be skeptical of reviews and how to use (and how not to use) ratings/rankings;
content that teaches consumers the right way to choose the best provider;
content that showcases the expertise and professionalism of their doctors;
proactive promotion of their own consumer feedback, such as testimonials and their own practice-, hospital- or hospital system-branded ratings;
development of price and quality transparency tools; and
search engine marketing that directs consumer searches for physician names, cities and specialties to the providers' own digital assets.
Here's why: as we've said before, providers must take control of their online reputations. They cannot let review sites dominate the online conversation about their hospital or medical practice and its doctors.
Payers should take note, as well. As competition continues to increase when it comes to acquisition and retention both on and off the healthcare exchanges, a health plan that offers some of these resources as a value to members may very well stand out among a consumer's options.
Tags:
consumer reviews
,
content marketing
,
healthcare marketing
,
hospital marketing
,
physicians