5 Key Takeaways from HLTH 2020 for Healthcare Marketers to Keep an Eye On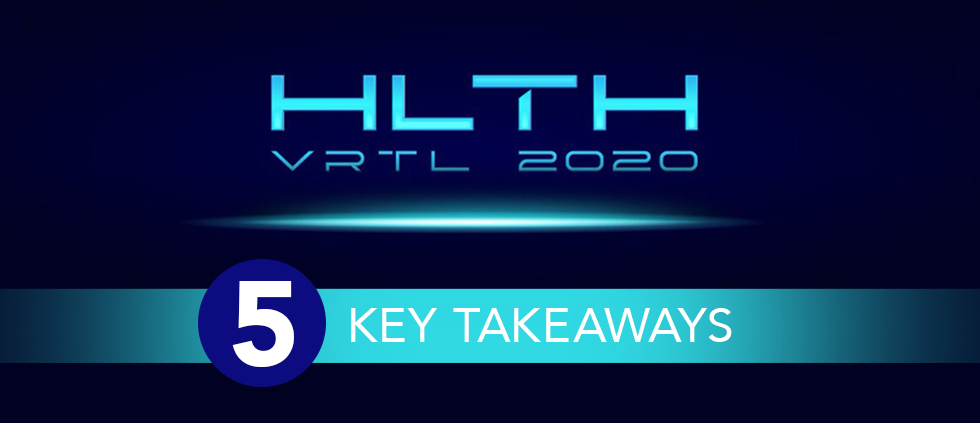 As healthcare marketers, we have seen the unprecedented, disruptive impact that COVID-19 has had – and will continue to have – on the industry. We tuned in virtually to HLTH 2020 (#HLTH2020) and found a few interesting takeaways for healthcare marketers to keep an eye on.
Takeaway #1: Addressing the social determinants of health (SDoH) means addressing inequities in care.
We've written pretty extensively on the ways in which health insurers are addressing the social determinants of health (SDoH). It was important before the pandemic to recognize environmental and socioeconomic factors and how they impacted health outcomes. But COVID-19 definitely drew more attention to these inequities. At HLTH 2020, health systems unveiled what they were doing in this space. This includes Kaiser Permanente, which says that it plans to bring ethnicity and race factors into how it evaluates quality and care across their organization, publish a COVID-19 Social Health Playbook and expand its Thrive Local social health network. One key takeaway of note about applying data on race or ethnicity to interventions is "to avoid inadvertently targeting the wrong patient or worsening disparities," said Ian Tong, CMO of Doctor on Demand via Healthcare Dive. Be strategic!
Takeaway #2: Startups and big named brands alike are releasing products focused on public safety and returning to work.
Among those launched at HLTH 2020 was IBM's Digital Health Pass where "users can present a verified health status based on different data sources, such as vaccination status or COVID-19 test, in order to enter public locations," reports Healthcare Dive. The goal is to help workplaces and businesses stay open and allow people to feel good about participating in activities outside of their homes. What makes it unique is that it does not involve contact tracing or testing. We've seen similar products including CVS Health's Return Ready, Verily's Healthy at Work, UnitedHealth Group/Microsoft's venture, the Mayo Clinic/Safe Health Group's HealthCheck passport and others earlier this year.
Takeaway #3: There is a future for telehealth, but the picture is not clear.
This summer, we wrote about telemedicine adoption and how utilization rates jumped by 12% at the start of the pandemic. So, while COVID-19 has sped up the process, what's next? "Experts who spoke at this week's HLTH VRTL 2020 conference reminded attendees, clinicians and innovators must be willing to think outside the box to fulfill telehealth's promise," reports Healthcare IT News. Topics to address include device literacy (particularly among older adults, people with disabilities and limited English proficiency), remote monitoring that reports information and not just data, and figuring out how to use it along with in-person care.
Takeaway #4: The move toward a value-based care model moves from "if" to "how."
"When it comes to value-based care, the question is no longer if it works, but how it is best implemented," says Healthcare Finance. This topic was discussed heavily at HLTH 2020 including how care delivery works best, whether through an accountable care organization, health system or group of private practices. The underlying and most important factor to consider here is to give patients the best care for their money.
Takeaway #5: Retail brands continue to innovate in the healthcare space.
While a lot of attention has been paid to CVS and Walgreens in recent months, Rite Aid unveiled Rx Evolution and it will be launched in the new few weeks, aimed at Millennial and Gen-X women (who comprise half of the drugstore shoppers). Their COO spoke at HLTH 2020 touting that the new brand strategy "showcases its pharmacists as advocates for patients' overall wellness and healthcare journey," Becker's reports. Pharmacists will engage more with patients and offer beneficial alternative treatments. The roll-out also includes virtual care rooms for pharmacists to give patients consultations and lead them to other healthcare providers. Marketing for the new initiative includes a new tagline "Don't Just Get Healthy, Get Thriving," a wellness focus on the areas of anxiety, immunity, sleep and stress, plus an increased digital and social media presence. What retail brands are doing in the healthcare space is a topic that we are following closely and will be covering more in the future.
In an interview at HLTH 2020, the CEO of Eli Lilly & Co. said that COVID-19 is an "endemic," meaning that it will challenge the public health system for years to come. Indeed, we will continue to see the reverberations across the healthcare space and changes and innovations that will come as a result. We will continue to keep an eye on these trends from HLTH 2020 and what happens moving forward.
Tags:
COVID-19
,
healthcare marketing
,
HLTH 2020
,
retail and healthcare
,
social determinants of health
,
telemedicine